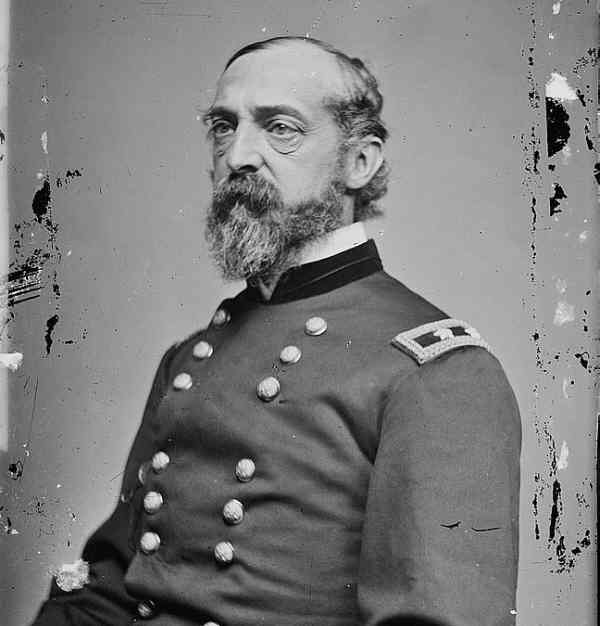 George G. Meade, Gettysburg commander, who conducted survey of Saginaw Bay and Lake Huron in the 1850s.
---
Saginaw Bay Survey by George Meade Documented by Old City Newspaper
Editor Issues Scathing Criticism for Travel to Get Brick for Lighthouse
December 4, 2010 Leave a Comment
By: Dave Rogers
When Capt. George G. Meade of the U.S. Army Topographical Engineers arrived here in 1857 he was unknown.
That would all change six years later when Meade, by then a major general, headed Union troops in a huge battle at a place called Gettysburg, Pennsylvania.
Bay City's oldest surviving newspaper, the Bay City Express, in its issue of June 6, 1857, noted that Capt. Meade had assumed charge of the expedition aboard the steamer Search, described as "a trim craft of about 300 tons."
While the first article had been picked up from the Detroit Tribune, the editors of the Express a few weeks later commented first-hand and added editorial comment.
The editor obviously had been abroad on the lake as he commented: "When passing the Charity Island a few days since, we noticed a new structure in process of building. It was of brick, and we were informed that it is intended for a light house and is being erected under a contract with the government."
The Express launched into a screed over what it called "useless expenditure of money often made by the government thru the ignorance of its officials."
---
--- Advertisements ---



---
The editor was more than agitated over the fact that Capt. Meade was sending the steamer Search several hundred miles to Milwaukee and back for brick, commenting: "It is well known that our chief supply of building stone is from the very island on which this house is being built."
The editorial ended with the wry quip: "Well, Uncle Sam is rich, what of it?"
The survey of the Great Lakes was conducted to enhance development of commerce on the Great Lakes, providing information necessary for safe navigation.
Although surveys were made as early as 1833 and during 1836-1837, and 1840, systematic surveying was not begun until 1841. In that year, Capt. W. G. Williams, who was then stationed at Buffalo in charge of harbor improvements on Lake Erie, started the survey of the Great Lakes.
During the time that Williams remained in charge, surveys were made of all harbors except those on Lake Superior. J. H. Simpson, W. H. Warner, J. N. Macomb, J. W. Abert and W. B. Franklin were engaged on the survey during these years. "Thereafter the exigencies of the Mexican War kept operations on a small scale," Army Corps reports stated.
The survey progressed in succeeding years under a series of officers. By 1848 the collection of lake surveys had become so numerous that the Bureau was ready to publish an atlas.
Col. James Kearney, leaving his board positions at Washington, resumed command in September, 1856, but ill health forced him to quit in the following year when he was assigned the task of collecting material for a chart of Lake Ontario. Capt. George G. Meade, who had been assisting Kearney since being relieved from lighthouse duty in May,1856, succeeded him in command.
Other officers attached to the survey during the late 1850's were C. Turnbull, W. P. Smith, J. L. Kirby Smith, (not the Confederate general in the Civil War named Edmund Kirby Smith), R. F. Beckham, 0. M. Poe, all recently appointed brevet second lieutenants from the Military Academy. Meade served until 1861, completing the survey of Saginaw Bay and that of the whole of Lake Huron.
Charts were prepared of both this lake and Lake Superior in 1856. The Office was at Detroit, and from there in 1852 had begun the distribution of charts. Upon Meade's transfer on August 31, 1861, Lt. Col. James D. Graham took charge. Since 1863 the Lake Survey has been conducted by the Corps of Engineers.
Meade was born in Spain in 1815 and was graduated from the U.S. Military Academy at West Point in 1835. He served in the Seminole War, resigning to work as an engineer for railroads. He re-enlisted in 1842 and served in the Mexican War.
Completion of the survey of Lake Huron and extension of the surveys of Lake Michigan down to Grand and Little Traverse Bays were done under his command. Previously, Great Lakes' water level readings were taken locally with temporary gauges; a uniform plane of reference had not been established. In 1858, based on Meade's recommendation, instrumentation was set in place for the tabulation of records across the basin. In 1860, the first detailed report of Great Lakes was published. Meade stayed with the Lakes Survey until the 1861 outbreak of the Civil War. ###
---
---

Dave Rogers




Dave Rogers is a former editorial writer for the Bay City Times and a widely read,
respected journalist/writer in and around Bay City.
(Contact Dave Via Email at carraroe@aol.com)

More from Dave Rogers
---
Send This Story to a Friend!
Letter to the editor
Link to this Story
Printer-Friendly Story View
---
--- Advertisments ---