Jaffe Tells First Half of McLaren Bay Regional Medical Center History
September 4, 2018 Leave a Comment
By: Stephen Kent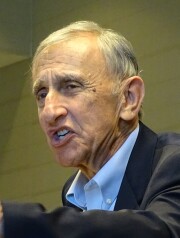 Mark Jaffe
Member
Mark Jaffe, a long time Rotarian and long time member of the board of the McLaren Bay Regional Medical Center, presented the first of a two part history of health care in Bay City and the genesis of the local McLaren facilities.

Jaffe began by introducing members of the Bay Medical board of directors, many of whom are also Rotarians, and a number of visiting officers and staff from the facility. The history of medical care in Bay City is closely connected to members of this Club.

Medical care in Bay City began in 1878 when a Doctor opened an office in a rented room downtown. Not long after another Doctor, who sold medical insurance at $2/month, opened another office, primarily to serve lumber jacks on the notorious Hells Half Mile area. It was noted that if you were sick or injured, your $2/month paid for you to stay at the Doctor's clinic until you were healed. Quite a bargain by today's standards.

In 1898, Sister Mary Hilda of the Sisters of Mercy arrived to establish a hospital. Nathan Bradley, a local lumber baron sold his home to the sister as he moved to a larger place. Sister Hilda purchased the large home, brought six more sisters to help her,and for $7,500 started the hospital. Another $17,000 was invested in 1905, followed by $75,000 in 1911. Another wing was later added along with a building to house the sisters (connected to the hospital by an underground tunnel). After it was closed, the hospital became the Bradley House, a 180 unit affordable housing community still in operation today.

Eventually there were four hospitals in Bay City: General, Mercy, Samaritan and Bay Osteopathic. There were also facilities such as the Jones Clinic and Bay Special Care (once known as the Bay City Detention Hospital for women (only) who had VD).

By the early 1970's the hospitals, suffering from maintenance and other issues, were declared sub-standard by the county, state, and insurance companies. A plan to rescue the institutions was developed and Bay Medical Center was formed as a combination of the others. The old General Hospital was demolished and the new hospital built in it's place. Samaritan was sold for a dollar to become the Good Samaritan Rescue Mission.

Around 2000, Bay Medical faced an issue with it's funding. A "White Knight" was sought and McLaren came in to take ownership and guarantee to cover any obligations. Today Bay Medical has become one of the jewels in the crown of McLaren. McLaren never had to put money into Bay Med. The Hospital is now a world class facility that continues to grow and regularly wins honors. Where the original Mercy hospital started with $7,500, McLaren Bay Region is estimated to have a replacement value north of $350 million.

(Jaffe will return September 25 to continue with McLaren Bay Region's story today.)

For more information visit McLaren Bay Region


---
CLUB NEWS and ANNOUNCEMENTS
OFF SITE MEETING - September 11, 2017

Meet at the Marriott
Board meets at 11:00 prior to regular meeting.
The board meets this week
September 11 at 11:00 before the regular meeting.
Meet at the Marriott!
Everyone is welcomed.
Agenda, minutes, treasurers reports and other information
is in the member's area of the club web site.
or will be passed out at the meeting.
In the "Rotary Foundation Minute"
Bob Chadwick
related the story of Ambassadorial Scholar Mohibullah Israr from Afghanistan in 2008. Israr earned his degree and returned home to start a co-ed school. Due to threats from the Taliban, he and his family fled to the US where he now lives until he can return home. Scholar programs are another project of the Rotary Foundation.
---
---- DATES TO REMEMBER ----
September 18, 2018 Service Club Social
CANCELLED
November has been designated as Bay City Rotary's
"Month of sharing"
. Programs for the month will emphasize the many things we have to be thankful for and will encourage ways we can share with our family, friends, and community.
2018 Off site Meetings:
Marriott, Uptown Bay CIty
Sept 11
Sept 18
Oct 9
Oct 23
---
Upcoming Programs
(See the official schedule at RotaryBayCity.org )
September 11, 2018:
John Hewko's Talk from Rotary International Convention
District Governor (DG) Michael Elliott and Asst. DG Larry Arendt are scheduled to visit Rotary Board Meeting.
September 11 - Off site meeting at the Marriott
September 18, 2018: Update on the services provided by Community Home Solutions,
a local, not-for-profit agency celebrating its 25th anniversary providing a portfolio of housing related services for income eligible families. Services include housing counseling (first-time homebuyer, pre-purchase process, financial capabilities training, and foreclosure prevention), down payment assistance and homebuyer rehabilitation, as well as homeowner substantial and emergency rehabilitation services.
September 18 - Off site meeting at the Marriott
September 25, 2018: McLaren Bay Regional Medical Center Update continues.
Mark Jaffe presents the second half of his fascinating history of our Hospital and health system.
October 9, 2018:
October 9 - Off site meeting at the Marriott
October 23, 2018:
October 23 - Off site meeting at the Marriott
October 30, 2018: Festival of the Trees.
Laura Horwath will speak about the annual event. As the Junior League of the Great Lakes Bay Region's largest annual fundraiser, the Festival of the Trees presents over 100 designers contribute fabulously decorated trees and wreaths, which are raffled off to lucky winners. Local vendors are on hand to sell their specialties. The money raised throughout the weekend supports the Junior League of the Great Lakes Bay Region's mission of promoting voluntarism, training its members, and improving the community.
---
Current and past
DISTRICT DISPATCH
newsletters are available on the District site shown in the LINKS section below.


Rotary Bay City on Facebook!
Click on the Blue Facebook to visit us there.

Remember! Check attendance sheets at the front desk.
---
LINKS
---
---

Stephen Kent




Steve Kent and his family have lived in Bay City for 40 years. He is VP of Technical Services at MMCC which produces MyBayCity.Com. Kent is active in many Bay City civic organizations.

More from Stephen Kent
---
Send This Story to a Friend!
Letter to the editor
Link to this Story
Printer-Friendly Story View
---
--- Advertisments ---