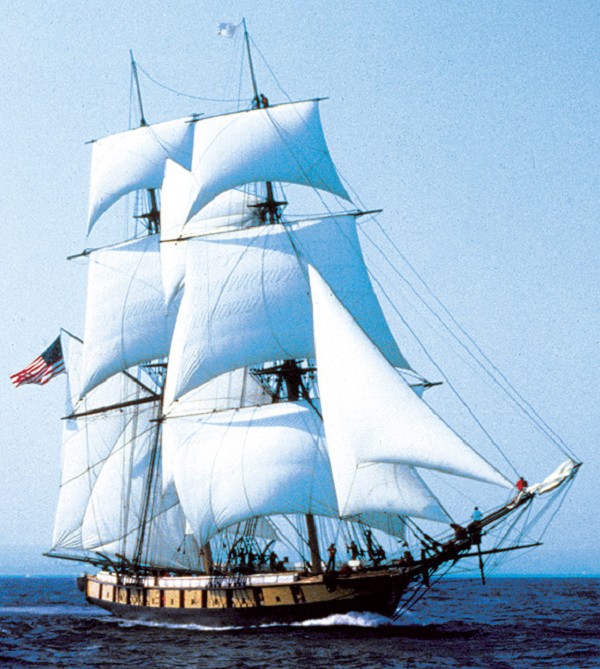 Flagship Niagara, 198 feet long, is one of the 12 tall ships slated to appear for the Tall Ships Festival-Bay City, July 11-14.
---
AVAST MATEYS! Coast Guard Issues Regulations for Port Entry During Festival
Special Local Regulation for Tall Ships Bay City July 11-14
Attention to orders!
As published in the Federal Register Thursday, June 27, the U.S. Coast Guard is establishing a temporary special local regulation for a tall ships parade and festival on the Saginaw River July 11-14.
The Saginaw River is located in the Captain of the Port Detroit Zone.
"As the only Michigan port on the 2013 Tall Ships Challenge, Bay City has recruited the largest gathering of Tall Ships in the state," said Shirley Roberts, chairman of the event. Ships will be available for boarding and touring during festival hours to those who purchase a Souvenir Passport.
The Coast Guard is urging people to be smart on and around the water as the rivers and bays around the Saginaw River will be packed with tall ships, Naval vessels, and pleasure boats. They're reminding boaters to keep their distance and slow down.
"There are boaters with education and lots of years experience, and there's novice boaters. So our message to all the boaters is to consider this like a school zone with yellow flashing lights," warned Coast Guard officials.
The Coast Guard and partner maritime law enforcement agencies will be out enforcing rules and regulations for waterborne traffic throughout the Tall Ships Festival. Those rules include: stay at least 100 yards away from Naval vessels and tall ships, go slow and maintain a no wake zone, and don't drink and operate a boat.
"This action is necessary and intended to ensure safety of life and property on navigable waters during this event. This special local regulation will establish restrictions upon, and control movement of, vessels in a portion of the Captain of the Port Detroit Zone.
"During the enforcement period, no person or vessel may enter the regulated area without permission of the Captain of the Port.
"These routine and frequent regulations provide for the safety of participants and spectators during regattas and marine parades.
"The regulations specify such controls as separate participant and spectator areas, separation schemes for watercraft in the area of the event, and temporary restrictions on waterways to accommodate the event.
"These rules are short-term in nature (usually a single event of one to three days, for only part of each day), and usually encompass only a portion of a navigable waterway. These rules are promulgated by District Commanders and Captains of the Port in response to requests from event sponsors.
"These rule-makings support the Coast Guard's maritime safety and maritime stewardship missions with regard to the mobility of commercial and recreational vessel traffic. Approximately 50 actions are expected annually."
If you have questions on this notice, call or email LTJG Benjamin Nessia, Waterways Branch Chief, Marine Safety Unit Toledo, 420 Madison Ave., Suite 700, Toledo, Oh, 43604; telephone (419) 418-6040; email Benjamin.B.Nessia@uscg.mil.
###
5087, 7775, 7776
---
---

Dave Rogers




Dave Rogers is a former editorial writer for the Bay City Times and a widely read,
respected journalist/writer in and around Bay City.
(Contact Dave Via Email at carraroe@aol.com)

More from Dave Rogers
---
Send This Story to a Friend!
Letter to the editor
Link to this Story
Printer-Friendly Story View
---
--- Advertisments ---