What Happened Almost 99 Yrs. Ago in Bay City?
Nothing is Not the Answer!
Presidential Visit by William Howard Taft Marked Dedication of Armory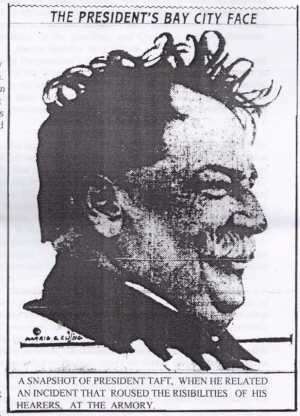 President William Howard Taft, looking for all the world like today's spiked hair teenager, in his Bay City photo by Harris & Ewing.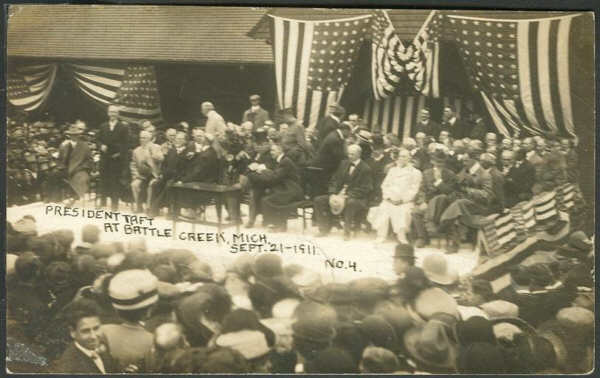 Postcard showing President William Howard Taft (center, in top hat) speaking at the Michigan Central Depot in Battle Creek, September 21, 1911. Taft was visiting Battle Creek as part of a 13,000 mile western trip by special train.
What happened in Bay City nearly 99 years ago?
Hard to believe, but the President came to town.
William Howard Taft, the President of the United States, bestirred his huge bulk to come to Bay City, Michigan on Sept. 18-19, 1911 to dedicate the spanking new National Guard Armory.
The President was popular here, having won Bay County in the 1908 election 6,760 to 4,223 for William Jennings Bryan, the Democrat "free silver, anti-gold standard" advocate.
(The population of Bay County at that time was 68,238, fifth in the state, being exceeded only by Houghton, 88,098; Saginaw, 89,290; Kent, 159,145; and Wayne, 531,590. The city was fourth in size, after Detroit, Grand Rapids and Saginaw.)
Bay City went wild for Taft, thousands jamming the parade route as he came into town and dozens demanding autographs later at a Board of Commerce banquet in the Wenonah Hotel.
"For nine blocks Mr. Taft stood up in his auto and bowed this way and that to his thousands of admirers, meanwhile waving his hands in response to the numerous personal salutations," exclaimed The Bay City Times.
"It was indeed a most brilliant spectacle and the president could not fail to see that his first visit to the city as the chief executive of the nation was appreciated to the fullest degree. There was not a foot of space along the route which was not occupied and the street was brilliant with electric illuminations on both sides from Third to Ninth streets."
The welcoming committee included local luminaries M.L. Davies, James E. Davidson, James E. Duffy, H.E. Buck, N.A. Eddy, D.L. Galbraith, H.D. MacKinnon, B.M. Wynkoop, J.J. Broas, W.L. Clements (in whose car the President rode), A.E. Bousfield, E.B. Foss, A.C. Plum, Frank H. Mohr and others.
However, after his visit here and despite all the hoopla, Taft's star fell in Bay County in 1912, which gave the Progressive Republican Theodore Roosevelt a win with 4,748 votes to Taft's 2,625 and Democrat Woodrow Wilson's 2,990.
Of course, it was here -- in that very National Guard Armory that Taft had dedicated the year before -- that the Progressive "Bull Moose" movement started at the 1912 Republican State Convention.
Local historian Alan Flood, a retired Great Lakes mariner, has tracked the visit of the President in those halcyon days and has uncovered a few amazing, and not generally known, facts, such as:
The 335 pound President took the town by storm that Monday evening, arriving by the Michigan Central train at the First Street station;
(The Bay City Times commented: "Few men could carry around all that flesh and do it without dislodging pedestrians on the street; the president handles himself as easily as a boy in knickerbockers.")


After a brief reception at the station, a military escort conveyed the Presidential party down Washington Avenue as all traffic was stopped during the parade;
(Again, The Times: "Before President Taft had emerged through the gate the automobile in which he was scheduled to ride had been thoroughly inspected by his body guard and the utmost precautions were taken to prevent any unforeseen happening which would bring opprobrium upon the fair fame of Bay City or grief to the nation.")
(Superintendent of Police Nathaniel N. Murphy -- the bully boy who had cleaned up Hell's Half Mile rowdiness -- ordered everyone off roofs along the line of march and strict security (1911 style) was enforced)

(Among those welcoming the chief executive was his former Yale college classmate, local businessman N.A. Eddy, and the music of the Michigan National Guard's 33rd Regiment Band)
The call to order by C.J. Bousfield, acting president of the Board of Commerce, was followed by opening of the dedicatory exercise by Mayor R.O. Woodruff, (Gov. Chase Salmon Osborn being unable to attend due to the marriage of his daughter);
Michigan Supreme Court Justice Aaron V. McAlvay gave an address introducing the President.
Taft's comments were notable and jocular: "It is strange, but it is true that the Lord looks after children and drunken men, and the Unites States," he cracked. "We had a number of bitter wars and went blundering on. We were Americans and the Lord stood by us . . . "
Taft commented on the importance of the National Guard, noting the government had appropriated $30,000 for the Bay City building, and the vital interest to the Navy of the Panama Canal without noting that a Bay City company, the Industrial Works, had provided the huge cranes used in its construction.
The President recalled a visit to Bay City five years previously when he was Secretary of War in the Theodore Roosevelt administration.
"It does seem that I cannot get going because this is Bay City," to great applause. "You have a Congressman (George Loud from Tawas) who I know very well and love. He brought me up to Bay City after I had taken him to the Philippines. He took me to one banquet that lasted until 12 o'clock and then to another little banquet that lasted until morning. I am secure tonight because I can get away before the sun rises."
After a lavish banquet sponsored by the Board of Commerce in the Wenonah Hotel, five courses with a remarkable outlay of alcoholic drinks: Martini cocktail, sauterne wine, Mumm's champagne, as well as Apollinaris effervescent table water, plus cigarettes and cigars as "side dishes," noted The Times.
Taft was the last speaker on a long program that began at 10 p.m. The banqueters drank to his health and sang "For He's a Jolly Good Fellow." According to The Times, "the President seemed to appreciate the compliment."
Taft then caught a train at 1:10 a.m., ending the Presidential visit in Bay City history.
Two days later, Sept. 21, 1911, President Taft spoke at the Michigan Central Depot in Battle Creek. Taft was visiting Bay City and Battle Creek as part of a 13,000 mile western trip by special train to talk about reorganizing large corporations to bring them into compliance with the anti-trust law, as reported at length in the New York Times on September 23.
(EDITOR'S NOTE: MyBayCity.com in the future will feature President William McKinley's visit in 1897 and the whistle stop campaign visits of Harry Truman in 1948 and Dwight D. Eisenhower in 1952. The author of this article was present at the latter two events.) ###
---
History Article 5129
---

Dave Rogers




Dave Rogers is a former editorial writer for the Bay City Times and a widely read,
respected journalist/writer in and around Bay City.
(Contact Dave Via Email at carraroe@aol.com)

More from Dave Rogers
---
Send This Story to a Friend!
Letter to the editor
Link to this Story
Printer-Friendly Story View
---
--- Advertisments ---