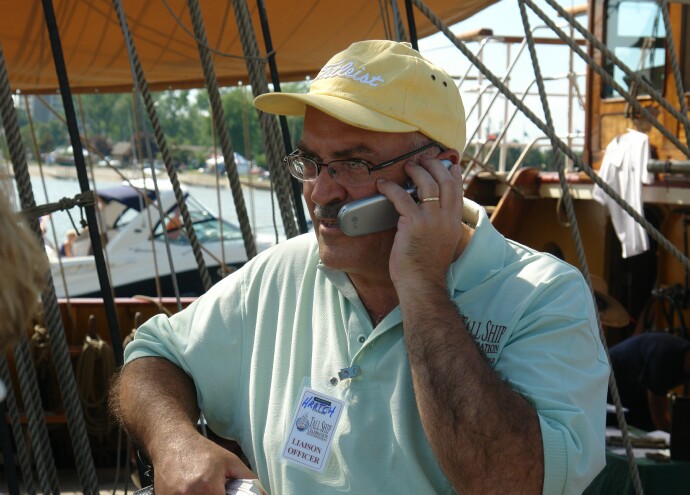 Europa Liaison Officer Hratch Basmadjian takes care of "whatever the ship needs"
---
Tall Ship Liaison Officers Pull Things Together
Local volunteers do what it takes to insure that crews enjoy Bay City visit
July 18, 2010 Leave a Comment
By: Stephen Kent
It takes oil to make a wheel turn smoothly. For Bay City's Tall Ship Celebration that oil may just be the
Ship Liaison Officers
. Several dozen special people volunteer for the job that may best be defined as "do what it takes".
"When the ship came in I was asked how the crew could get to the airport to get their rent cars" said
Mary Bleau
, Liaison to the Roseway. "I said, 'what do you need rent cars for?'". Mary not only drove crew members to the community center for showers, and to go shopping, and to get ice cream on a hot evening, she also drove to Flint twice to pick up new crew members who had just flown in.
The Roseway is based in the Virgin Islands.
Captain Dwight Deckelmann
from Maine has been involved with the 85 year old ship since it was restored eight years ago. "We spend the winters in our home port of St. Croix where we have programs public school kids and kids at risk. As many as 700 kids are served each year." During the summer the ship sails as a training ship for young people.
When asked if anything exciting had happened Deb Wieland answered without hesitation "The Tall Ships Happened".
On the West side of the river Liaison Officer
Rich Milster
was off with the ship Denis Sullivan's cook buying provisions for the next leg of the voyage.
Carole Milster, Kathy and Tom Newsham
said that it had been a great four days. This is the Newsham's fourth time as Liaison's and the Milster's first.
"We had a really interesting visitor who said her father from County Clark Ireland was named Denis Sullivan and spelled the same way." The three said they had met people from all over the world who came to see the ships.
Joe Ewing
, the Sullivan's full time Education Officer said Bay City is the best port yet. "Your people are great. They do it right!"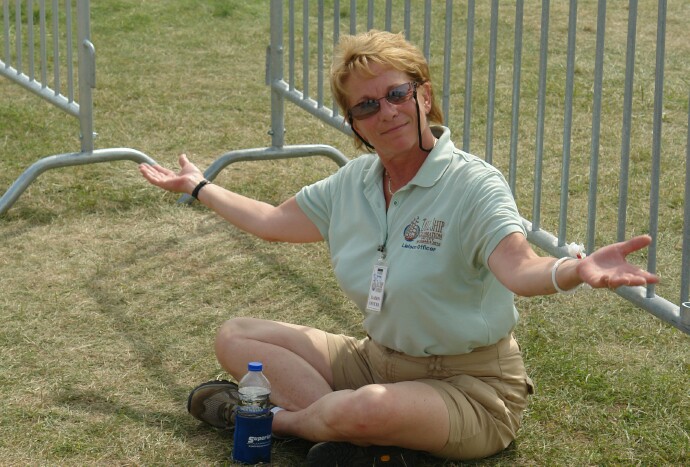 Trouble shooter Deb Wieland says
"tell me what you need"
Deb Wieland
was assigned to the Lynx, one of the ships taking excursions. With the ship out on the bay much of the time, Deb became a Liaison Trouble Shooter. "I'm filling in at the Pathfinder right now" she said. She went on to say that there couldn't be a better volunteer job. "We meet people from all over the world. We make lots of new friends. It's great." Deb also said the Liaisons have all probably worked 50 or more hours in the last four days.
At the Madeline
Jan and Doug Rise
said the most excitement was when a lady dropped her passport into the water. "I was just going to get her another one" said Jan. "But crew member Chris Campbell was right there and fished it out of the water. The lady was so happy because she wanted that passport." The Madeline is from Traverse City. Chris Campbell is originally from Bay City.
On the East side, Liaison Officers
Bob Chadwick
and
Hratch Basmadjian
got a kick out of saying that their ship, the Europa, was voted most beautiful. "All the other ships are SO jealous" laughed Hratch. "And I only voted three times" said Bob.
One after another, over and over, the Liaisons talked about how much fun they had. Many are back for their third or fourth time as Liaisons. It was hard work and long hours and the weather was hot, but it was worth it.
The attitude of all the Liaisons was best summed up by
Kevin Czerwinski
who said
"I don't want to hear someone has a problem. Give it to us, we'll just take care of it."
5087, 7775, 7776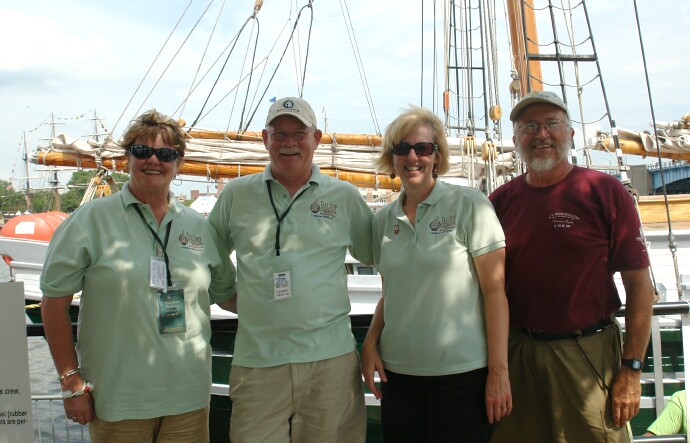 Ship: The Denis Sullivan
Liaisons Kathy and Tom Newsham, Carole Milster, and ship education officer Joe Ewing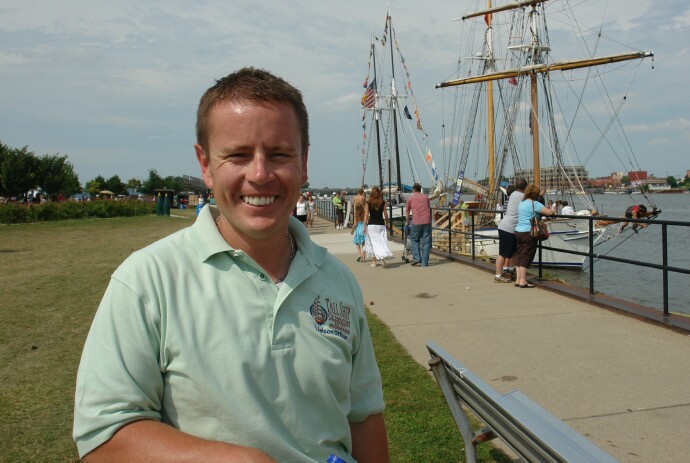 Ships: Playfair and Pathfinder. Liaison Ryan Carley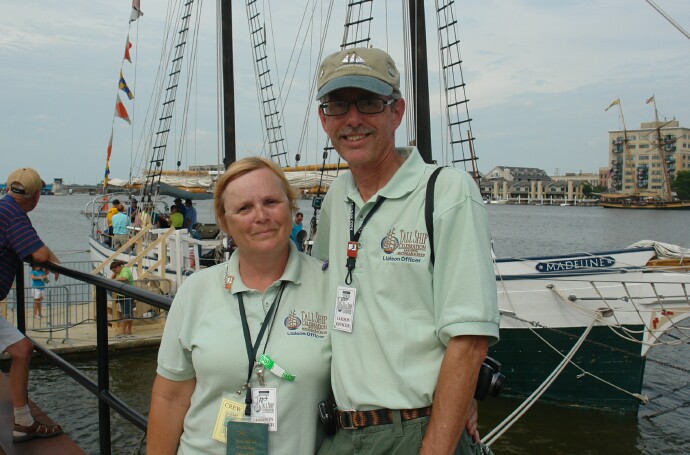 Ship: Madeline. Liaisons Jan and Doug Rise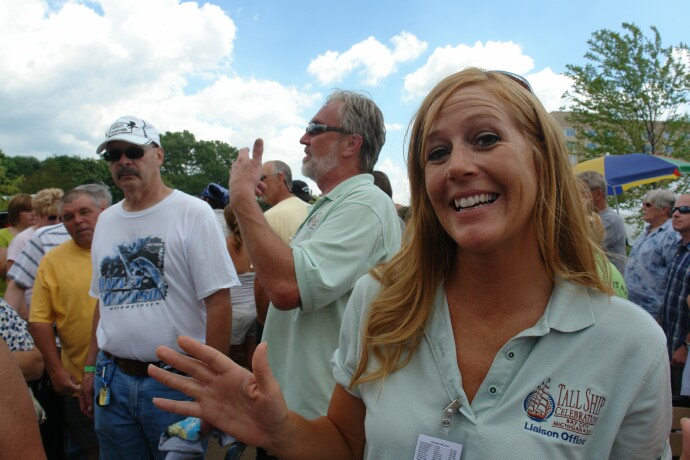 Ship: Bounty. Liaison: Angela Harris (and her dad in the background)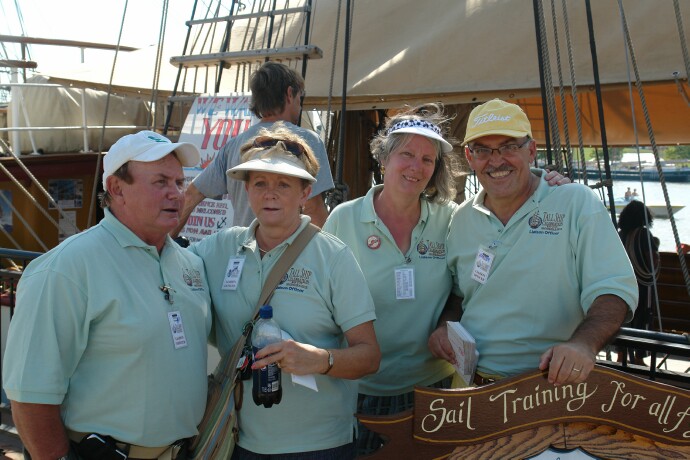 Ship: Europa.
Liaisons: Bob and Cindy Chadwick, Terry and Hratch Basmadjian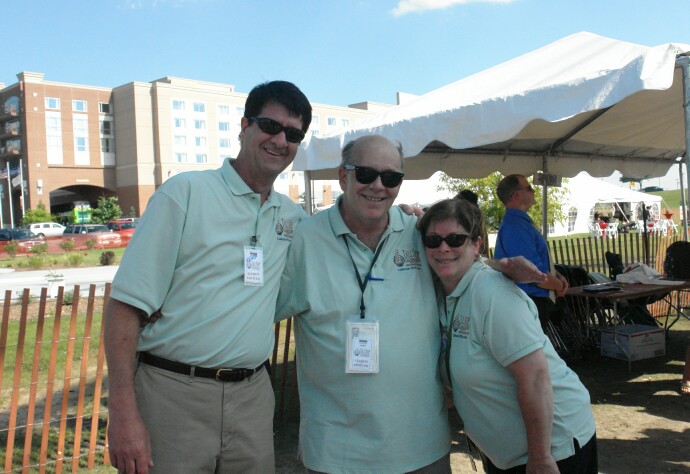 Kevin Czerwinski (Pride of Baltimore), Tony Bloenk (Bounty), and Kathy Czerwinski (Chief Liaison Officer)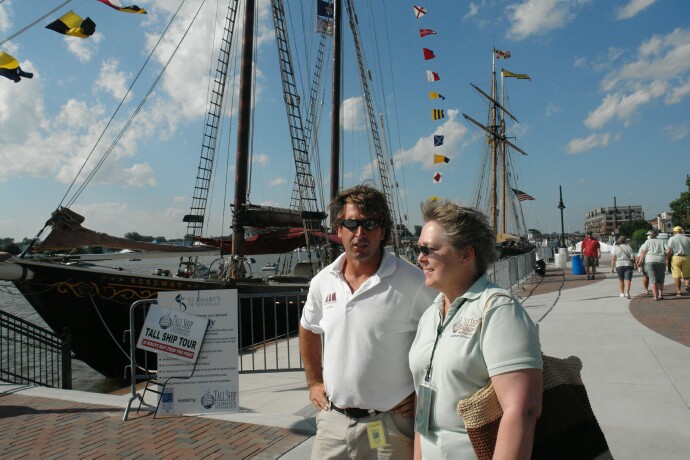 Roseway Captain Dwight Deckelmann and Liaison Officer Mary Bleau
---
---

Stephen Kent




Steve Kent and his family have lived in Bay City for 40 years. He is VP of Technical Services at MMCC which produces MyBayCity.Com. Kent is active in many Bay City civic organizations.

More from Stephen Kent
---
Send This Story to a Friend!
Letter to the editor
Link to this Story
Printer-Friendly Story View
---
--- Advertisments ---