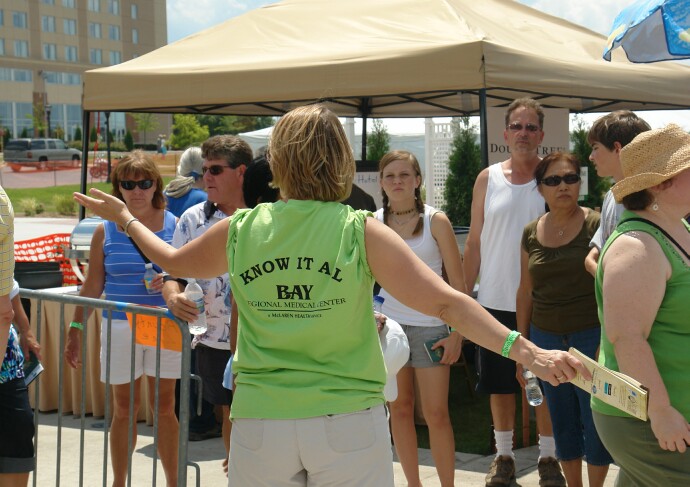 'Know It All' Volunteers Key to Tall Ships Success
July 17, 2010 Leave a Comment
By: Stephen Kent
If you were at Tall Ship Celebration 2010 you couldn't miss the lime green "Know It All" T-shirts. They were everywhere. Hundreds of volunteers who worked four hour shifts to make the experience as pleasant as possible for the thousands of visitors to Bay City's river front.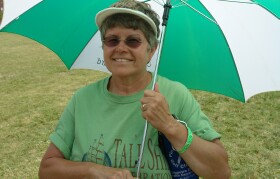 "You don't have to climb that hill, there are shuttle buses over by the Planetarium" said Sue Post time after time as she informed people climbing to the Veteran's Bridge. "Most folks just want to go up on the bridge for the view from above", said Sue. "But those going to the other side may not know that they'll have to walk all the way around to reach the entrance."
Sue, a retired Central High math teacher, is one of several dozen Team Leaders. She's working all day every day for the entire event. About 15 volunteers will report to her for their four hour shifts. "We're the Ask Me group", she said.
Volunteers do it all. Some direct foot traffic, others just answer questions. They sell tickets, check passports and attach wrist straps. Some usher visitors onto boats. They all keep an eye on the crowd. "It's hot" said Sue. "If we see someone who seems to be having a problem we'll check on them and if they are overheated we can get them help."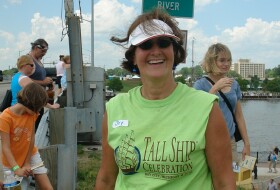 Joy McFadyen worked the top of the hill on the bridge. She wore a hand written name tag on her green T-shirt. "They didn't have enough shirts and told me to just wear a tag. But more shirts showed up in time".
Joy was giving directions, answering questions, and telling people how the bridge opens frequently for boat traffic. "Everyone seems to be having a great time. Some have never been this close to a draw bridge, certainly not standing on one when it opens. It's a unique experience."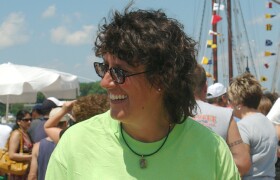 "SCOOT! . . . STOP SCOOTING! How ya doing? Having a good time? Who's from out of town?" Laurie Seibert was having a good time as she handled the head of the line waiting to board and tour the Roald Amundsen. She worked the crowd like an entertainer keeping the line smiling and laughing. "TRIVIA QUESTION: See that big white sheet blowing on the deck. What do you think that is?" Laurie yelled to the line. "It's the air conditioner. It catches the wind and sends it down the hatch." Turning to the people closest to her she added "I bet a woman thought of that."
Jean McCue and Jeffrey Weenink were working the VIP tent on the East side. Jeffrey is the Reverend Dr. Weenink, Pastor of First Presbyterian Church. Between visitors he was working on his sermon for Sunday. "The title is Anchored" said Jeffrey. This is the fourth Tall Ship Celebration since Jeffrey came to town. He laughed and said "It's becoming a challenge coming up with nautical themes for these occasions". First Pres, just down Center Ave from the river front holds an early service in the Wenona Park Shell at 8:15 each Sunday. The regular service is at 10:00 at the church.
Whether they're taking tickets, offering information, answering questions, painting faces and building toy ships with kids, or doing any number of other things, volunteers make it happen.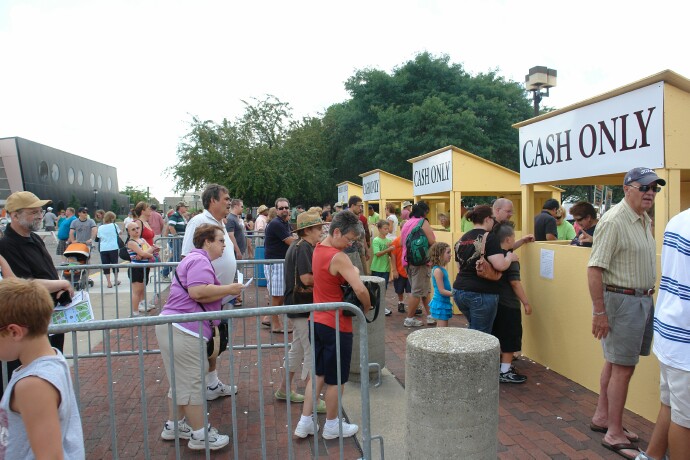 The main gates at the entrance to Wenona Park.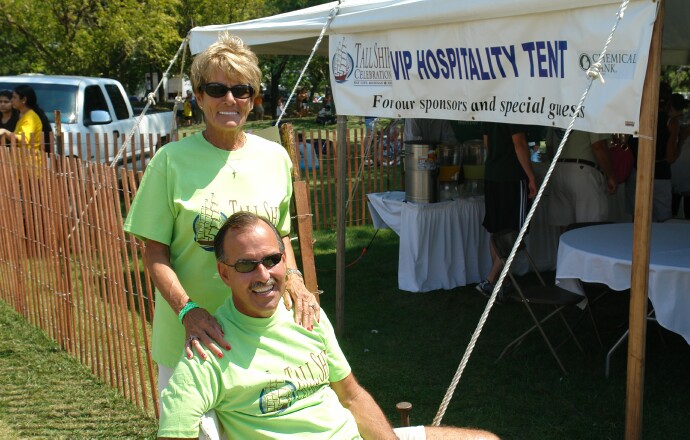 Jean McCue and Jeffrey Weenink work the VIP Hospitality Tent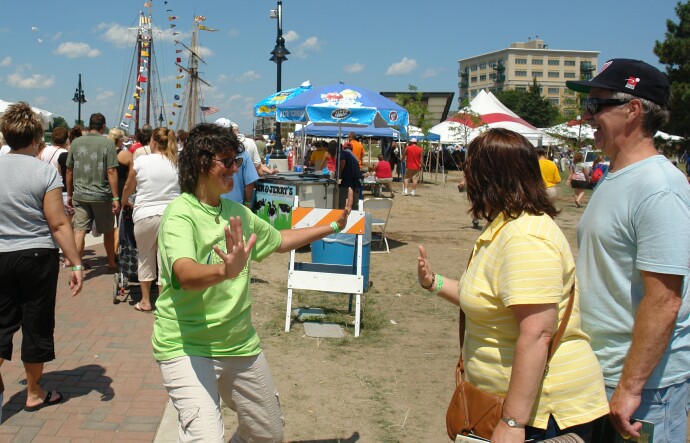 Don't scoot! Laurie Seibert directs traffic and entertains visitors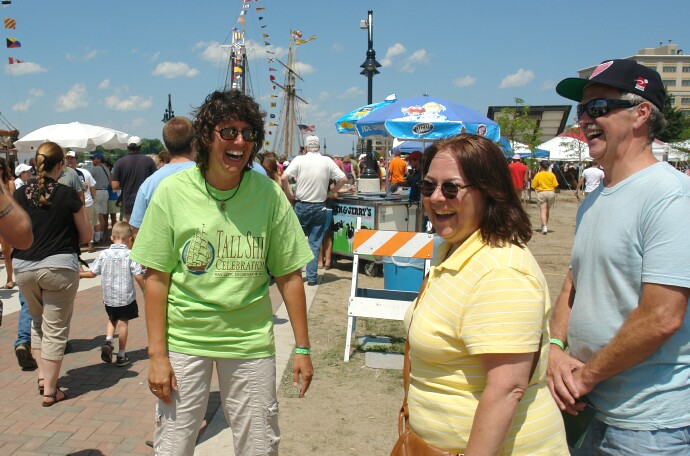 Everyone has a good time in Laurie's line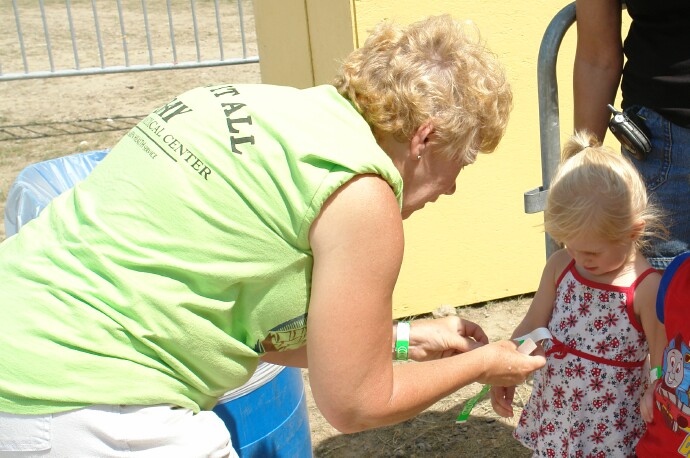 The little girl was not sure she wanted that wrist band!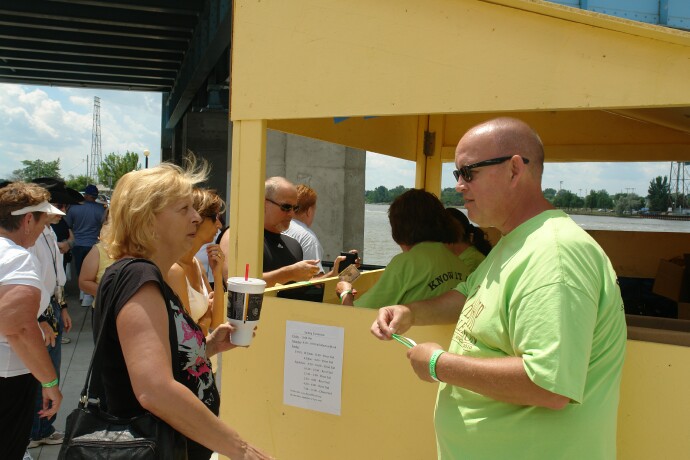 Taking tickets and answering lots of questions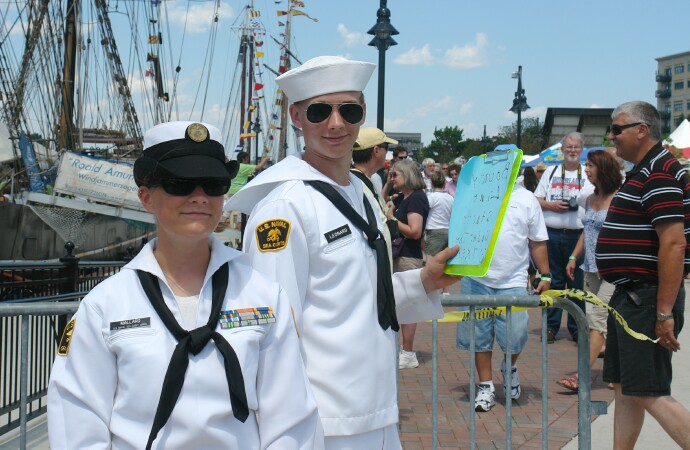 High School Sea Cadets Mallard (Millington) and Leonard (Midland) work the Bounty.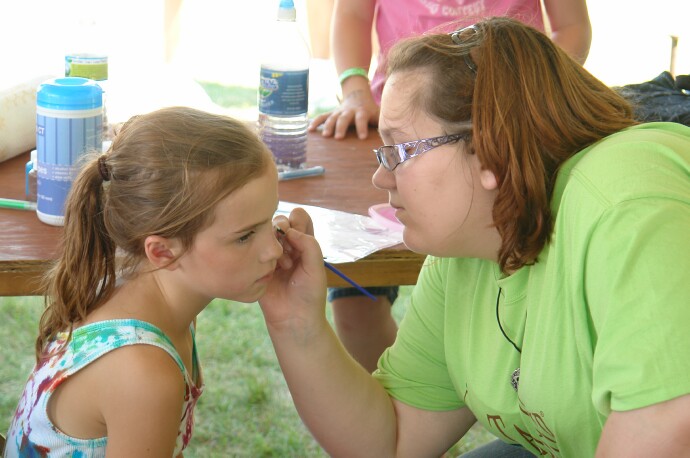 Rachel Schmidt paints 9 year old Madison's face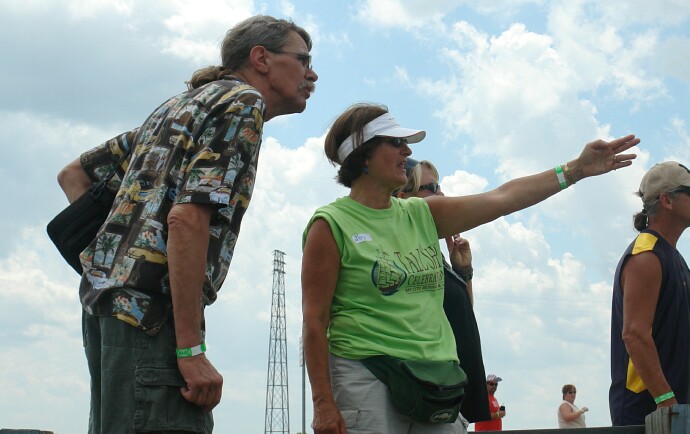 Joy McFadyen gives directions and information on Veteran's Bridge
5087, 7775, 7776
---
---

Stephen Kent




Steve Kent and his family have lived in Bay City for 40 years. He is VP of Technical Services at MMCC which produces MyBayCity.Com. Kent is active in many Bay City civic organizations.

More from Stephen Kent
---
Send This Story to a Friend!
Letter to the editor
Link to this Story
Printer-Friendly Story View
---
--- Advertisments ---