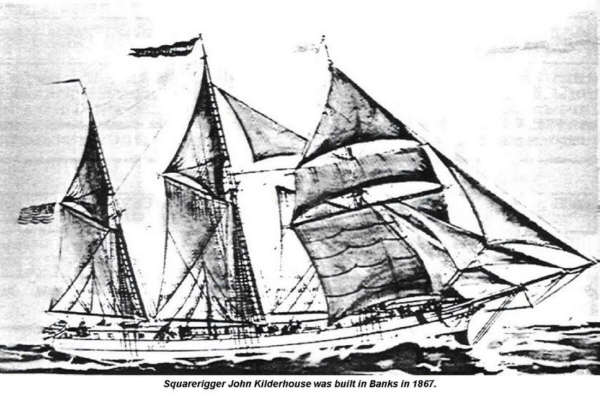 Looking much like the storied clipper ship, the John Kelderhouse was built on the Saginaw River in Banks in 1857.
---
Tall Ships Nothing New Here; Shipbuilding Began in Bay City 156 Years Ago
Local History of Shipbuilding is Long and Storied but Largely Forgotten
Some of the first ships built here beginning in 1854 looked very much like the vessels that will cause a commotion starting Thursday in the Tall Ships Festival.
Early settlers were used to seeing sails on the river as the first vessels that arrived included sailboats that came through Lake Erie and Detroit enroute here.
The first ships built on the Saginaw River were two sloops built at the mouth by trader Louis Thibault, grandfather of Joseph and Mader Tromble.
Bay City was an important shipbuilding center from 1854 to 1976, with 13 companies constructing 888 ships.
From the 1870s on, Bay City ranked with Cleveland, Erie, Buffalo, Chicago, Milwaukee and Niagara Ontario as a major shipbuilding center.
Clipper ship like vessels such as the 158 foot John Kelderhouse, a 168 foot square rigger built by William Crosthwaite in 1857, and the 149 foot E.T. Judd, out of Tripp & Church in Essexville, were carried onto the lakes with billowing sails.
Local shipbuilders, in order of their production, included: Defoe, 316 ships; Wheeler, 157; Davidson, 108; Gougeon, 14 sailboats and 400-500 small iceboats; Unknown builders, 163; Chesley Wheeler, 27; Crosthwaite, 24; Kaunitz and Huiskens, unknown numbers.
The existence of hardwood like oak and tamarack and white pine for spars was a key to the location of shipbuilders here. Capt. James E. Davidson, for example, used 10-20 carloads of oak per ship, depending on its size.
Building advanced wooden ships led to development of the expertise that was available when steel ships evolved in the 1880s.
A federal government report of 1884 said the nation's finest shipyards were on the Saginaw River, with Wheeler's in West Bay City coming in for highest praise. Wheeler began building steel ships in 1889 and furnished vessels for New York tycoon John D. Rockefeller, who owned the local yard for a time after backing Wheeler.
---
--- Advertisements ---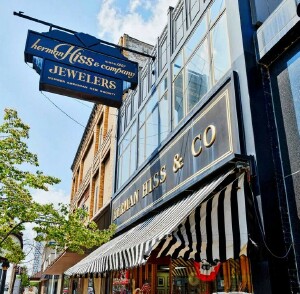 ---
Davidson built the longest wooden ships on record, up to 341 feet. His secret was revealed on wrecked vessels in Lake Superior, although he never concealed his methods. Davidson had extensive strapping with turnbuckles and iron bracing that prevented his behemoths from "hogging" or "sagging."
When other yards converted to steel, he stuck with wood that was cheaper and saved money. He also had his own dry dock, still largely intact in Veterans Park. It removed two million gallons of water in an hour and a half, allowing him to do repairs cheaper on his own.
After Wheeler closed in 1908 due to labor and other troubles, Harry J. Defoe absorbed many of his workers and became the dominant local yard. A former principal of Park School, Defoe would climb to the bell tower of the West Side school and watch shipbuilding activity on the river nearby. Inspired by builders such as Crosthwaite, one day Defoe resigned from the school and began building wooden fishing boats and knock-down runabouts.
In 1912 he won his first government contract and during World War I build 100 foot long steel harbor mineplanters at his yard on the west side of the river near the present Pier 7 marina.
During the early years Defoe could not build armed ships because the U.S. had agreed by terms of the treaty ending the War of 1812 not to construct warships on the Great Lakes.
During World War II, Defoe (the old treaty having been renegotiated), built 160 warships including 58 patrol craft 178 foot subchasers, part of a fleet of 565 built nationwide, said key to control of Nazi submarines in the North Atlantic in 1943.
Defoe also built up to destroyer class (400 feet plus) ships until it closed in 1976. Hardly any recollection of the shipbuilding age remains except the remains of Davidson hulks in the Saginaw River off Veterans Park and an old Defoe building that is now part of OmniSource scrap yard.
However, Saginaw Valley Naval Ship Museum officials report they are in final negotiations with the U.S. Navy and the Environmental Protection Administration to being the Viet Nam era destroyer USS Edson to a dock near Independence Bridge. A fall or early spring arrival is anticipated. ##
5087, 7775, 7776
---
---

Dave Rogers




Dave Rogers is a former editorial writer for the Bay City Times and a widely read,
respected journalist/writer in and around Bay City.
(Contact Dave Via Email at carraroe@aol.com)

More from Dave Rogers
---
Send This Story to a Friend!
Letter to the editor
Link to this Story
Printer-Friendly Story View
---
--- Advertisments ---