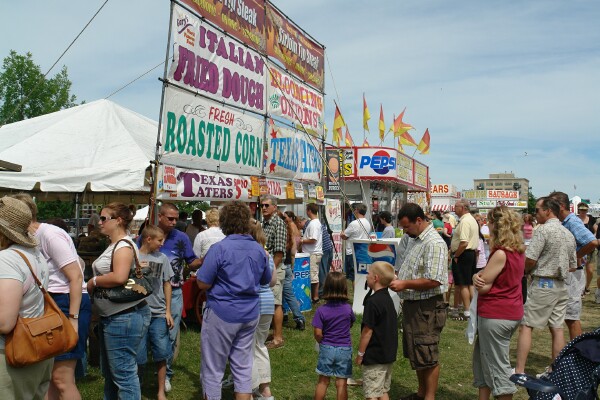 Tall Ships and Great Carnival Food!
The smell of FRIED ONIONS was too much to resist!
July 23, 2006 Leave a Comment
By: Stephen Kent
Bay City festivals, like the Tall Ship Celebration, always have plenty of food vendors. Sure it's FRIED, but hey, we're outside, it's a festival, you're SUPPOSED to eat stuff like that. Besides, there are some things that are not fried... like cotton candy.
And if you're thirsty there are the usual bottled drinks but there's also fresh squeezed lemonade with lots of ice and root beer on tap; buy a keepsake metal mug and refills are just a dollar!
OK, forget the healthy stuff (lemonade and cotton candy) for a minute and let's get back to the important food at any festival. Let's talk about Blooming Onions! They're a favorite as witnessed by the piles of bagged onions behind the cookers.
On Saturday afternoon Tim Springob prepared to drop some onions in the hot oil for the MyBayCity camera. Soon a small group of fans and admirers gathered behind the tent and around the cooker to observe the demonstration.
"We bought one of those blooming onion cutters they sell on TV and it just doesn't work" said one of the bystanders. "That's what we use" Springob replied, and with a smooth motion he slammed an onion down on the table where it blossomed into perfect petals ready to batter. He fanned the onion out and laid it next to a group of others. "You have to hit them like that so they open up."
With the onions opened, Springob dipped them into a large pan of batter, thoroughly covering both the onion and his hands. The onions were then gently placed into the hot oil top down. Each one floated off in a bath of bubbles and steam. "We didn't know you had to hit em like that" said the bystander. "And we always put them in the oil the other way around."
As each onion turned golden brown, Springob moved it around with a large strainer then deftly lifted it out, shook the oil off, then with a flourish flipped it in the air, caught it on the strainer and laid it aside with the other cooked onions.
Springob made it all look so easy, but he's been doing this for some ten years. He's also got a few advantages... like that huge vat of oil that would take half your kitchen at home. So with the tips from a pro, you could probably fry your own onions at home, but with the Tall Ships in town and onions being cooked fresh on the riverside, why worry? And if you missed them this time, don't worry. The blooming onions and all the food vendors will be back several times for the rest of Bay City's summer of festivals.
---
---
--- Advertisements ---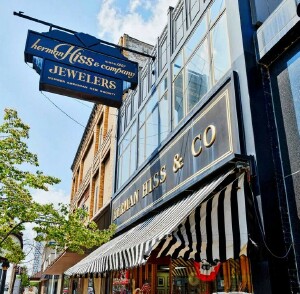 ---
---
---

Stephen Kent




Steve Kent and his family have lived in Bay City for 40 years. He is VP of Technical Services at MMCC which produces MyBayCity.Com. Kent is active in many Bay City civic organizations.

More from Stephen Kent
---
Send This Story to a Friend!
Letter to the editor
Link to this Story
Printer-Friendly Story View
---
--- Advertisments ---