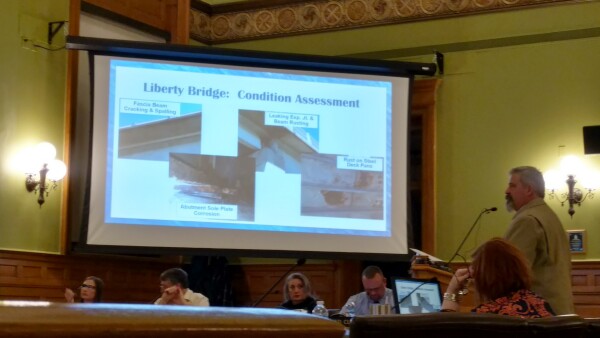 Bay City TOWN HALL Discusses Bridge Issues
January 30, 2018 Leave a Comment
By: Stephen Kent
The Bay City Commission held a public Town Hall meeting on Monday, January 29. A full house was on hand to listen as a presentation was made to the employee of the year, and a short report was given on revised trash and recycling plans.
Following those, the main event was a presentation and slide show by Director of Public Works Robert Dion outlining the conditions of any problems with the Liberty and Independence bridges. That was followed by a review of the widely publicized "Public, Private Partnership (P3)" proposal to build a new Independence Bridge and to rehabilitate and upgrade the Liberty Bridge.
Problems with the two bridges, when listed, are formidable (in some cases downright frightening). The cost to correct these items is even more attention-getting. Liberty repairs, short-term, could run almost a quarter million dollars. Long-term repairs could add another five million. The numbers for Independence top out near $1.8 million.
The final part of the presentation addressed the controversial issue that brought out most of the audience: the proposal to turn the bridges over to a private company and its plan to repair Liberty and to replace Independence Bridge with a fixed span. The company would make their investment back by charging tolls to cross the bridges.
In answer to a question, City Manager Dana Muscott, said that a final decision has not been made and discussions continue. "I can see us still talking about this a year from now", she said.
Addressing a recent report of secret meetings, Muscott said that there were no secret meetings and one that was alleged to be secret was an information-gathering meeting that was not secret and violated no rules or ordinances.
Some commissioners questioned the timing of recent meetings, which may have led to those meetings being called secret. Scheduled during the work day, those meetings could not be attended by some commissioners with regular jobs. There were also questions about some commissioners not being notified.
Another meeting will be held February 5 at the Doubletree Conference Center. City, County, State and National participants, other interested parties, and the public have been invited. The meeting is at 10:00 am so the concern with the time may still be an issue.
When asked why the bridges are in such bad condition, the simplest answers were that 1) the bridges are nearing their projected lifespan and 2) large drawbridges, with their moving parts, don't last as long as fixed bridges.
Following Dion's presentation, and some questions and answers, the floor was opened to public comment. Some 20 to 25 people lined up that speak. The majority seemed to be against any proposal to charge a toll. "I cross that bridge at least 6 times a day," said one person. "That would be $3 a day."
A second concern was the sheer size of a fixed bridge, which has been projected to be similar in size to the Zilwaukee bridge. One person noted that the approach alone could reach back to the historic district on the east side.
One person asked if a tunnel has been considered. The question may or may not have been serious, but Dion did reply "I won't tell you that has not been mentioned."
Regarding the wear and tear on the drawbridges, it was asked why commercial shipping does not pay when passing the bridges. The simple answer is "the rivers were there first". Any other reasons were not made clear.
The Town Hall meeting did not result in any decisions. It was an opportunity for citizens to publically express their feelings, and that is what they did. The sense of most observers seemed to be that opposition to the toll, and strong feelings against a huge bridge replacing the Independence, seemed to rule the day. There did not seem to be any question about the deterioration of the existing spans or the need to do something and do it soon.
---
---

Stephen Kent




Steve Kent and his family have lived in Bay City for 40 years. He is VP of Technical Services at MMCC which produces MyBayCity.Com. Kent is active in many Bay City civic organizations.

More from Stephen Kent
---
Send This Story to a Friend!
Letter to the editor
Link to this Story
Printer-Friendly Story View
---
--- Advertisments ---