Thinking Out Loud
My Hills Are Alive
November 25, 2012
By: Diane Szczepanski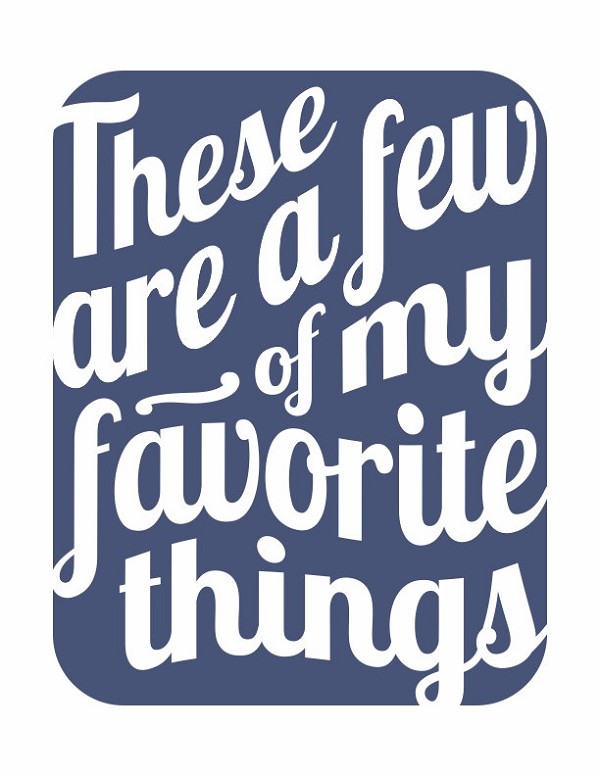 These are a few of my favorite things
Cream colored ponies and crisp apple strudels
Door bells and sleigh bells and schnitzel with noodles
Wild geese that fly with the moon on their wings
These are a few of my favorite things
Rodgers and Hammerstein
In recent years, I have gained a solid respect for appreciating the little things in life.
Call it maturity, call it being resigned that I've not had really huge, luxurious, expensive pleasures come my way, call it finding contentment in life. Call it Maria syndrome from the 'Sound of Music'.
Call it what you want.
It's my favorite little things that bring me great pleasure.
Waking up to see snow on the ground on a day off. Taking great joy I don't have to leave the house. Knowing I can sip endless cups of hot coffee, while snuggling on the couch with my favorite throw and a good movie.
Occasionally indulging in a breakfast of 2 pieces of 'Spatz' bread toast with peanut butter and strawberry preserves. Not jelly. Or sugar-free jam. Full out PRESERVES.
Hearing a tune that inspires uninhibited dancing, head-nodding and shameless arm-pumping. Or one so beautifully written and composed it brings a tear to my eyes.
My dad's grilled teriyaki steak and wafer-thin sliced cucumbers and onions in his own, inimitable cream sauce. Followed by my mom's sour cream cookies for dessert. Heaven.
When my son talks to me as a person and leaves out teenage angst and sarcasm and I get to hear his views on life. Reveling in proud awe of the adult he's becoming and realizing that all those things I tried to teach over the years, really did sink in.
When a flock of geese fly over my house in perfect unison. Making their trek from the river back to their nesting place in the swamp nearby and I'm lucky enough to be outside to watch and listen.
Laughing so hard with a good friend that all traces of mascara are gone and I realize I don't even care if I look like a raccoon with a runny nose.
A bike ride when the wind is at my back and I can go really, REALLY fast.
The feeling of pulling into the driveway after a long, hard day and appreciating my home is not just a house, but a comforting refuge.
Ah yes, the list goes on and on and I've had so many small pleasurable moments in my life so far. Too many for this little space and too many for you to be interested in investing the time to read them all.
However, I do encourage you to make your own list. You might be surprised, as I was, at how happy you really are.
You may find your hills alive too.