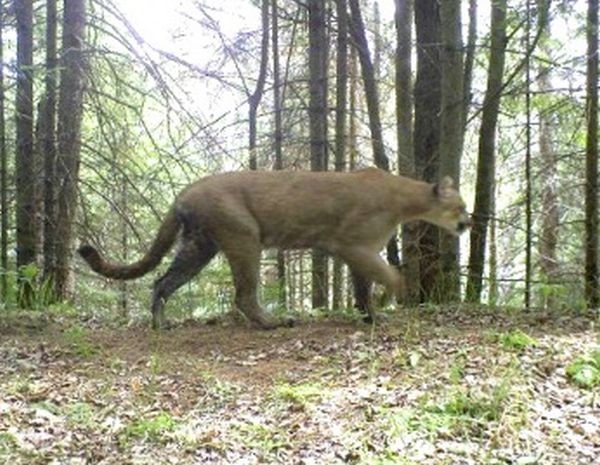 Cougar photo released by Michigan Wildlife Conservancy was snapped by trail camera in Marquette County this summer.
---
Cougar Sightings Increase in Michigan Including 25 in Tri-County Area
October 6, 2012
By: Dave Rogers
Cougars appear to be spreading across Michigan, even into Oakland County, with sightings in the tri-county area also reported.
Fourteen cougars have been sighted in Midland County, five in Saginaw, six in Bay, eight in Tuscola, 16 in Ogemaw, 30 in Roscommon and others in Clare and around mid-Michigan.
(See Michigan Citizens for Cougar Recognition website: http://www.michigancougar.com/CountySightings/michigancounties.htm)
A trail cam in southern Marquette County recently captured the above photo of a cougar. The photo was released by the Michigan Wildlife Conservancy (MWC).
Dr. Patrick Rusz, Director of Wildlife Programs for the MWC and retired DNR forester Michael Zuidema verified the photo taken by camera on a well-worn wildlife trail atop a wooded ridge.
The camera has also photographed wolves, coyotes, fishers and numerous other species at the same site over a four year period.
The MWC is publicizing this photograph because it may be the best, clearest photograph of a wild Michigan cougar ever taken. It is also unusually interesting because Mr. Zuidema has recorded over 20 credible cougar sightings in the same vicinity since the 1970s. These include several sightings within a few miles of the trail camera location.
Dr. Rusz stated that "the long history of sighting reports in the area indicates the cougar photographed on June 1 may be part of a resident population rather than a wandering cat from a western state."
Dr. Rusz has studied cougars for the Conservancy for 14 years and is co-author of a peer-reviewed study that confirmed cougars in both peninsulas of Michigan by analysis of DNA in droppings. He has also identified a long list of additional physical evidence dating back to 1966, and notes that Michigan State College zoologist Richard Manville documented several cougar sightings or incidents when he inventoried the fauna of Marquette County's Huron Mountains from 1939 to 1942.
"The MDNR cougar team should now look at the very good evidence of a remnant cougar population collected before 2008," said Bill Taylor, President of the Conservancy. "They could still easily verify cougar photos taken in the 1990's in Alcona and Oscoda Counties in the Lower Peninsula and some others. The vegetation and other landmarks needed to confirm the photos are still there."
You can compare the photograph above with photos of a wolf, coyote, raccoon, and porcupine taken by the same camera in the same location at the MWC website at www.miwildlife.org.
The Michigan Wildlife Conservancy (MWC) is a non-profit citizens group established to restore Michigan's wildlife legacy. They have restored more than 8,200 acres of wetlands, 2,500 acres of prairies and grasslands, and hundreds of miles of trout streams, and helped with several rare species recoveries and the creation of many backyard habitats.
MWC calls the recent photo the "best, clearest photograph of a wild Michigan cougar ever taken."
The trail camera was padlocked to a tree on a wildlife trail in southern Marquette County on June 1.
According to the MWC, the citizen that setup the camera has recorded over 20 credible cougar sightings since the 1970's in the same area.
Since 2008, the MDNR has confirmed 15 cougar sightings, with the most recent being in May near Skanee in Baraga County about 50 miles north of where the Marquette County photo was taken.
The DNR website includes the following information on cougars:
1. Is there a population of wild cougars in Michigan?


Cougars, also called mountain lions, were originally native to Michigan, but were extirpated from Michigan around the turn of the century. The last known wild cougar taken in the state occurred in 1906 near Newberry. There have been periodic reports of cougar sightings since that time from various locations in Michigan. This situation is not unique to Michigan, and has been occurring in many other mid-western and eastern states as well.
In 2004, a hair sample was collected from a vehicle bumper and tested using DNA analysis. That sample was positively identified as cougar.
A recent study based on DNA analysis of scat samples was conducted by Central Michigan University and the MWC. That study showed that samples from eight locations tested as positive as cougars.
2. Are cougar sightings by themselves evidence that cougars are here?
No. Most state wildlife agencies, including the Michigan DNR, rely on physical evidence such as carcasses, DNA evidence, tracks, photos, and other sign verified by experts to document the presence of cougars.
3. Is the DNR conducting surveys for cougars in Michigan?
The Wildlife Division conducts annual winter track surveys for wolves and other fur-bearers covering thousands of miles of roads and trails in northern Michigan and the Upper Peninsula. These surveys have a high likelihood of detecting cougars if a population existed in those areas.
4. If cougars are here, where did they come from?
Based on documented evidence, cougars observed in Michigan could be escaped or released pets. Or, they could be transient or dispersing cougars from the nearest known breeding populations in North and South Dakota. These populations are over 900 miles from Michigan. During the winter of 2004-2005, the National Park Service conducted road and trail surveys and trail camera surveillance designed to detect cougars in Sleeping Bear Dunes National Lakeshore. No evidence of cougars was found.
5. Did the DNR release cougars into the wild in Michigan?
The DNR has never released cougars in Michigan, and has no plans to do so.
6. Is the cougar endangered in Michigan?
The species in Michigan is listed as endangered and is protected under state law.
7. Are there pet cougars or exotic big cats like leopards and African lions in Michigan?
A few people who owned cougars or large cats prior to 2000 are still permitted to own these animals. It has been illegal to own a cougar or large exotic cats such as African lions, leopards, and jaguars, in Michigan since 2000. No new permits are being issued. The DNR occasionally receives reports of illegally owned large pet cats including cougars, and has confiscated these animals. It is possible that escaped or released pet cougars account for at least a portion of the sightings in Michigan.
8. Can cougars be black?
There is no scientific documentation that a black color phase exists in cougars in North America. Several species of the larger spotted cats (leopard and jaguars) do have black color phases. An exotic cat called a jaguarundi, which looks somewhat similar to a cougar -- just a smaller size, has a black phase.
9. How do I report a cougar sighting?
Sightings of cougars may be reported on-line at www.michigan.gov/dnr under Wildlife and Habitat -Wildlife Observations. Online observations are used for data collection purposes only.
If you have physical evidence of a cougar (scat, tracks, or carcass), contact your local DNR Operations Service Center. After business hours, contact the DNR Report all Poaching (RAP) hotline at 800-292-7800. Be careful to not disturb the area and keep physical evidence intact until it can be investigated. If you have a livestock depredation situation, contact your local DNR Operations Service Center. After business hours, contact the DNR Report all Poaching (RAP) hotline at 800-292-7800. ###