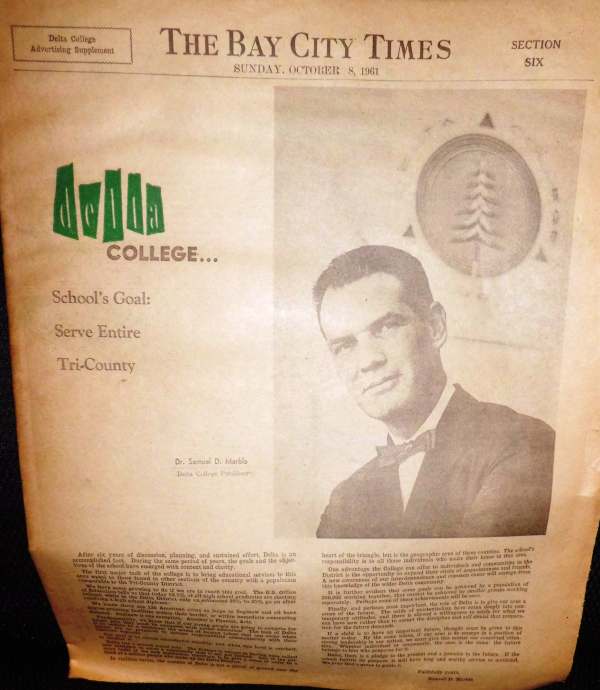 The Bay City Times observed the founding of Delta College with this special section Oct. 8, 1961
---
Delta College's First Half Century Marked by President Jean Goodnow
November 3, 2011
By: Dave Rogers
Fifty years ago there were only two metropolitan regions in the United States without an institution of higher education: the Tri-Cities of Bay, Saginaw and Midland and Phoenix, Arizona.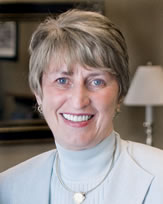 Current president
Dr. Jean Goodnow, (pictured at right)
speaking to the Torch Club of Saginaw Valley last week, noted that changed here when Delta College opened on a 640 acre Frankenlust Township site in Bay County. It was aimed at serving the 350,000 people of what is now termed the Great Lakes Bay Region.
Delta celebrated its golden anniversary Oct. 9 with opening of the courtyard's $500,000 renovation. From a beginning with about 1,850 students, the college has graduated 50,000 and has a current student population of about 16,000, according to Dr. Goodnow.
"We pray God's grace to guide it," said Samuel D. Marble, the college's first president in the introduction to a special tabloid section of 16 pages in The Bay City Times.
Delta' first business manager, Donald J. Carlyon, later president, noted in the newspaper that investment of funds from an $8 million bond issue had started out the school with about a $525,000 nest egg after $7.1 million in construction of 47 classrooms and 12 laboratories and another $600,000 in library and furnishing costs.
The college administration originally was organized and operated at the Saginaw Board of Education. Evening college classes were offered on the main campus and also in the three constituent cities. About 700 were enrolled in the evening program for which tuition was $10 per credit hour.
Euphoria gushed from the pens of Times' writers about everything from the shrubs in the one acre inner courtyard of the Alden Dow designed structure to the fact that a faculty member, Dr. Carleton Mabee, was a winner of the Pulitzer Prize for his biography of Samuel F.B. Morse, inventor of the telegraph.
Ph.d holders littered the campus, some like Dr. Louis W. Doll holdovers from the school's predecessor institution, Bay City Junior College with 650 students that had outgrown its quarters on the third floor of Central High where it had thrived for 38 years.
"It took 1,400,000 bricks to build Delta College," was another example of journalistic hubris about the new school.
Delta made community college history when three counties joined together, agreed to a half-mill property tax for ongoing funding, and approved the bond issue for construction.
The dedication day newspaper also reported on a vision for the two-year Delta to be catalyst for a four-year college projected by Maurice E. Brown, of Saginaw, board president.
Dennis J. Goddeyne, president, Greater Bay City Chamber of Commerce, and Richard C. Learman, president, Valley College Association, headlined commentators on the cover of another 16-page broadsheet section of the paper.
A master plan by Brysselbout, Dow, Wigen architects for the mile square campus took up much of the back page, projecting a football stadium, baseball field, faculty and married student housing, dormitories and an arboretum.
Imaginations ran wild with ideas for a paid symphony orchestra performing from a domed amphitheater, a conservatory of music, historical museum, carillon, gardens, fountains and sculpture.
Some of the visions of those heady founding days have been fulfilled in the four-year "spin-off," Saginaw Valley State University, for which Dr. Marble was the first president. At age 31 he had been president of Wilmington College, Ohio.
Elwyn J. Bodley, Bay City superintendent of schools, waxed poetic in his comments linking the new school to its predecessor with lines from the JC alma mater:
"May this college stand for ever;
"In its majesty;
"May her honor and her glory
"Live in memory." ### "