Landaal Packaging Systems-50+ Years and Counting
Company Commitment Alive in Bay City
November 6, 2011
By: Diane Szczepanski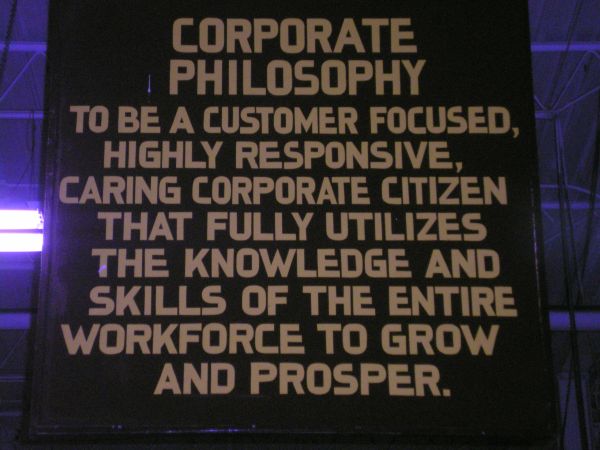 The Landaal Mission
It's easy to see why Landaal Packaging Systems-Delta Container Division, is still thriving and providing jobs in the Flint and Bay City plants.
They are innovative and respond to changing times, they take pride in their products and care about their employees.
Landaal has been a family-owned business since 1959 and got their start in Flint when they were originally known as "Flint Box Makers" until 1962, when they became "Flint Packaging".
Later, they become known as Delta Containers, eventually deciding in early 2000 to give the company the family name, which we know now as, Landaal Packaging Systems-Delta Containers Division.
---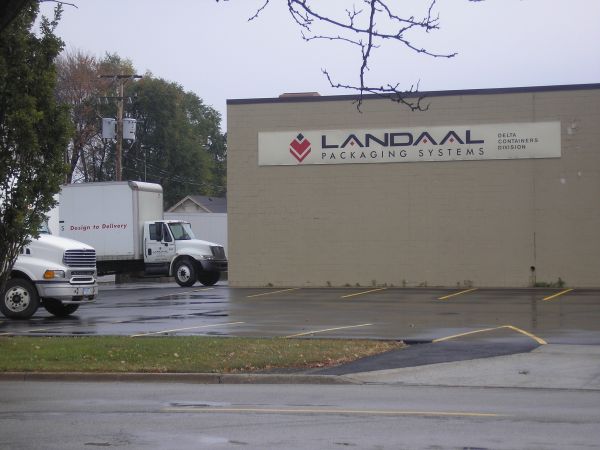 Landaal Packaging Systems-Delta Container Division's Bay City site
The current site of Landaal at 1400 Eddy St., Bay City, MI was formerly located in what is now the 'BARTS' entertainment complex on Midland St. They were Delta Containers then and were housed in the building from approximately 1960-1979 before the move to the East side.
Formerly the Sears Warehouse many years ago, the 55,000 square foot plant sits next to a 36,000 square foot warehouse and is a bustling, busy organization currently running 1 1/2 shifts. Between the Flint and Bay City sites, the company boasts roughly 125 employees, many of them long term.
---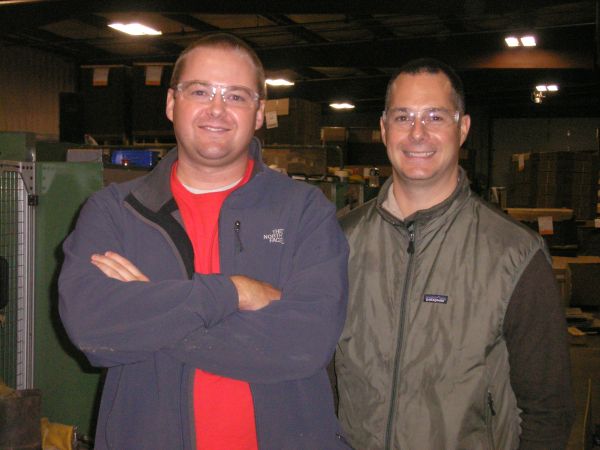 (r) Steve Landaal, Executive Management and (l) Bob Landaal, Owner and VP Sales and Marketing
It was obvious the day Bob Landaal and Mike Crites, took us on our tour of the site, that company pride and clear corporate visions are instilled in the Landaal business.
Steve Landaal, pictured above and cousin to Bob, has been in Bay City since June, taking his turn in Executive Management training. Bob indicated he did this as well, for 5 years.
---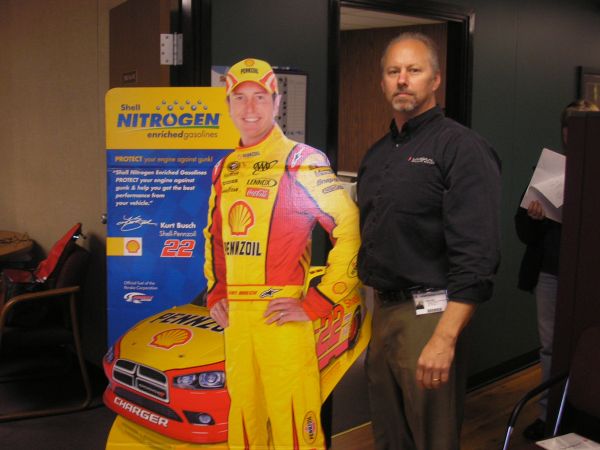 Mike Crites, Corporate Sales Representative stands next to pop up display of racer Kurt Busch #22
In talking with Bob, it was easy to see that maintaining the company's ability to weather downturns in the economy and keeping up with ever changing technology, is of great importance to him and to the Landaal Packaging business philosophy as a whole.
Equally important is the company's "green" thinking. Recently, Landaal partnered with KTM in Lansing to produce a "green" packaging product. According to Bob, "Green is it right now. There's a big push on sustainability from a lot of different divisions in our company".
---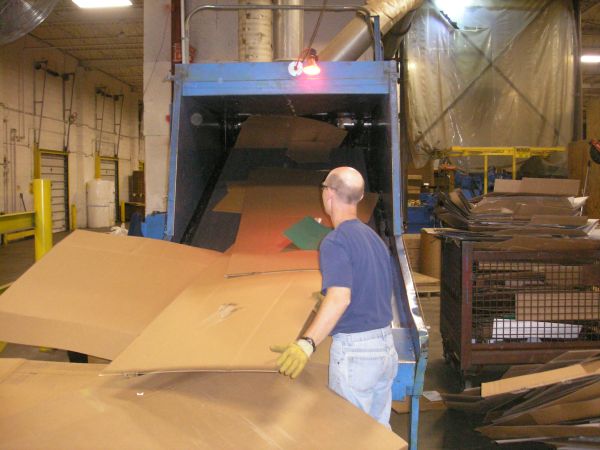 Corrugated products being fed into shredder for recycling by Landaal employee
---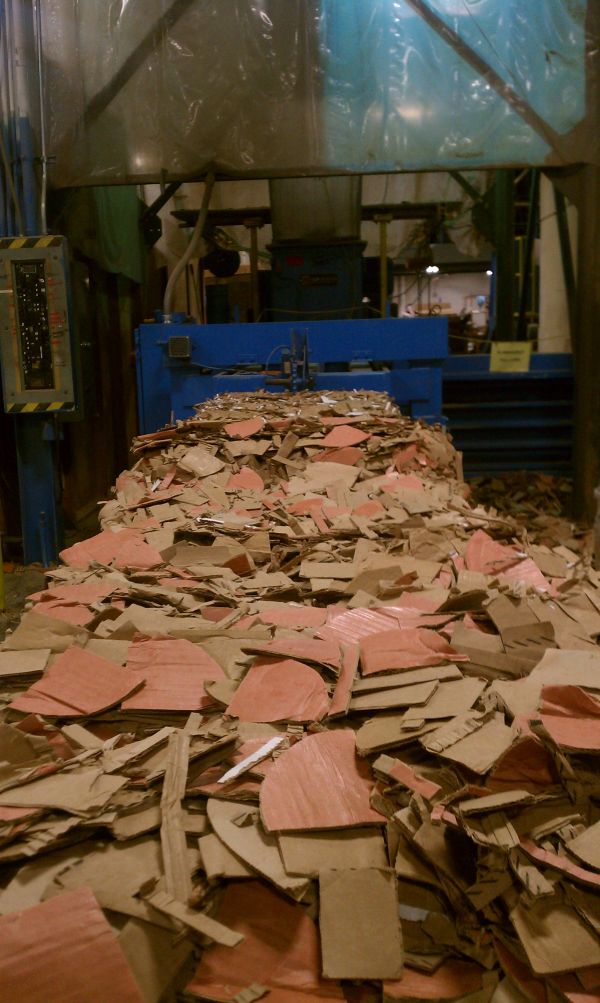 Just like many other companies in the last decade, changing times in the auto industry, as well as other factors, forced Landaal to make corporate decisions they would have preferred not to, resulting in down-sizing.
At one time, just a few years ago, 65% of their company business was a direct result of the auto industry, compared to 35-38% currently.
---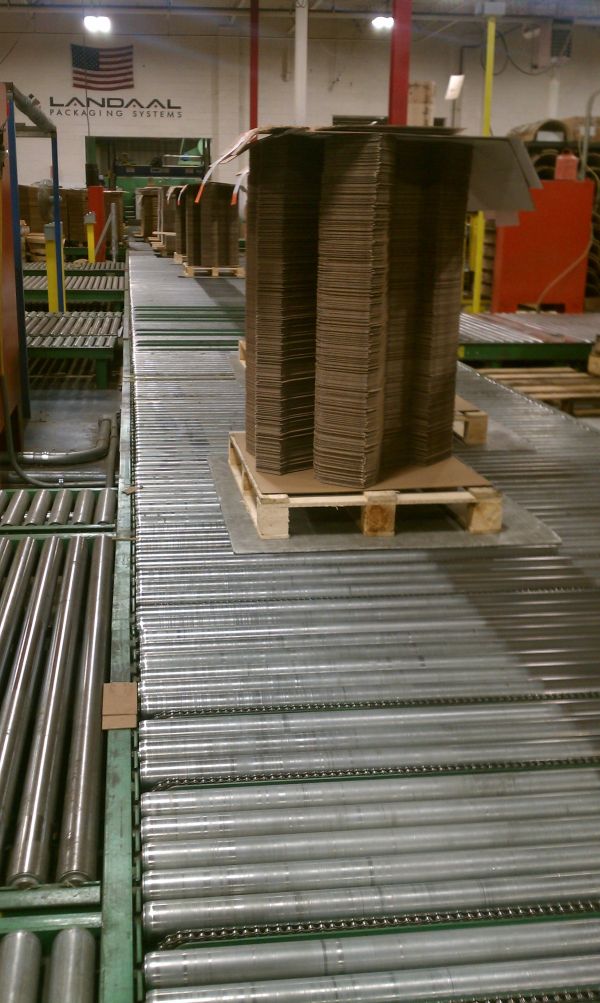 Finished product ready to ship
One of the ways they've adapted and grown in the current business climate is to branch out their retail graphics division in packaging and retail displays.
In February, they partnered with a company called Pop Tech, out of Ontario and they hold the exclusive US rights for producing and selling an innovative display for retailers.
"What used to take 4 hours and an Engineering Degree to assemble, can now go from the box it was packaged in, to stocked with product, in minutes", said Mike Crites, Corporate Sales Rep., as he showed us how simply the product literally "pops" open .
This product will open up new and growing avenues for Landaal and they are currently in the process of hiring a Graphic Design team for their Flint location.
"When we visit a potential client, we feel it's crucial to be able to follow up with a rendered design of the display, within 48 hours" said Bob.
He went on to say, "By having our own graphic designers able to do this in a timely manner and not rely on outside companies for our graphic designs, is the vision we have for our company to continue to succeed and grow."
We hope too, that Landaal's vision and the efforts of all the great employees continue to thrive.
In an atmosphere of businesses, in many areas, folding their tents and pulling out, it's great to see a company that has provided employment for many Bay City residents for many years, still focused on growth in our area.
Providing valuable products,employment and being a positive force in our community is obviously important to the Landaal family. It is refreshing to see the enthusiasm evident and commitment shown from Bob Landaal, as he continues to lead his team at Landaal forward.
---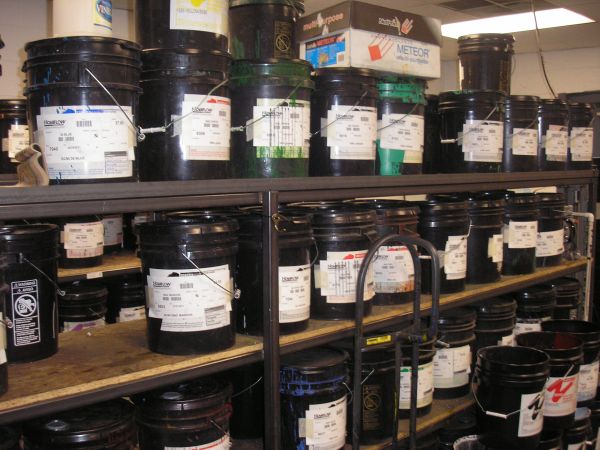 The "paint kitchen" room has hundreds of colors for printing on boxes
---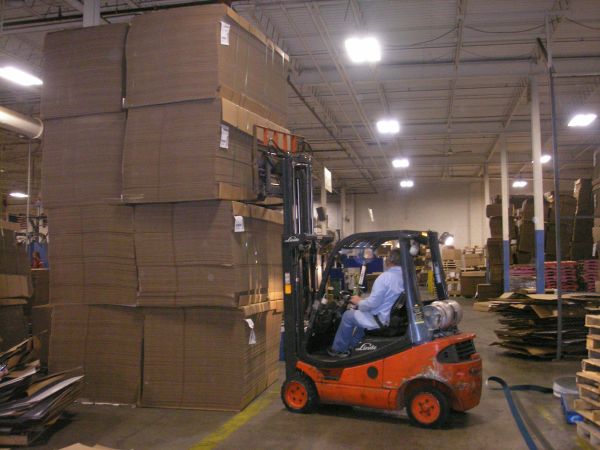 Rows and rows of boxes occupy the shop
---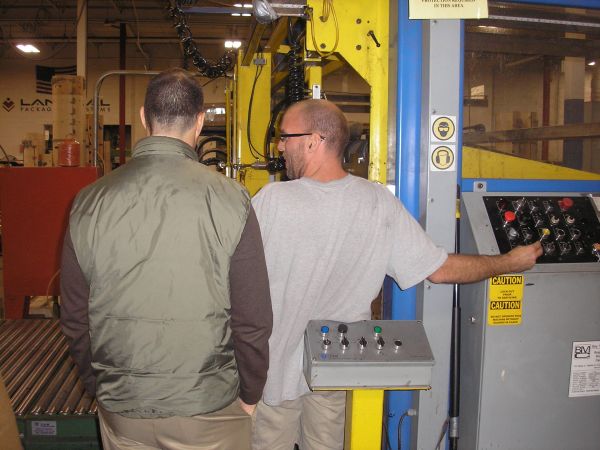 (l)Bob Landaal, Owner, talks to employee
---
One of the many steps to the finished product
---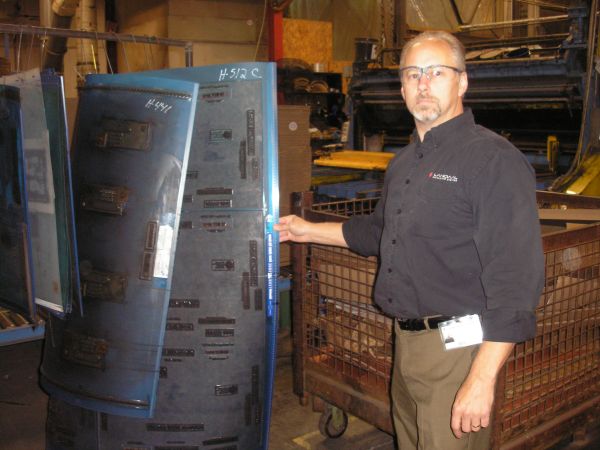 Mike Crites, holds out one of the patterns on hand used to print boxes
---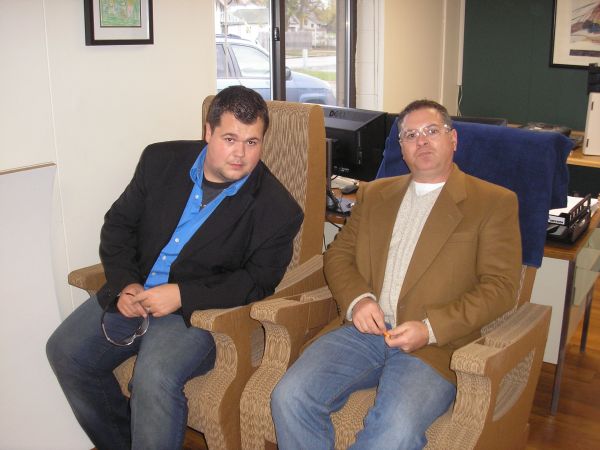 Last Choice Country Radio Personality, Josh Sharrow (L) and Great Lakes Bay Advertising's George Lynch, rest on the corrugated chairs after the plant tour