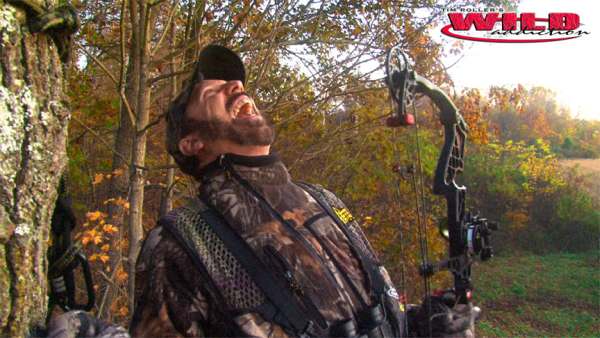 Wild Addiction's Fred Andalora celebrates after his successful hunt in Ohio. Andalora was hunting with Tim Roller and filming for the Wild Addiction TV Show for The Sportsman Channel.
---
Wild Addiction Pro-Staffer Fred Andalora Arrows Gorgeous Ohio Buck
Rattling proves lethal for wide, mature whitetail
October 30, 2011
By: O. J. Cunningham
Veteran
Tim Roller's Wild Addiction
pro-staffer Fred Andalora is not use to going through a hunting season without tagging a mature buck. The fact that he had gone the previous two seasons without a buck to his credit was starting to weigh pretty heavy on him. Thankfully, he's now breathing a lot easier.
The morning of October 24, 2011 found Fred, and Wild Addiction host Tim Roller, hunting a brand new lease they acquired earlier in the year in southern Ohio. With Tim on the camera, Fred rattled in and arrowed a giant 8 point. After a short track job, the "monkey" was off Fred's back and in grand fashion at that!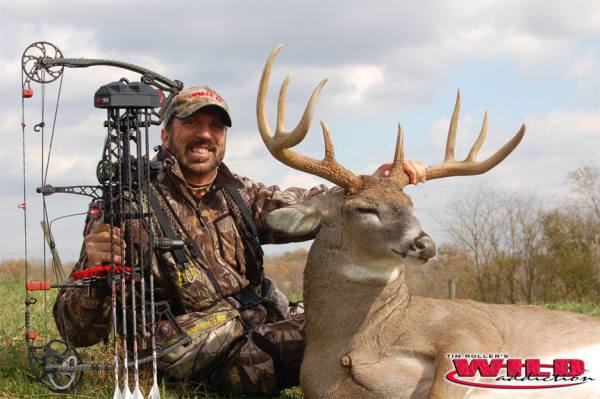 Pro-Staffer Fred Andalora bagged this mature whitetail on October 24th in Ohio while filming with Tim Roller for the Wild Addiction TV Show on The Sportsman Channel.
"I couldn't be happier for Fred," Roller stated. "To be in the tree and film this hunt was incredibly special for me. I knew Fred was putting a lot of undue pressure on himself. He's one of the best whitetail hunters I've ever known, and for him to go a couple of years without putting a buck down was really getting to him. During those two years, his standards never dropped and his commitment to filming never wavered -- a true testament to his incredible character and his commitment to what we're doing at Wild Addiction."
"I'm excited for viewers to see this hunt and the events that lead up to it", continued Roller. "We secured this lease late in the year (June). We're going to show the viewers what we did to improve the ground for the deer and how we put ourselves in the best positions to be successful. Anyone wanting to put in the time and effort can do what we do and this hunt is a perfect example of that."
The hunt for this incredible deer can be seen on Tim Rollers Wild Addiction TV in 2012, and also on their newest Whitetail DVD release, due out in the spring of 2012. Tim Roller's Wild Addiction airs three times each week, from July through December, to over 27 million viewers nationally on
The Sportsman Channel.
Currently, Tim Roller's Wild Addiction is the lead show in the "Big Game Wednesday" block on Sportsman Channel, airing at 7:00pm est. For additional Wild Addiction show times please visit Wild Addiction on the web at www.wildaddiction.com, or on Facebook (search: Tim Roller's Wild Addiction).
About Tim Roller's Wild Addiction
Join host Tim Roller and the Wild Addiction pro-staff as they take you on 100% wild, fair-chase, hunting adventures. You'll experience that incredible feeling we all live for when a hunt is successful, as well as the equally incredible disappointment that comes with a hunt that ends "so close". We place a heavy emphasis on showing you what helps us be successful, so you can enjoy that same success when you go a field. If you live for "the rush" as much as we do, then join us each week as we fuel the ADDICTION that is up-close, in your face, mature whitetail archery hunting. The time has come. . . .Get Addicted!