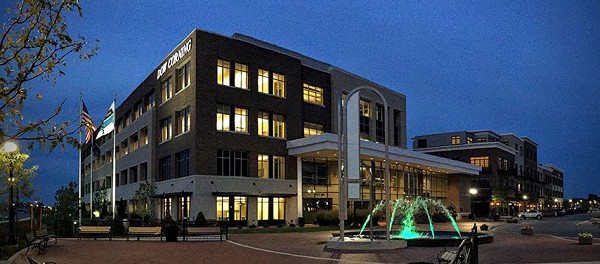 The "vibrant neighborhood" described by SSP Associates is evident in this photo of the Dow building at Uptown Bay City.
---
UPTOWN EXPANDS: Once Blighted Brownfield Continues to Rise & Shine
Project Praised for Public-Private Partnership Development
March 5, 2019
By: Dave Rogers
It's time for the community and beyond to celebrate Uptown Bay City, a multi-million dollar riverfront project receiving kudos for its public-private partnership teamwork.
The expansion, underway at the Uptown project in Bay City, has been recognized by the U.S. Environmental Protection Agency for outstanding contributions to brownfields site redevelopment at a Brownfields Conference held in Chicago, IL.
An EPA video features Uptown Bay City. For years, the blighted hulk of the old Industrial Brownhoist factory, once a major local employer, sat empty. A 43-acre contaminated site doesn't get redeveloped overnight, officials observed.
Bay City's perseverance, and financial incentives and technical assistance from the Michigan Department of Environmental Quality, helped clean up and safely reuse this brownfield site. Uptown Bay City is now a beautiful riverfront development with a marina, hotel, restaurants, offices, and condominiums.
At a Great Lakes Bay Economics Club luncheon on Monday, Feb. 25, members listened to an area development company's vision for the future of mid-Michigan.
The next phase of Uptown Bay City is expected to begin in the fall or in early 2020, the project's developer said Monday. The work will include construction of a new mixed-use building to further connect downtown Bay City to the Uptown Bay City site.
The update was given at the Great Lakes Bay Economic Club luncheon meeting at Saginaw Valley State University on Monday, Feb. 25, where President and Chief Executive Officer of Shaheen Development Dr. Samuel Shaheen and Vice President Peter Shaheen gave updates on some of their developments in the mid-Michigan area.
"The next phase of Uptown is really working to concentrate on integrating Uptown with downtown," Peter Shaheen said. "Currently, the centers of commerce and activity are isolated by (neighboring) blight and vacant land and we are working to bridge that gap and build the two neighborhoods together."
The new area of land is expected to produce 700,000-800,000 square feet of residential and commercial mixed-use properties. Additionally, roughly 80 residential units will be the first to go up in the near future. According to a PowerPoint presentation at the meeting, 200,000 square feet will be commercial with 530,000 square feet being commercial.
"Right now, it's based on the square footage, but it'll be hundreds of residential units and several commercial spaces as well," Samuel Shaheen said, adding that the next phase will be 10 to 15 years of continuous development. "It's a continuum of development over the next decade or so."
In comparison, phase one took roughly five years to complete.
Peter Shaheen also said the next phase of the development will include the reconfiguration of the M-25 off-ramp from Veterans Memorial Bridge that currently leads into the F.P. Horak building.
"One of the main factors of this is going to be improving the M-25 off-ramp as you come into Bay City," he said. "Right now that's kind of an abandoned network of roads and infrastructure so we will recreate that."
Samuel Shaheen added that they are starting to work on demolishing the F. P. Horak building and that it will be taken down in the coming months.
On March 20, site plans for phase two of the development will go before the Bay City Planning Commission, which will see the commission either approve or reject the developer's latest plans for the site along the Saginaw River.
The commission will work with the development company on refinements to the plans, if necessary.
Dana Muscott, Bay City manager, said Shaheen Development is spending roughly $16 million to complete the second phase of the project with the city investing an additional $7.3 million that the city bonded out and will be repaid through tax increment financing. She added that no public money will be used for the project.
"Our goals for what we try to accomplish in this region are very simple: We want to re-energize our urban core, we want to have vibrant downtowns," said Peter Shaheen, vice president of Shaheen Development. "We want to work hard and diligently to bring residents, families, and businesses back into an urban core."
He and Dr. Samuel Shaheen, president of Shaheen Development, talked about what they have done to help foster growth in the cities around the area. The meeting took place at Saginaw Valley State University.
Peter Shaheen added that the downtown environment of a city is crucial because when people show off their city, the downtown area is where many start.
Uptown Bay City marketing director Stuart Kelly said, "The main goal is to make the Great Lakes Bay Region a destination." Uptown Bay City takes advantage of beautiful views and Saginaw River access with waterfront dining, residences, and a marina.
Bay City's economic development project manager, Sara Dimitroff, continues, "It's an amazing transformation, a catalyst for development in our community, but I don't think we knew the degree -- and we're really seeing it now."
The project was a success, in part, thanks to the MDEQ's investment of brownfield grants, loans, and tax increment financing. "The DEQ and EPA were critical early partners, patient partners, that helped us do some of the proactive work in order to get the site ready," said former assistant city manager Steve Black.
The redevelopment effort was envisioned by RiversEdge Development Corporation, which ultimately selected Bay Riverfront Development to realize the transformation. "Successful economic development is a team effort and we've had a fantastic team," Black said. "The Shaheen family shared our vision and have again demonstrated their capabilities and their pride in our region."
Also working closely with the development team, including the City of Bay City and Bay Riverfront Development, were the teams of AKT Peerless and Warner Norcross & Judd who served as valued project partners.
Warner Norcross & Judd provided legal and technical services that began with drafting the public-private partnership to form the RiversEdge Development Corporation. The firm also worked to option and market the property, completing significant risk management evaluations, negotiating purchase agreements, development agreements and construction contracts, resolving title issues, and negotiating financial incentives totaling more than $49 million to make the project economically viable.
"This project is the poster child for teamwork and perseverance," said Kurt Brauer, partner with Warner Norcross & Judd, who led the firm's efforts for the project.
AKT Peerless also contributed to the incentives package and provided environmental due diligence, abatement, specifications, and demolition. In addition, the group conducted extensive site remediation, from asbestos assessments to the cleanup of PCB contamination. "This visionary project turned a massive liability for the community into an incredible asset for the City of Bay City and the Great Lakes Bay region," said Brian Eggers, Co-Founder & Principal of AKT Peerless. "I'm proud to have contributed to this outstanding project and I'm equally proud of our entire development team."
EPA Region 5 serves the states of Illinois, Indiana, Michigan, Minnesota, Ohio and Wisconsin, and 35 Tribes. For more information, visit their website at http://www.epa.gov/region5brownfields/.