Teich Reviews Process for Becoming Paul Harris Fellow
March 6, 2018
By: Stephen Kent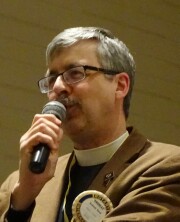 Andreas Teich
So, how does a Rotarian become a
Paul Harris Fellow
? Although there have been numerous presentations on this subject, it's always worth hearing again for the benefits of new members, and those who might want a review.
Multiple level Paul Harris Fellow
Andreas Teich
spoke to the club Tuesday and reviewed the ways this honor works.
Originally the Paul Harris Fellow was an honor that a club bestowed on a person (member or other) without that person doing anything other than exemplifying the principals of Rotary. Over the years the program evolved so that a person who has donated $1,000 to the Rotary Foundation earns a Paul Harris Fellowship on her or his own.
The easiest way to earn that fellowship is simply to give your $1,000. This doesn't have to be given at one time. Contributions accumulate and the total is available when a member signs into the RI website and goes to "MyRotary".
A first time Paul Harris fellow may also benefit from "points" given by other members, or by the club itself. Members who have achieved the Paul Harris Fellow status have incentives to continue giving. For each additional $1,000 they receive a "level" designation. This is typically referred to as PH+1, PH+2, etc.
Secondly, for every dollar contributed past the first $1,000 the member earn matching points. Clubs can earn points in various ways too. Members may assign some or all of their points to the club. Members may combine their points and let the club use them. If a person with points retires from Rotary there is a method for his points to be assigned to the club.
Those points have a single use. They can be assigned, in any number, to any person to use to achieve their initial Paul Harris Fellowship. Clubs often use points to honor a person with a fellowship. Sometimes clubs will offer "matching" points to enable new members to make that first level. Members with points are almost always available to anyone who wishes to become a PH Fellow.
It's easy to make a contribution to the foundation. That can be done online on MyRotary. Once a month, on birthday Tuesday, the entire 50/50 pot (club and winner shares) are given to the foundation in the name of the winner. The club suggests that each member contribute one dollar for each year of their age on their birthday. The club also suggests that a contribution be made each time dues are paid.
A stated goal of most Rotary districts and clubs is "Every Rotarian, Every Year." That means simply that everyone gives something, no matter how small or large, to the foundation every year. 100% giving is a target we all strive for.
---
CLUB NEWS and ANNOUNCEMENTS
The board meets this week
March 13 at 11:00 before the regular meeting.
Everyone is welcomed.
Agenda, minutes, treasurers reports and other information
is in the member's area of the club web site.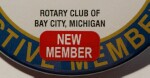 Andrea Hales
recently introduced the club's
RED BADGE
program. New members are identified by a red "new member" sticker. Those members are asked to complete five tasks in their first year. When those have been done, the club will formally remove the red sticker at a Rotary meeting. Details of the program are on the club web site. Click
www.rotarybaycity.org/rot-0220.cfm
Welcome
Ann Hendrickson
, the newest member of the Bay City Rotary Club.
The
Spring Community Grant Cycle
is now open. Please pass the word to your friends and associates that might benefit from this program. Full details and applications are available on the club website.
The District is asking Rotary Clubs to nominate a
Rotary Hero
for recognition at the conference. That person should exemplify "Service Above Self". Pass your nominations to Bob Chadwick by March 16.
The Rotary Clubs of Mid-Michigan are sponsoring a
"Thanks for Staying" Scholarship fund
to help train and retain high-quality primary care physicians in under-served areas of min-Michigan. The partnership with CMU's new College of Medicine is Rotary's way of addressing this important need.
Saginaw Sunrise is sponsoring the
Mid-Michigan Rotary YOGA Retreat
May 19 and 20 at SVSU's Curtis Hall. The program features guests from Vyasa Yoga University in India who will train participants in the health benefits of Yoga asanas, pranayama techniques.
Next summer's
International Convention
will be in Toronto, an easy trip for many of us. Be sure you sign up with her to attend this life-changing Rotary experience.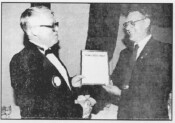 click picture for details
MEMORIES

Dig out your favorite Rotary memory photos and
let Brenda Scramlin use them for the weekly
Club slide show. It'll be fun for everyone!



---
---- DATES TO REMEMBER ----
March 13, 2018 Board Meeting
- 11:00, prior to the regular meeting. Everyone welcome.
Meet at the Doubletree.
May 5, 2018 - Mitten State Music Revival
Sponsored by Bay City Rotary Club.
May 5, 2018 - Pinconning Nature Festival Banquet
Sponsored by Northern Bay and Arenac Rotary Club.
May 4-5, 2018 - District Conference
Frankenmuth
New format and breakout sessions.
1 and a half days rather than two full days.
---
Upcoming Programs
(See the official schedule at RotaryBayCity.org )
March 13, 2018: BE SMART Gun safety in your home.
Bob and Cindy Chadwick to talk about how to protect your children from accidental injury or death.
March 20, 2018: Michigan Sugar and GMOs
. member Rob Clark, along with Rita Herford, will tell you "everything you should know" about Michigan Sugar Company and GMO's.
March 27, 2018: All Music is Power
Donny Brown from the Verve Pipe will be talking about their non-profit "Music is Power", accompanied by a little music as well.

Rotary
is an intimate affiliation of carefully selected business and professional people,
having as its objective the promotion of high ethical standards in private, commercial
and civic life, and dedicated to the ideal that the basis of all worthy endeavor is unselfish service.
---
Current and past
DISTRICT DISPATCH
newsletters are available on the District site shown in the LINKS section below.


Rotary Bay City on Facebook!
Click on the Blue Facebook to visit us there.

Remember! Check attendance sheets at the front desk.
---
LINKS