Rotary Holds Social Gathering
February 27, 2018
By: Stephen Kent
Rotary held an after-hours social at Tri-City Brewery on Tuesday evening, February 27, 2018. The
Chamber of Commerce
was holding it's 18th annual
State of the Community
luncheon and program at the Doubletree at the same time as the scheduled Rotary meeting and a number of members planned to attend that meeting.
Rotarians who attended the Chamber's luncheon and/or the Social will be given "make up(s)" for the regular meeting.
To receive the makeup (s), each member should list their name on the weekly attendance sheet next week. You may also send your makeup to
secretary@RotaryBayCity.org
---
CLUB NEWS and ANNOUNCEMENTS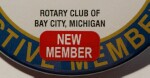 Andrea Hales
introduced a new
RED BADGE
program for the club at the last meeting. New members are currently identified by a red "new member" sticker. Under the new program, those members will be asked to complete five tasks in their first year. When those have been done, the club will formally remove the red sticker at a Rotary meeting.
For details on the program, click
www.rotarybaycity.org/rot-0220.cfm
The
Spring Community Grant Cycle
is now open. Please pass the word to your friends and associates that might benefit from this program. Full details and applications are available on the club website.
Next summer's
International Convention
will be in Toronto, an easy trip for many of us. Be sure you sign up with her to attend this life-changing Rotary experience.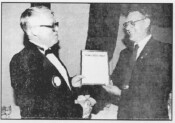 click picture for details
MEMORIES

Dig out your favorite Rotary memory photos and
let Brenda Scramlin use them for the weekly
Club slide show. It'll be fun for everyone!



Current and past
DISTRICT DISPATCH
newsletters are available on the District site shown in the LINKS section below.
---
---- DATES TO REMEMBER ----
May 4-5, 2018 - District Conference
Frankenmuth
New format and breakout sessions.
1 and a half days rather than two full days.
---
Upcoming Programs
(See the official schedule at RotaryBayCity.org )
March 6, 2018: Become a Paul Harris Fellow
. Andreas Teich will talk about how to be sponsored and become a Rotary Paul Harris Fellow.
March 13, 2018: BE SMART Gun safety in your home.
Bob and Cindy Chadwick to talk about how to protect your children from accidental injury or death.
March 20, 2018: Michigan Sugar and GMOs
. member Rob Clark, along with Rita Herford, will tell you "everything you should know" about Michigan Sugar Company and GMO's.
March 27, 2018: All Music is Power
Donny Brown from the Verve Pipe will be talking about their non-profit "Music is Power", accompanied by a little music as well.

Rotary
is an intimate affiliation of carefully selected business and professional people,
having as its objective the promotion of high ethical standards in private, commercial
and civic life, and dedicated to the ideal that the basis of all worthy endeavor is unselfish service.
---
Current and past
DISTRICT DISPATCH
newsletters are available on the District site shown in the LINKS section below.


Rotary Bay City on Facebook!
Click on the Blue Facebook to visit us there.

Remember! Check attendance sheets at the front desk.
---
LINKS