Rotary Hears About South African Trip
January 23, 2018
By: Stephen Kent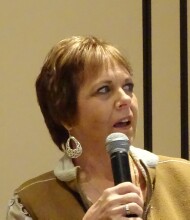 Cherri Burzynski
Last Tuesday
Rotarian Cherri Burzynski
told about her recent trip to Kenya, where she attended the wedding of a relative of her niece Jodi, who has been married to a Kenyan for twelve years.
On this trip Cherri actually attended two weddings for the couple. The first was an "upscale" event held in Kericho, Kenya on a tea plantation. Being in an area that is known for tea, but also for rose plantations, the ceremony was lavishly decorated with roses.
Cherri showed a collection of the many color photos in a slideshow. She commented on the culture, the dress (men almost always wear suits to celebrations, women wear their best), the food and the people who attend the events.
One of the many participants was a university professor and survivor of polio. Although the gentleman had a deformed leg resulting from the disease, he was very mobile with his walking staff and stood to speak.
Among the many interesting slides and comments was a picture of a brass sign in their Kericho hotel. That sign said, "NOTICE It is against our rules for a man and woman outside wedlock to sleep in one room." Below that, a second line read "Peace and calmness must be maintained".
The second wedding was held in traditional Kenyan style. Prior to the celebration at the bride elect's family farm, the dowry was negotiated (5 cows and 2 sheep) after which there was an open house. The couple was married by a justice of the peace at city hall on a Tuesday. Two weeks later another celebration was held at the groom's parent's farm.
Commenting on the country itself, Cherri said that corruption of rampant. She says that native peoples must bribe officials regularly. If a Westerner is seen in the group, they are often passed immediately without any payments. Clean water is rare. Cherri said they bathed with a very limited amount of water. There is no garbage pickup, which results in huge piles which grow until they are burned in place.
Polio, of interest to all Rotarians due to the international organization's eradication efforts, has been stopped in Kenya. But it was a problem and there is a real fear that it could return due to the government's control of the medical system. HIV is a more persistent and widespread problem. It is spread by sanitation problems more than by behavioral issues.
The many pictures and the discussion, and later questions and answers gave an appreciation of the beauty of the country and its people but also the areas and realities that a Westerner would want to know about.
---
CLUB NEWS and ANNOUNCEMENTS
Lee Newton
spoke about the upcoming
Rotary Rocks Concert
at the State Theatre on February 8. Posters are available for Rotarians to show in their businesses. Being a major fundraiser for the club, we hope that all Rotarians, their families, and friends will attend. Tickets and program ads on sale now at meetings, at the State, and online.
Tara Welch
noted that the
Spring Community Grant Cycle
is now open. Please pass the word to your friends and associates that might benefit from this program. Full details and applications are available on the club website.
The names of four prospective members were read to the membership. We look forward to inducting these folks soon.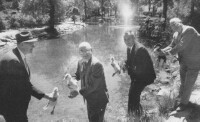 click picture for details
MEMORIES

Dig out your favorite Rotary memory photos and
let Brenda Scramlin use them for the weekly
Club slide show. It'll be fun for everyone!



Next summer's
International Convention
will be in Toronto, an easy trip for many of us. Be sure you sign up with her to attend this life-changing Rotary experience.
Current and past
DISTRICT DISPATCH
newsletters are available on the District site shown in the LINKS section below.
---
---- DATES TO REMEMBER ----
February 8, 2018 Rotary Rocks Concert
at the State Theatre.
May 4-5, 2018 - District Conference
Frankenmuth
New format and breakout sessions.
1 and a half days rather than two full days.
---
Upcoming Programs
(See the official schedule at RotaryBayCity.org )
January 30, 2018: United Way of Bay County Community Impact
.
The United Way of Bay County has moved from a traditional model of funding agencies to a Community Impact Plan. The Impact model will be launched on January 3rd, and grants may be submitted from any non-profit that fits within the new Initiatives and Strategies that were developed to address our changing community. Rotarian Marybeth Laisure to speak.
February 6, 2018: Mid Michigan Community Action RYSE Program
Ron Tyll, Youth Homeless Resource Specialist, will speak on how MID Michigan Community Action is using the RYSE, Runaway Youth Support & Engagement program connects services to youth thinking about running away, couch surfing, or are already homeless.
February 20, 2018: Jill Armentrout
will speak on
Nonprofit Health Centers
.
February 27, 2018: NO MEETING - SOCIAL after hours
Members are encouraged to attend the Chamber of Commerce's
State of the Community Luncheon
at the Doubletree from 11:00 am until 1:30 pm. Members will receive a makeup for attending.
The club will hold a social meeting at Tri-City Brewery that evening from 6:30 until... (pay as you go)

Rotary
is an intimate affiliation of carefully selected business and professional people,
having as its objective the promotion of high ethical standards in private, commercial
and civic life, and dedicated to the ideal that the basis of all worthy endeavor is unselfish service.
---
Current and past
DISTRICT DISPATCH
newsletters are available on the District site shown in the LINKS section below.


Rotary Bay City on Facebook!
Click on the Blue Facebook to visit us there.

Remember! Check attendance sheets at the front desk.
---
LINKS