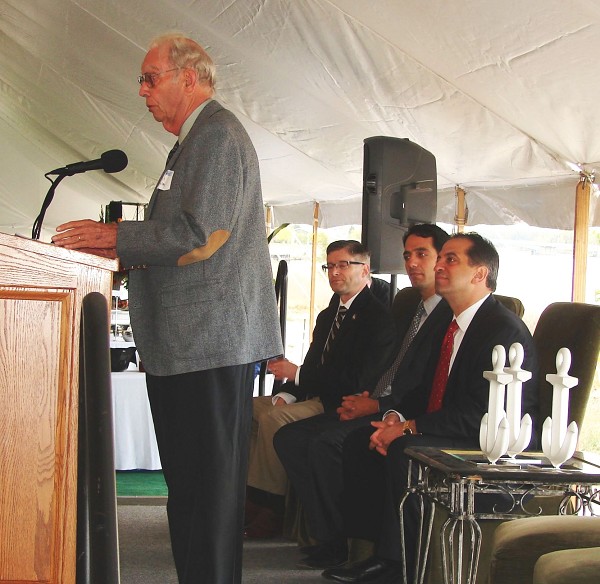 River's Edge advocate Paul Rowley speaks to the crowd. Behind Rowley are City Manager Robert Belleman and Peter and Sam Shaheen of SSP, Site Developers.
---
River's Edge Welcome Dow Corning, McLaren & Chemical Bank
What A Great Day For Bay City Says SSP's Sam Shaheen
October 2, 2012
By: O. J. Cunningham
Bay City Mayor Chris Shannon said "it couldn't be any better.
Developer Sam Shaheen said it was a "new era" and that it was a "Great Day for Bay City."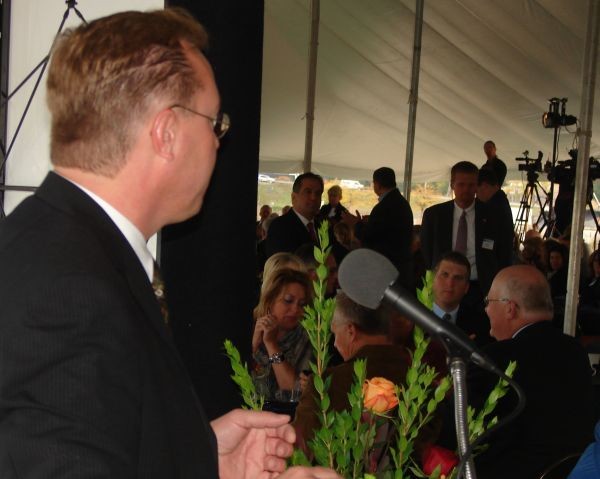 Mayor Chris Shannon
Photo by O. J. Cunningham
© MyBayCity.com
Senator Mike Green said he was proud to be apart of it all.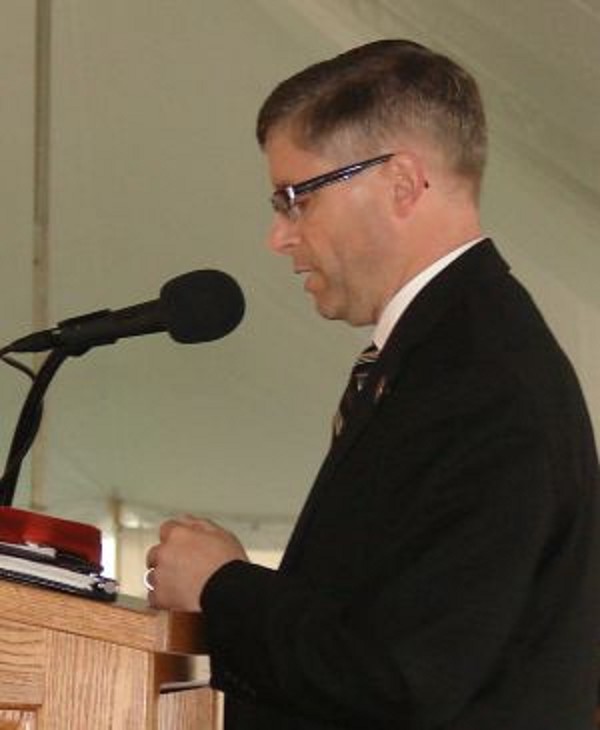 City Manager Robert Belleman
Photo by O. J. Cunningham
© MyBayCity.com
Steve Black, former deputy city manager of community development called the tenant announcement a "game changer."
Black went on to explain that the current success is a validation of the city's strategy as far as the development of the property.
"This is the best possible project for this parcel," Black continued. "This development will transform Bay City for the better."
Black resigned from the City Staff back in May of 2012 to take a job in the private sector.
Chamber President and CEO Mike Seward was very upbeat before the announcement of the new River's Edge tenants. Seward said it was a great step forward for the River's Edge Project and indicated that it might be considered a "seed event."
"This is just the start of something big," Seward added.
Mayor Chris Shannon was quoted in the Bay City Times earlier this morning as saying, "It' the most significant in the past 50 years," Bay City Mayor Chris Shannon said of the development, expected to bring more than 500 jobs to Bay City. "It's not just the jobs; it's the intangible - That, after decades of economic decline and jobs loss, this brings a level of confidence that investment in Bay City has returned."

J. Donald Sheets, Dow Corning executive vice president and chief financial officer, Alice Gerard, president of McLaren Bay Region and David Ramaker, chairman and chief executive officer of Chemical Bank spoke as representatives for their respective corporations.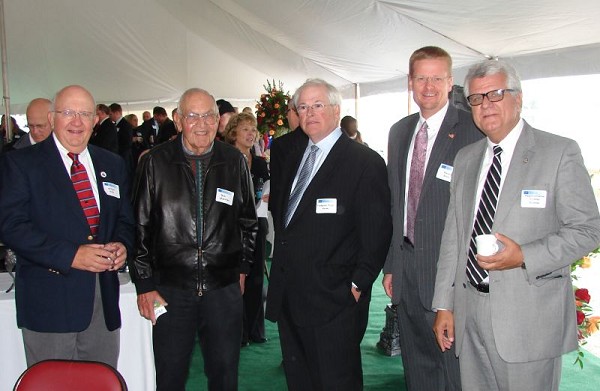 Showing Support for River's Edge -- (L/R) Former Bay City Mayor Mike Buda, Bob Sherman, Fritz Horak, Steve Black and State Representative Charles Brunner.

Photo by O. J. Cunningham

© MyBayCity.com

.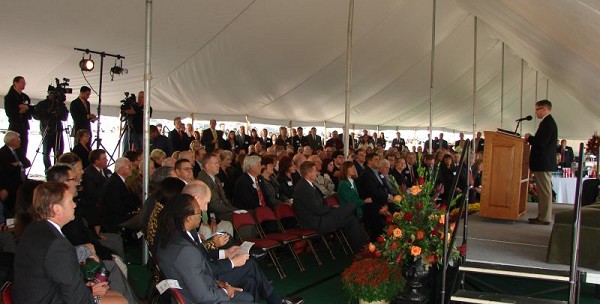 City Manager Robert Belleman (Right) speaks to the overflow crowd at River's Edge as TV cameras roll.
Photo by O. J. Cunningham
© MyBayCity.com