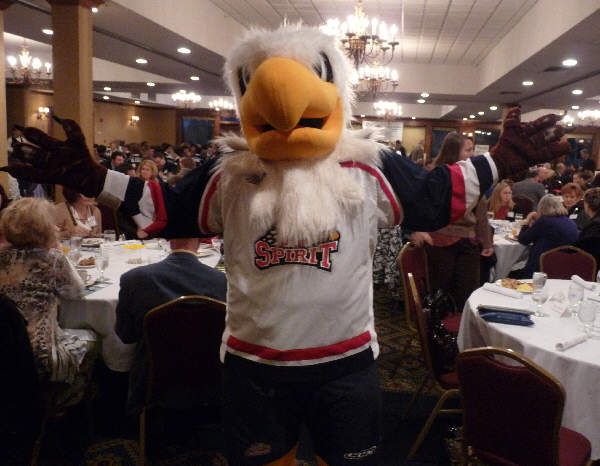 Sammy Spirit Makes His Appearance at the Recent Chamber Eye Opener
---
Chamber Eye Opener Breakfast Full of "SPIRIT"
Saginaw Spirit Hockey President Craig Goslin Guest Speaker
November 6, 2011
By: Julie McCallum,
Senior Staff
The Bay Area Chamber of Commerce Eye Opener Breakfast was full of Spirit on Tuesday, November 1, 2011. Not just because everyone had their sugar fill the night before on Halloween. Saginaw Spirit Hockey Club was in the house. President of Saginaw Spirit, Craig Goslin was feature Speaker.
Goslin praised Dick Garber for having the vision to bring the team to the Great Lakes Bay Region.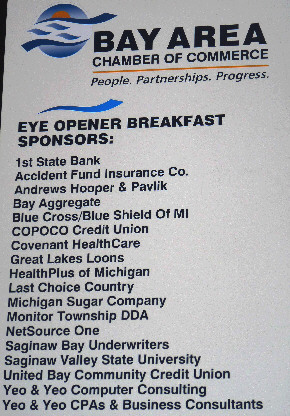 The SPIRIT's Mission statement is: 'Providing mid-Michigan with world-class sports entertainment to ensure it is a better place to live, work and play. Partnering with the community to develop young athletes into successful people. Committed to excellence.'
The players have a standard to live up to, although they are teen-agers and young adults, their behavior and leadership is just as important as being a great hockey player.
The Organization Values listed are:
Honesty: Truthful at all times.
Respect: To show consideration and honor for each other.
Empathy: To be able to understand another's position.
Integrity: To be of good sound moral principle, trustworthy, sincere.
Pride: Sense of self-worth. Making a difference in people's lives.
Loyalty: To our community, our organization and each other.
Work Ethic: Working as a team to develop positive chemistry to meet or exceed expectations.

The Spirit is celebrating it's 10th season in the Great Lakes Bay Region with 10 players that attended NHL Training Camps this fall including Brendan Saad who started his season on the 1st line of the Chicago BlackHawks.

#1 Tad Galansky (6'4" Goalie- member of the Czech Republic World Jr Team in 2010)
#2 Brad Walch (Saginaw's only drafted player into the Spirit franchise- Solid Defenseman)
#3 Brandon Archibald (Columbus Blue Jackets Draft Pick- Gritty Defenceman)
#5 Garret Ross (Attended Washington Capitals Camp- Grinding, in your face forward)
#6 John McFarland (#1 overall pick in OHL and signed by the Florida Panthers- Top Scoring Forward)
#11 Vadim Khlopotov (from Nizhy Tagil, Russia) draft eligible in 2012 NHL Draft- Smooth Skating top talent)
#14 Jamie Oleksiak (Signed by the Dallas Stars- Drafted in 1st round of 2011 NHL Draft- at 6'8" Jamie is the BIGGEST player in the OHL and will compete for Team Canada in upcoming World Jr Championship)
#15 Anthony Camara (NHL Drafted in 2011 and is property of the Stanley Cup Champ Boston Bruins . Anthony is one of the toughest players in the OHL)
#20 Dean Pawlacyzk ( Another Tough kid that plays with grit from Madison Heights, MI)
#21 Ryan O'Connor (Team Captain, team leader and a solid two way defenseman)
#22 Brandon Saad (Drafted & Signed by Chicago BlackHawks and played on 1st line to start the NHL Season with Jonathon Toews and Patrick Sharp. Brandon likely will compete for Team USA in the upcoming World Jr Championship)
#24 Steven Strong (Strong two way defenseman from Missasagua, Ontario)
#25 Josh Shalla (Drafted and attend camp of the Nashville Predators in 2011 NHL Draft. Josh set a Spirit franchise record scoring 52 goals in 2010. Top Prospect of Nashville)
# 71 Peter Hermenegildo (Smooth skating, strong offensive defenseman from Thornhill, Ontario)
#72 Michael Fine (Top forward that shoots and passes the puck as good as anyone in OHL)
#77 Dalton Young (Solid Two way Defenceman that will get drafted in the 2012 NHL Draft. Dalton is a Michigander from Marysville, Mi)
#89 Vince Troceck (Drafted in 2011 NHL Draft by the Florida Panthers- Top Scoring Forward that has a good chance to be on TEAM USA in the upcoming World Jr Championship. Best face- off centerman in the OHL)
In other news, The Chamber's
Brick Awards
went to
Alana Rabedioux/Cadmium Design Studios'
Located at 317 Center Avenue, Bay City and
John Polaczek/Washington Street Irish Pub
located at 112 Washington Avenue in Bay City. Polaczek invested $200,000 in renovations, including an outdoor Tiki bar, new furniture, additional sitting, and more.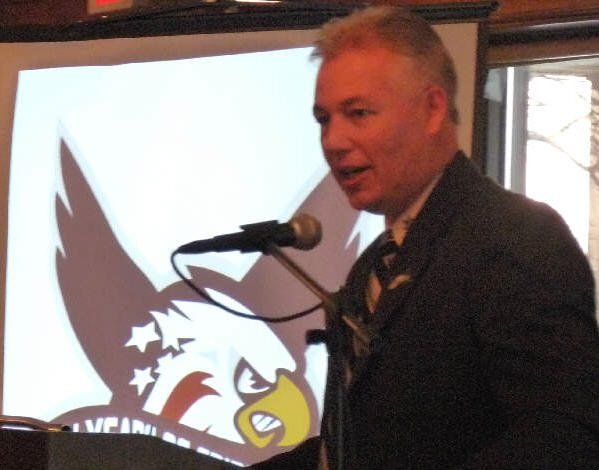 (Above) Craig Goslin, President of Saginaw Spirit, was feature speaker at the recent Eye Opener Breakfast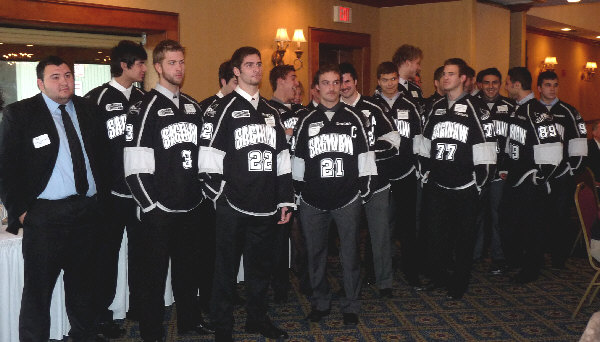 (Above) The Spirit Hockey Team Members along with the Spirit Staff attended the Eye Opener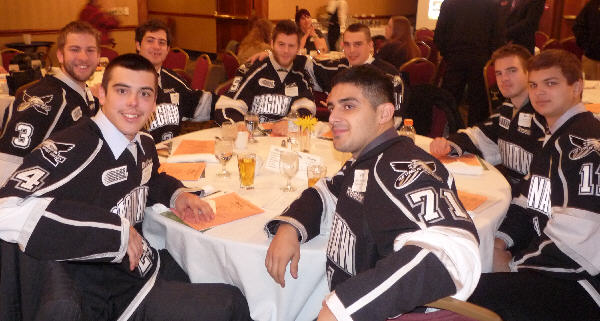 (Above) Spirit Team Members smile for MyBayCity

Soapbox presentations by:
L/R Suzanne Maxwell/Downtown Management, talked about the upcoming Downtown Mingle-Jingle. Mike Myers/Special Education Millage on November 8, 2011, Shelly Kelsey/First State Bank talked about the 7th Annual Ruby Award, and Dave Haag from Saginaw Bay Underwriters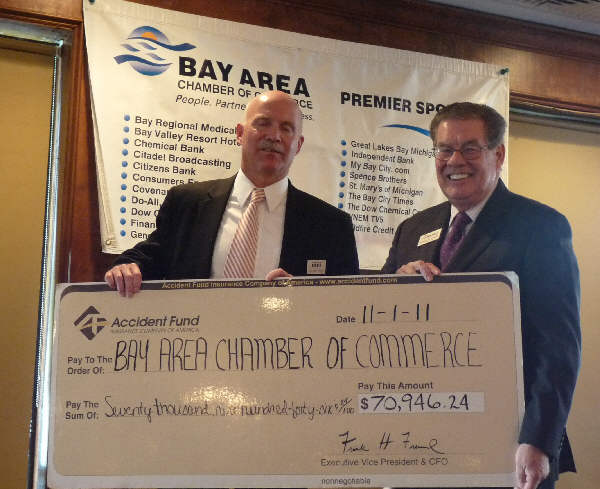 (Above) Guy Moulthrop and Mike Seward hold the check to the Bay Area Chamber of Commerce from the Accident Fund. Members have the opportunity to get workers comp now through the Chamber. Members will receive a 5% discount. The Accident Fund is the largest worker's Comp program in the state of Michigan.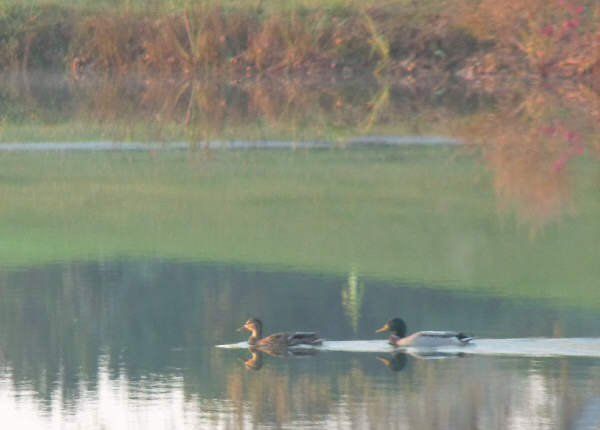 A View from the Eye Opener Breakfast
Bay Valley Resort & Conference will continue to be the setting for the Chamber Eye Openers in 2012
which was also announced that morning.