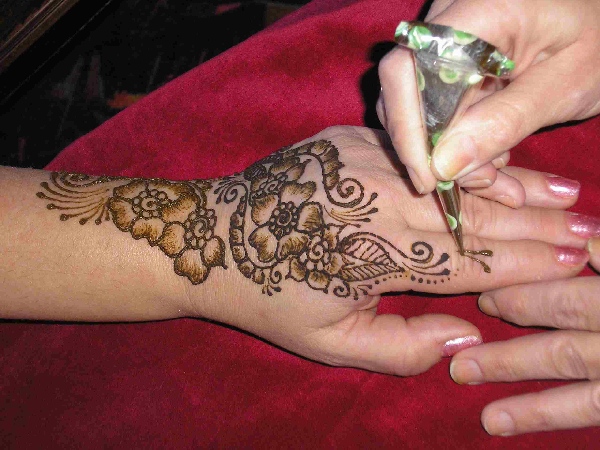 Another creation in the making from Henna Art by Becca
---
Look Mom! I'm a Henna Artist "Babe"!
Henna Art By Becca-Beautiful Tattoo Art
November 6, 2011
By: Diane Szczepanski
(Editor's Note: This is the second in a series of articles for MyBayCity.com by Diane Szczepanski, where she tries her hand at different jobs in the community!)
What better way to spend a sunny Saturday morning, than talking to someone who is passionate about their art, surrounded by the aroma of lavender and tea tree oil, while drinking a hot cup of delicious mocha chino?
It just doesn't get any better than this in my book.
I was really looking forward to meeting Becca Watz and getting to know more about what she does.
---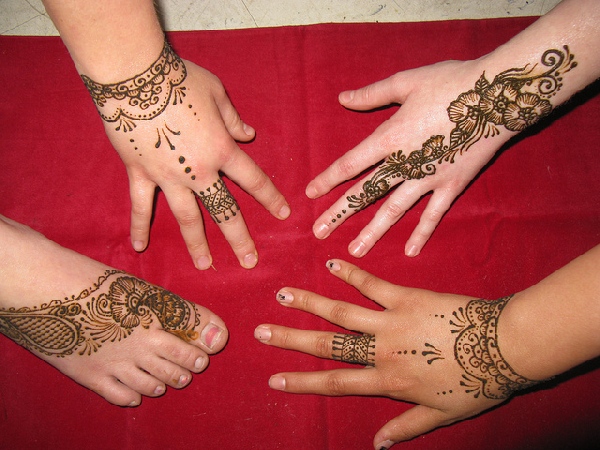 A sample of some of Becca's beautiful designs
---
Becca begins her work of art on my hand
I already knew Becca was making a name for herself as a local henna artist, as well as for her henna inspired pottery and jewelry designs.
What I didn't know, until now, is how reverently she thinks of her craft and how seriously she honors an old tradition steeped in Indian and Middle Eastern culture. "It's important to me that I respect and uphold that tradition" said Beccca.
A big inspiration for her is Catherine Cartwright, who actually holds a PHD in Henna. "She opened up the world of Henna by exposing the culture of it, that until then, had basically been behind closed doors", explained Becca. " She brought forth the traditional values of the art, as well as the recipes of Henna itself", she added.
---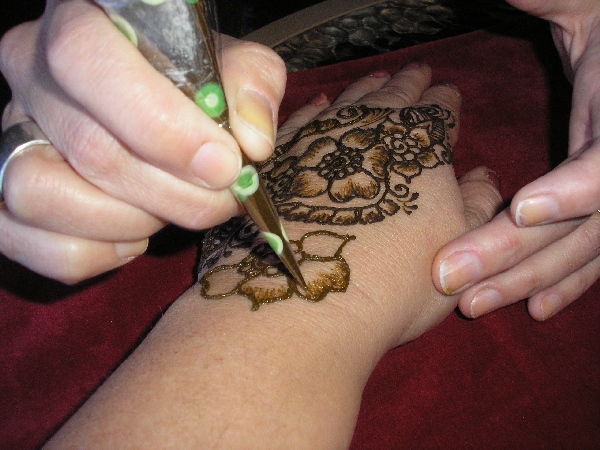 Art unfolding before my eyes
Becca takes those traditions into account as she attends workshops and when she practices her art. She enjoys how empowering and inspiring it is being around other artists. "Ive never met a henna artist I didn't like", she stated.
The making of the henna recipe itself is a 3 day process and everything she uses is all natural. She indicated "Henna Making Day" is meditational for her and she pours all of her positive energy into it. "It's a spiritual thing for me", she added.
Becca's "recipe" contains tea tree oil, lavender, fructose and henna plant. She cautions to be careful when getting henna art. Particularly on cruises, when stopping in different ports.
"You don't know what you're getting in those recipes", Becca warned. "Be careful of smell and super dark mixtures. Many contain turpentine, gasoline or hair dyes and are not natural".
She went on to say, "Henna should be a deep, rich burgundy stain, not black". She also explained when using recipes that are not natural, blistering reactions can occur and some formulas are toxic.
She also warned caution for pregnant women stating, "Lavender oil is the only oil that is considered safe to use during pregnancy, and other oils have the potential to cause reactions".
---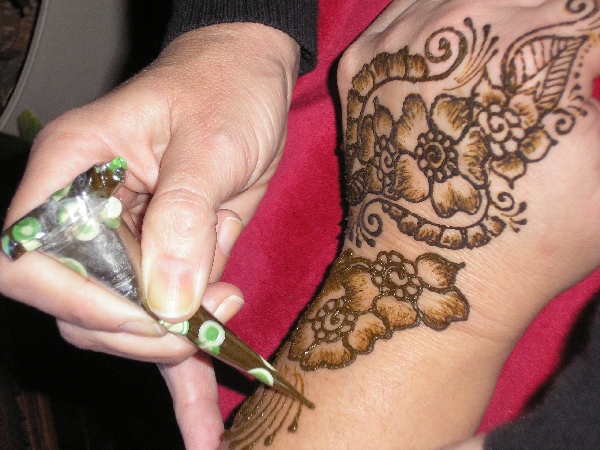 ---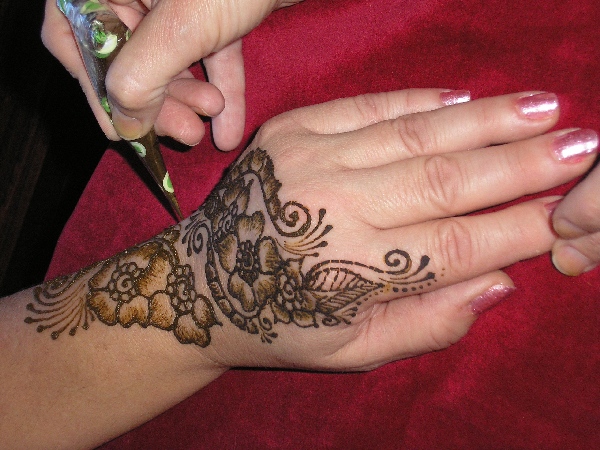 As Becca worked on my hand, it became clear very quickly how much of her own spirit she lovingly puts into her designs. The pattern she was putting on my hand seemed to just flow out of her. "I take into consideration the area I'm working on, for instance the size and shape of one's hand, as to how I see the design coming to life", she stated.
Most well cared for henna tattoos last from 1-3 weeks, depending on your skin type. They range in hue, but generally turn burnt orange/brown with 24 hours after the top layer of henna is removed.
Designs last longest on hands and feet, but can be placed just about anywhere. You should avoid getting your tattoo wet for at least 24 hours. The longer you can keep it dry, the longer it should last.
Prices for Becca's designs are extremely affordable and start at just $10.
---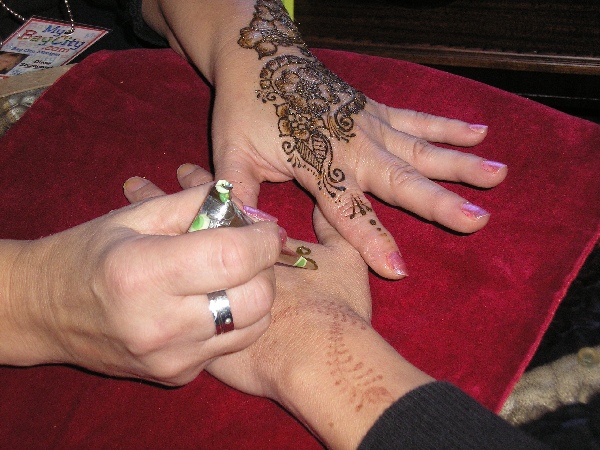 My turn to become the Henna "Babe"
Becca also has several "Henna Babe's" as she referred to them, who she trains to help her at events. Her all-time favorite "Babe" has been Meagan Chartier, who is now in Grand Rapids at design school.
It's hard to imagine anyone could come even close to the intricate, beautiful designs Becca has done. But, she doesn't hold the world of henna to herself and it almost seemed as if she enjoys sharing it and teaching it, just as much as performing it.
She was even brave enough to let me try my hand at it...pun intended. Even when I told her that although I may have little streaks of creativity in me now and then, I most assuredly was not an "artist" in the sense that she is.
In spite of my nervousness and reluctance to attempt to be an artist on HER skin, something that would stain it for the better part of 2-3 weeks, I grabbed the tube, took a breath and commenced.
Part of the reason that I went ahead is Becca's overall demeanor, which immediately puts one at ease. She just exudes warmth and inspires confidence.
Perhaps, the positive energy she was giving off and the relaxing lavender aroma in the air, made me a little more comfortable giving it a try.
---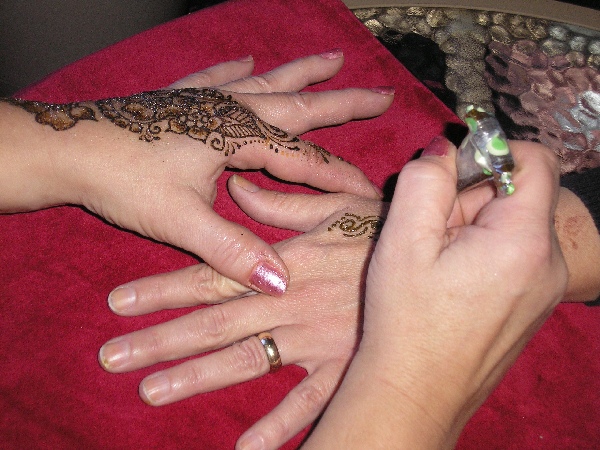 As I work on Becca's hand, I'm hoping she
doesn't notice how MY hand is shaking
There is a definite rhythm to "draping on" henna (as she refers to it) and what she makes looks so easy, is why she's the pro.
She does sell tubes of the henna for those that want to do some of their own henna art. She sent me home with one and encouraged me to try again. She even said I may have the potential to be a "Henna Babe", but personally, I think she was just being kind. (Way too kind!)
---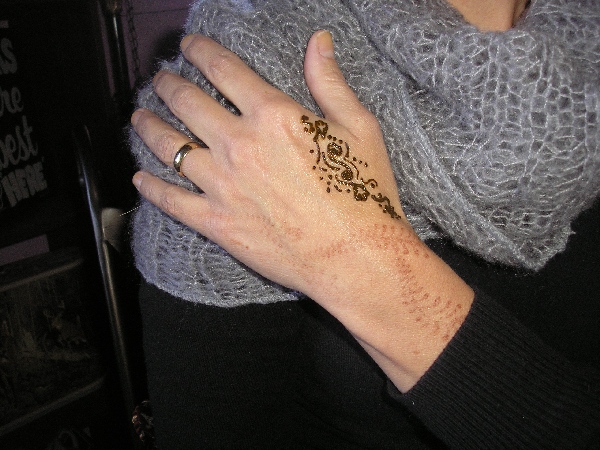 It's not the beautiful piece of art Becca can create,
but all in all, not toooo bad for a first attempt.
---
One of Becca's custom pottery designs
There are several ways to learn more about Becca. You can check out her website at www.hennaartbybecca.com or at her facebook page 'Henna Art by Becca'.
Be sure to click on the photo galleries to view the
amazing
designs she has done!
You can also check her out at the East Bank Market on December 11th and 18th, at the YWCA office on Center And Washington, which will host the Market in December.
She will have her pottery and jewelry available to purchase at the event and will join many other vendors at this event both days.
You can also contact her at (989) 239-0249. Becca offers home parties for up 6 or 8 and will also book private appointments.
---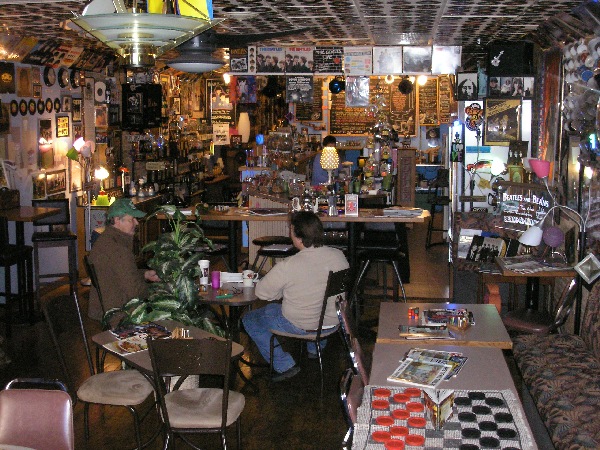 Espresso Express Coffee House Presents-Beatles & Beans Coffee Emporium,
was the welcome setting for my Henna experience
---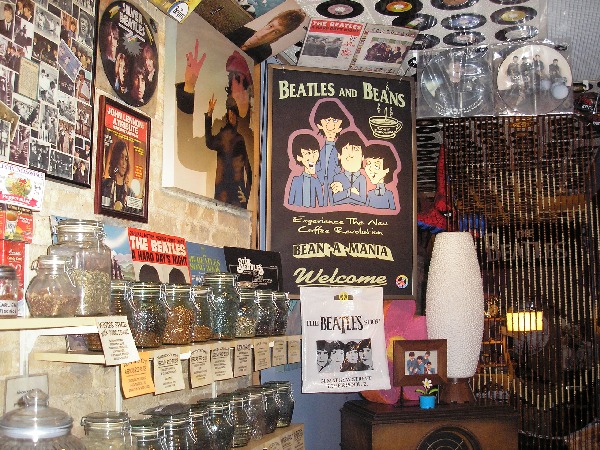 There is a lot of interesting stuff to look while you're in Espresso
A big thank you to Peggy Wilderman, Owner of Espresso, located at 916 N. Water St., for letting us set up in her place for this interview and for her help with some of the photos.
Established in 1993, the Coffee House is a great place for a warm, relaxing cup of your favorite beverage.
Peggy remarked, "When you come here, you're in our 'living room' and we offer you an experience beyond coffee".
She was right.
Between her and Becca, there are now two more great people in our community, that I've gotten to know and it made for a wonderful start to my day.
I highly recommend both experiences!