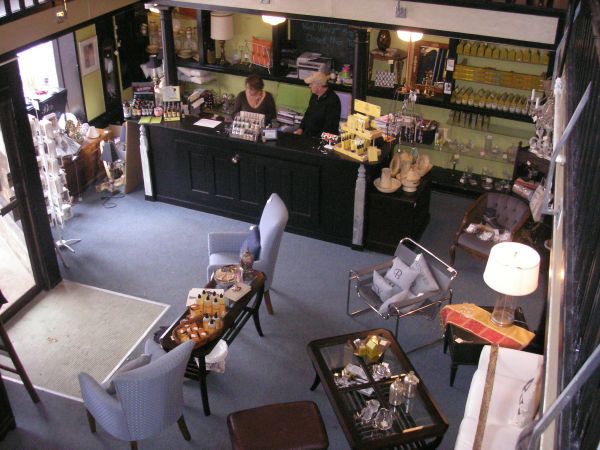 Debbie and Bill Edmonds plan their upcoming Holiday Open House
---
The Loft on Johnson to Host Holiday Open House
Holiday Open Houses and Bazaars Begin
October 29, 2011
By: Diane Szczepanski
Antique furniture and modern lamps. Classic paintings and chic purses. Delicate dishware from the 1930's and edgy boot jewelry. There's a little bit of everything, for everybody, at the eclectic shop 'The Loft on Johnson'.
Debbie and Bill's quaint consignment shop, located in the old Goddeyne store at 1103 N Johnson St., Bay City, MI, opened in April 2009 and has grown into a thriving, "must stop and browse" store for locals and out-of-towners alike.
It has also become a beneficial anchor to the Johnson St. business district, which in recent years have opened up some interesting successful, locally-owned shops.
Tattered Pages & Tea
, a high end apparel and accessory consignment shop that also specializes in rare books and teas,
Lil Muffins & Bun in the Oven
, a resale maternity and children's items and clothing,
Coonan's Irish Pub
,
The Tummy Ache
a candy store and A
Spencer Gellise
, a full service hair salon, are just a few newer notable businesses in the district.
The Loft on Johnson is holding their Holiday Open House on Wednesday, November 2, 2011 from 4:00pm-8:00pm.
The shop will be closed this Monday, Tuesday to prepare and is scheduled to re-open at 4pm Wednesday, November 2nd for shoppers.
The two story store will be decorated for the upcoming holidays and ready for those looking for holiday gifts and decor. Items range from antique, new, gently used and unique furniture and home decor, home fragrances, artisan jewelry items and vintage clothing and accessories.
If you haven't been to the Johnson St. district in a while, do yourself a favor and check it out and support our local businesses. There are some really great places to visit in a 'park and walk' friendly radius.
Plus, it's the perfect time to do some shopping. Christmas is less than two months away!