Rotary International General Secretary Speaks via Video
September 11, 2018 Leave a Comment
By: Stephen Kent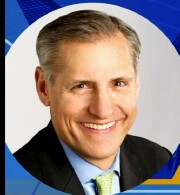 John Hewko
At the 109th Rotary International Convention, held recently in Toronto, RI videotaped all of the major speeches and made them available through the
RI web site
. Among those presentations was a talk by
RI General Secretary John Hewko
. Meeting at the Marriott, the Bay City Club viewed a screening of that video on September 11.
Hewko began with a thought experiment. Saying "Remember when you could look up at a crystal clear sky? Picture that sky and try to count the stars. It's an impossible task; there are simply too many.". Going on he said that the number of people fleeing violent conflict every day is ten times the number of stars visible to the naked eye.
Noting how many people feel that world conflict has grown in recent years, Hewko said that in fact, it has fallen. Over the past seven years conflict has been cut in half. At the same time, people living in extreme poverty has dropped from 4 of 5 to 1 in five.
Hewko related how his own parents fled Kyiv in the Ukraine at the end of WWII and how they came to the US via refugee camps in Bavaria. Born in the US, Hewko thought often about their stories of leaving everything and starting a new life and family in this country. This lead him to a life of service to others. "Looking out at the night sky I asked two questions: Will the future bring more conflict or more peace and what can we do about it."
His talk went on to describe the work of Rotary: polio eradication, clean water, sanitation. He said as members we support all of these efforts. He said there are three areas Rotarians can participate in:
Support the Global Rotary Grand model
Measure the impact of our efforts to ensure they work and are sustainable.
Think about and participate in RI's long-term and strategies.
You can view the entire 20 minute talk at Rotary's Vimeo
John Hewko Video
---
CLUB NEWS and ANNOUNCEMENTS
OFF SITE MEETING - September 18, 2017
Meet at the Marriott
President Harvey noted that RI continues to explore new opportunities to participate in Rotary. Among these are a new
Rotary Passport
that allows you to be a member of RI and participate by visiting any Rotary club.
Members were informed that after several years of service as Chair of the Club Foundation,
Ed Keating
will soon step down. Anyone interested in taking this position is asked to contact Harvey.
In the "Rotary Foundation Minute"
Lee Newton
spoke about the history and the works of the RI Foundation. Since it's creation by Arch Klumph, the 35,000 clubs have supported the foundation. In that time over $3 billion has gone to causes worldwide. 99% of the Polio cases have been eradicated. The Bill and Melinda Gates Foundation Challenge matches our gifts 2 to 1. Lee went on to say that we'll be bringing back the "Foundation Bucket". It will be passed around on the last meeting of the month. The change in your pocket can make a difference.
---
---- DATES TO REMEMBER ----
November has been designated as Bay City Rotary's
"Month of sharing"
. Programs for the month will emphasize the many things we have to be thankful for and will encourage ways we can share with our family, friends, and community.
2018 Off site Meetings:
Marriott, Uptown Bay City
Sept 18
Oct 9
Oct 23
---
Upcoming Programs
(See the official schedule at RotaryBayCity.org )
September 18, 2018: Update on the services provided by Community Home Solutions,
a local, not-for-profit agency celebrating its 25th anniversary providing a portfolio of housing related services for income eligible families. Services include housing counseling (first-time homebuyer, pre-purchase process, financial capabilities training, and foreclosure prevention), down payment assistance and homebuyer rehabilitation, as well as homeowner substantial and emergency rehabilitation services.
September 18 - Off site meeting at the Marriott
September 25, 2018: McLaren Bay Regional Medical Center Update continues.
Mark Jaffe presents the second half of his fascinating history of our Hospital and health system.
October 9, 2018:
October 9 - Off site meeting at the Marriott
October 23, 2018:
October 23 - Off site meeting at the Marriott
October 30, 2018: Festival of the Trees.
Laura Horwath will speak about the annual event. As the Junior League of the Great Lakes Bay Region's largest annual fundraiser, the Festival of the Trees presents over 100 designers contribute fabulously decorated trees and wreaths, which are raffled off to lucky winners. Local vendors are on hand to sell their specialties. The money raised throughout the weekend supports the Junior League of the Great Lakes Bay Region's mission of promoting voluntarism, training its members, and improving the community.

Rotary
is an intimate affiliation of carefully selected business and professional people,
having as its objective the promotion of high ethical standards in private, commercial
and civic life, and dedicated to the ideal that the basis of all worthy endeavor is unselfish service.
---
Current and past
DISTRICT DISPATCH
newsletters are available on the District site shown in the LINKS section below.


Rotary Bay City on Facebook!
Click on the Blue Facebook to visit us there.

Remember! Check attendance sheets at the front desk.
---
LINKS
---
---

Stephen Kent




Steve Kent and his family have lived in Bay City for 40 years. He is VP of Technical Services at MMCC which produces MyBayCity.Com. Kent is active in many Bay City civic organizations.

More from Stephen Kent
---
Send This Story to a Friend!
Letter to the editor
Link to this Story
Printer-Friendly Story View
---
--- Advertisments ---