Newton Talks To Rotary About Bangor Township DDA
August 21, 2018 Leave a Comment
By: Stephen Kent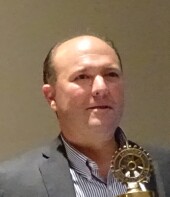 Dr. Lee Newton
Rotarian
Lee Newton
, member of the Bangor Township "Downtown Development Authority" (DDA) spoke to Rotary Tuesday about the organization, function, and plans of that organization.
Started in November of 1989, and designed to run for 30 years, the Bangor DDA is in the process of: introspection, self-study, and renewal". The Board of Trustees is composed of nine members, of which four take a leadership and administration roles. Although authorized to have a paid director, the DDA has never taken that step.
DDA's are designed to be a catalyst for the development of a community's downtown district. In the case of Bangor Township, the area includes the Bay City Mall and the commercial strip that runs across Wilder west to Euclid and south almost to Kroger. It includes all of the Shrestra development and the Bay County Civic Arena.
Funding for a DDA comes from a "TIF" or Tax Increment Financing. This public financing method was designed to be used as a subsidy for redevelopment, infrastructure, and other community improvement projects. The majority of the original Bangor DDA funds went to the development of the Bay City Mall.
The sometimes confusing TIF concept says that the initial taxable value of a parcel is locked in when the TIF is established. As the taxable value changes due to improvements, changes in general property values, and other factors, the difference in the locked in tax and the adjusted tax goes to the DDA. (This does risk a drop in taxable value in which case the DDA could be on the hook for the difference going the opposite direction.)
There are many ways that a DDA can manage its area. Lee gave one example of a DDA that chose to borrow money to develop an area with the plan to pay that back from their future TIF funds. Bangor chose to only invest funds which had already been realized. Today "the Bangor Twp. DDA is the most fiscally responsible entity of quasi-governmental status ever to exist in Bay County." After meeting their own obligations, they have elected to pass excess funds on to the township, Delta College, and Bay County.
The excess TIF funds have allowed the DDA to authorize several one-time monetary reimbursements to the respective taxing jurisdictions. That money has reached almost $700,000. Even with those disbursements, the DDA has a fund balance of nearly $900,000.
This cash-on-hand would lead some to ask if the DDA has had enough community projects to invest in. Lee listed millions of dollars of investment in infrastructure, commercial ventures, lighting and signage, and development of public lands. "What each and every one of [these] projects have in common is that they most likely would not have been constructed without development assistance." Lee also noted that a number of other projects were developed without DDA assistance based on the larger projects that were.
In conclusion, Lee noted that "the Bangor DDA has been instrumental in the commercial and economic development of its portion of Bay County." Today there is one remaining lot in the Shrestha development. The DDA is looking at opportunities for continued growth. They welcome inquiries!
Downtown Development Authority
of the Charter Township of Bangor
180 State Park Drive
Bay City, MI 48706
August 19, 2018
Dear Developer,
Thank you for your interest in a commercial development in Bangor Township. The purpose of this letter is to summarize our current position regarding new projects.
The Bangor Township DDA is very interested in additional developments within the township. New developments must comply with all applicable township ordinances such as zoning, site plan review, and building permits.
The Bangor Township DDA is in a position to consider limited financial support for certain DDA eligible and approved items to encourage new developments in DDA Development Area #1. Eligible cost items include, but are not necessarily limited to:
Items to improve handicap accessibility; i.e. railings, restroom equipment, ramps, automatic and/or wide doors, handicap portion of parking lot, walkways
I tems to bring infrastructure from existing location to the property line; i.e. ingress/egress drives from existing roadways, utility (water/sewer/electric/gas) service from existing location outside the property line. This does not include service from the property line to the building.
Parking lot infrastructure such as storm drainage and lighting
Sidewalk along roadway as required by zoning ordinance
The general DDA policy for financial support has been approximately 5% of the total cost of the project, subject to review and DDA approval. The DDA may establish a maximum amount based on past practice and the size of the project. Generally speaking, eligible approved cost items to reach this amount should be within reason for a new approved development. In addition, the following guidelines would apply:
The new development must be within the DDA development area boundaries.
Cost items shall be supported with appropriate documentation such as general contractor?s paid invoice.
A legal agreement would be prepared by the DDA and signed by the owners of record and the DDA prior to the start of construction ? legal fees paid by the DDA.
Payment to be made subsequent to DDA receipt of approved documentation and township granting of occupancy permit, subject to the terms of the agreement.
Glenn Rowley, Bangor Township Supervisor, has indicated a desire to cooperate in any reasonable way. For example, a pre-development meeting prior to formal site plan application may be arranged. Mr. Rowley may be contacted at (989) 684-8931 or at glennrowley@bangortownship.org.
The typical process to apply for DDA incentives begins with the developer requesting DDA participation in a proposed development. The request may be in letter or outline form and must include the following items: company history and description; project description, location, and size; intended use; reference data describing similar developments; total cost of project; DDA funding and/or incentives requested; any other pertinent data.
The request is then reviewed and acted upon the DDA. All applications are reviewed on an individual merit basis pursuant to available funding and long-range DDA development plan. Typically, the DDA meets quarterly; however, if time is of the essence, a special meeting may be arranged.
Upon my receipt of a formal request including the above-referenced items, a preliminary review will be performed to determine what future action may be taken.
Thank you for considering Bangor Township for a new development.
Dr. Lee Newton
Chairman, Bangor Township DDA
c/o Newton Eyecare Center
3720 Wilder Rd Ste A
Bay City, MI 48706
(c) (989) 751-2287; email leenewton@newtoneyecarecenter.com
A great deal of information about DDA's can be found on-line, including
MichiganDowntowns.com
---
CLUB NEWS and ANNOUNCEMENTS
Connie Schweitzer
presented
Brenda Scramlin
with her
Paul Harris Plus One
pin. Thanks Brenda for your continued support of the Rotary Foundation and it's causes.
The fate of the club's annual
Zombie Run
is in question. The event needs a new chairperson. As one of several major fundraisers, this event is important to the club. We are already getting inquiries from the public asking what the plans are.
In the "Rotary Foundation Minute",
Anne Trahan
, spoke of support by Rotary Clubs and the Rotary Foundation of artificial limb projects. In particular she talked of the
Jaipur Limb project
(
www.rotaryjaipurlimb.org.uk
) One club that made this a major project has donated over $100,000 and, with the support of the RI Foundation, has helped over 3,000 needy people overseas. Rotary indeed changes lives both close to home and around the world.
Sargent at Arms Brenda Scramlin
pointed our the club slide show and the picture of the United Way's school supply project. The club gave a $1,200 Community Grant to United Way for this project.
There are still a couple of openings for
board members
. If you have an interest in serving, please contact Harvey.
PLEASE NOTE
The club must account for all Golf Outing raffle tickets. If you still have tickets, please return them to Tim or to Cindy Chadwick immediately.
The July to December, 2018 dues cycle is under way.

Dues notices were delivered by E-MAIL on June 6.
Past due notices have also been e-mailed.

If you have not paid your dues, or have not received your invoice please inform the Secretary!

You may mail your dues as usual, or deliver them to the Secretary at a meeting.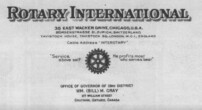 click picture for details
MEMORIES

Dig out your favorite Rotary memory photos and
let Brenda Scramlin use them for the weekly
Club slide show. It'll be fun for everyone!



---
---- DATES TO REMEMBER ----
September 18, 2018 Service Club Social
An evening in the Wenonah Park Pavilion.
Make plans to attend.
2018 Off site Meetings:
Marriott, Uptown Bay CIty
Sept 11
Sept 18
Oct 9
Oct 23
---
Upcoming Programs
(See the official schedule at RotaryBayCity.org )
August 28, 2018: District Governor (DG) Michael Elliott To Speak to Club.
DG and Asst. DG Larry Arendt will visit Rotary Meeting.
September 4, 2018: Genesis of McLaren Bay Regional Medical Center
presented by Rotarian Mark Jaffe.

Rotary
is an intimate affiliation of carefully selected business and professional people,
having as its objective the promotion of high ethical standards in private, commercial
and civic life, and dedicated to the ideal that the basis of all worthy endeavor is unselfish service.
---
Current and past
DISTRICT DISPATCH
newsletters are available on the District site shown in the LINKS section below.


Rotary Bay City on Facebook!
Click on the Blue Facebook to visit us there.

Remember! Check attendance sheets at the front desk.
---
LINKS
---
---

Stephen Kent




Steve Kent and his family have lived in Bay City for 40 years. He is VP of Technical Services at MMCC which produces MyBayCity.Com. Kent is active in many Bay City civic organizations.

More from Stephen Kent
---
Send This Story to a Friend!
Letter to the editor
Link to this Story
Printer-Friendly Story View
---
--- Advertisments ---