RYSE Program at Rotary
February 7, 2018 Leave a Comment
By: Stephen Kent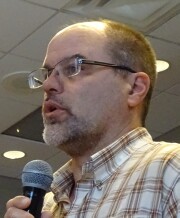 Ron Tyll
Ron Tyll
of the
Mid Michigan Community Action
and head of their
Runaway Youth Support & Engagement (RYSE)
program, spoke to Rotary about the problem of runaway youth and the efforts of his organization to address their needs and give them the support they need.
RYSE
was originally known as "Project Impact". They were charged with helping youth that are at-risk of running away, have run away, or are homeless to stabilize their environment whether through use of a host home or working on reunification with their family. The program can provide up to 18 months of services, and cover certain costs, for each youth.
Young people can reach RYSE several ways. In some cases, they are referred to the service. In others they, or a friend or concerned party, phone the RYSE 24 hour crisis line at
(844) 682-2135
. During the day that number goes directly to Ron. After hours the line is answered by an experienced service that will assess the situation and contact Ron as needed.
The Arenac and Bay County program works with Runaway youth or those who are at risk of running away. They also work with homeless youth. Youth must be between 12 and 20 years of age, although services can apply to those who are almost 21.
The program asks that youth be willing to participate (RYSE is a voluntary program). Youth must also want to make changes for themselves. The program provides case management, emergency shelter, and where possible reunification with the youth's family.
RYSE also runs a "drop-in center" located inside the MMCAA office at 111 Washington Ave in Bay City. The center is open from 3 pm to 6 pm on Wednesdays. The center has an on-site case manager and provides a safe environment. There are also weekly activities, food, and personal needs backpacks to address the youth's needs.
If possible a "host home" is employed. That is a family or individual, chosen by the youth, who has room in their home and is willing to support the youth for up to 18 months. The host must pass a background check. If selected RYSE can provide up to $7/day which covers some of the basic cost of the youth's care. Host homes, which are not the same as foster care, have been shown to be a better fit and placement for youth. They show a higher success rate and provide a family environment.
Ron talked about definitions of homeless and runaway youth. He gave examples of success stories as well as the difficulties faced by youth. After answer questions, he asked the audience to keep RYSE in mind should they know or come across a youth who would need the services.
For more information visit
mmcaa.org
.
---
CLUB NEWS and ANNOUNCEMENTS
ROTARY ROCKS!
The annual Rotary Concert is this Thursday at the State Theatre! This year's acts will include the
Garber High School choir
Several troops from the Shining Star Dance Academy
Lee and Molly Newton, Jeff Yants, and Rob Clark
The
Spring Community Grant Cycle
is now open. Please pass the word to your friends and associates that might benefit from this program. Full details and applications are available on the club website.

click picture for details
MEMORIES

Dig out your favorite Rotary memory photos and
let Brenda Scramlin use them for the weekly
Club slide show. It'll be fun for everyone!



Next summer's
International Convention
will be in Toronto, an easy trip for many of us. Be sure you sign up with her to attend this life-changing Rotary experience.
Current and past
DISTRICT DISPATCH
newsletters are available on the District site shown in the LINKS section below.
---
---- DATES TO REMEMBER ----
February 8, 2018 Rotary Rocks Concert
at the State Theatre.
May 4-5, 2018 - District Conference
Frankenmuth
New format and breakout sessions.
1 and a half days rather than two full days.
---
Upcoming Programs
(See the official schedule at RotaryBayCity.org )
February 13, 2018: The search for the missing H Bomb
. Rotarian Chuck Cusick will talk about an H Bomb that went missing and the efforts to recover it on the bottom of the ocean. As someone who was directly involved in the recovery, Chuck is sure to have some very interesting observations.
ALSO...
The club has been invited to attend the Optimist Club program honoring its "Unsung Heros", which will be held in another room at the Doubletree.
February 20, 2018: Jill Armentrout
will speak on
Nonprofit Health Centers.
February 27, 2018: NO MEETING - SOCIAL after hours
Members are encouraged to attend the Chamber of Commerce's
State of the Community Luncheon
at the Doubletree from 11:00 am until 1:30 pm. Members will receive a makeup for attending.
The club will hold a social meeting at Tri-City Brewery that evening from 6:30 until... (pay as you go)

Rotary
is an intimate affiliation of carefully selected business and professional people,
having as its objective the promotion of high ethical standards in private, commercial
and civic life, and dedicated to the ideal that the basis of all worthy endeavor is unselfish service.
---
Current and past
DISTRICT DISPATCH
newsletters are available on the District site shown in the LINKS section below.


Rotary Bay City on Facebook!
Click on the Blue Facebook to visit us there.

Remember! Check attendance sheets at the front desk.
---
LINKS
---
---

Stephen Kent




Steve Kent and his family have lived in Bay City for 40 years. He is VP of Technical Services at MMCC which produces MyBayCity.Com. Kent is active in many Bay City civic organizations.

More from Stephen Kent
---
Send This Story to a Friend!
Letter to the editor
Link to this Story
Printer-Friendly Story View
---
--- Advertisments ---