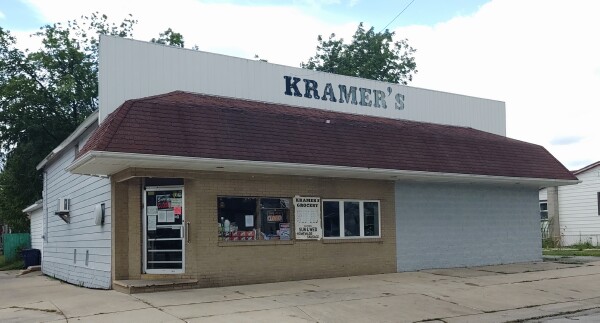 Kramer's South End Grocery Slated to Close After 95 Years
Family Owned Neighborhood Grocery Yields To Changing Times
August 28, 2019 Leave a Comment
By: Lynn Naylor
A business that started with $20.00 and a handshake will close its door on September 14th. Kramer's South End Grocery will close after being in business for 95 ½ years.
Art Kramer opened the store in March of 1924. Kramer was a candy salesman who was tired of delivering candy in all types of weather saw the building for sale at 422 Ingraham Street in Bay City's South End, and the rest is history.
When you walk through the aisles of the store you can see family photos lining some of the shelves depicting the history of the Kramer family. The business has remained a family affair since its inception. During the depression Kramer would exchange his store's goods for work needed around the store and at his home. Kramer even had his basement dug by a customer doing business at the store.
During the store's hay day you could find anything from groceries to car parts and rugs. Of course the main thrust of the business is their meat department where meat is cut to order and you can find smoked meats, fish and homemade sausage.
When Art Kramer was ready to retire from the business in 1970 his Son Lloyd Kramer and Brother-in-law Tony Neering took over the day-to-day operation. The Kramer family always had members of their immediate family working in the store. When Lloyd's Son Larry was old enough he started working for his Dad.
"As soon as we could tell one pop bottle from the next we started working," Kramer said. "At that time we stored pop in wooden crates."
In February after the death of their Father Lloyd the third generation of Kramer's took over running the store. Larry Kramer and his Brothers Scott and Brian will be the final generation to run the family business, although you can find a fourth generation in the store where Larry's nine-year-old Grandson Brayden Schmidt is following in his Grandfather's footsteps.
This is a neighborhood store so when the neighborhood demographic changes the business changes.
"Older people cook, young people don't cook" Larry Kramer said. "The older people are gone and the young people want to shop at the big box stores where they can buy a pound of hamburger and a pair of jeans."
"Twenty years ago our customers would buy 50 pounds of potatoes at a time," Kramer said. "Now customers want us to open up a 50 pound bag so they can buy 2 potatoes."
Today only about 30 percent of family-owned businesses survive into the second generation according to the Family Business institute. There are only twelve percent by the third generation and only about three percent of all family businesses are viable into the fourth generation and beyond.
"In a business like this you don't have the business the business has you," Kramer said. "Everything is your responsibility from the coolers to making sure there is enough wood for the furnace so the pipes don't freeze."
As far as how the business closing will affect him Lloyd says it will allow more time with his grandkids and maybe catching up on some yard work.
The family isn't going to sell the building due to its age and the cost to upgrade it. The Kramer's are currently working out the details for taking bi-monthly orders on certain items; customers who are interested can sign up inside the store.
###############
---
---

Lynn Naylor




Lynn Naylor is native of Bay City and holds a Bachelor's degree in Journalism from Central Michigan University. She enjoys writing and is currently working on a children's story and an adult romance

More from Lynn Naylor
---
Send This Story to a Friend!
Letter to the editor
Link to this Story
Printer-Friendly Story View
---
--- Advertisments ---