Literacy Council Enables Readers
November 13, 2018 Leave a Comment
By: Stephen Kent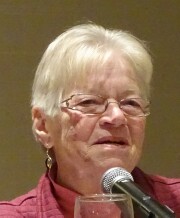 Kathy Raynar
November is the Bay City Rotary
Giving Thanks Month
. During the month the club will honor organizations and people who have made a difference.
On November 13 the club heard from
Kathy Raynar
, Executive Director of the Bay County Literacy Council, which was a recent recipient of a club Community Grant awarded for their past season of summer tutoring.
Kathy has been the Director for over 20 years. She talked about the thrill she experienced when, as a "broke SVSU student" training tutors, she was hired into an Executive Director position. She then laughed and related who she learned her competition was. The loftiness of the job suddenly took a bit of a hit.
The importance of the Literacy Council's work is understandable when one considers that, nationally, 20% of adults over 16 are illiterate. Bay County is a little better, but not much.
The Literacy Council's volunteer tutors reach out to students with free reading programs. Tutoring is given twice a week for 45 minutes at a public location like the libraries. Students are given work to do at home, hopefully with the help of parents. Summer reading helps accumulate about 10 hours of one-on-one tutoring per student.
Kathy talked about some of the difficulties she and her staff face. The most difficult issue is parents. They are unhappy that tutoring is not given in the homes. They don't like to drive their kids to sessions. They don't help. When meetings are scheduled to present the program to parents, only a tiny percent take the time to show up.
Regardless of the difficulties, the Council does reach enough students to make a difference. The ability to read, taken for granted by so many, is an essential skill all people need to succeed.
---
CLUB NEWS and ANNOUNCEMENTS
President Harvey presented a certificate the club received at the recent District Gala, which recognized our giving to the Polio campaign. He presented that certificate to Chuck Cusick, (who happens to be the district Polio Chairman.) Chuck said that there have been some setbacks in the campaign and that the number of new cases of Polio, worldwide, reached 27 last year.
In the day's "
Rotary Foundation Minute
",
Cindy Chadwick
related what it was like when she was a child. Polio was an epidemic that parents feared during the "season" each year. Kids were just not allowed to do things that could put them at risk of infection. Cindy told about a friend of hers who contracted the disease and the effect that had on all who knew her. "Polio is a horrible disease," she said. Rotary's fight is so important. Everyone needs to give to help finish the battle.
Major Rick Ray
told the club about the "Traveling Trophy" that the Salvation Army is awarding to each year's top Bell Ringing collections. Sign up sheets were passed around for one hour slots at Wal-Mart on November 24 and December 14, the last two openings this year. It's not too late to make a run at last year's winner, the Lions Club.
---
---- DATES TO REMEMBER ----
November has been designated as Bay City Rotary's
"Month of sharing"
. Programs for the month will emphasize the many things we have to be thankful for and will encourage ways we can share with our family, friends, and community.
Rotary meets at the Doubletree, as usual, on Nov. 20, 2018 and for the foreseeable future.
---
Upcoming Programs
(See the official schedule at RotaryBayCity.org )
November 20, 2018: Giving Thanks Month, Featuring, 5 Guys at 55.
Tara Welch and other Rotarians will honor 5 guys that have over 55 years of service in our club. Com to join us in the celebration!
November 27, 2018: Giving Thanks Month, Rescue Mission of Mid Michigan.
Former member
Dan Streeter
will talk about the Rescue Mission's capital project that includes a shelter in Bay County for homeless Teens.
December 18, 2018: Studio 23's 60th Anniversary
Tara Welch will give an update about Studio 23's 60th Anniversary project. The organization will be renovating their current space to increase space for students and educational activities. Learn about the exciting project and their plans for 2019!
December 25, 2018: Merry Christmas Rotarians! No Meeting today
January 1, 2019: Happy New Year Rotarians! No Meeting today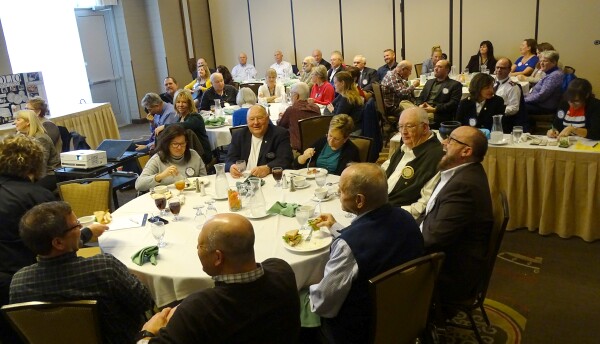 Rotary
is an intimate affiliation of carefully selected business and professional people,
having as its objective the promotion of high ethical standards in private, commercial
and civic life, and dedicated to the ideal that the basis of all worthy endeavor is unselfish service.
---
Current and past
DISTRICT DISPATCH
newsletters are available on the District site shown in the LINKS section below.


Rotary Bay City on Facebook!
Click on the Blue Facebook to visit us there.

Remember! Check attendance sheets at the front desk.
---
LINKS
---
---

Stephen Kent




Steve Kent and his family have lived in Bay City for 40 years. He is VP of Technical Services at MMCC which produces MyBayCity.Com. Kent is active in many Bay City civic organizations.

More from Stephen Kent
---
Send This Story to a Friend!
Letter to the editor
Link to this Story
Printer-Friendly Story View
---
--- Advertisments ---