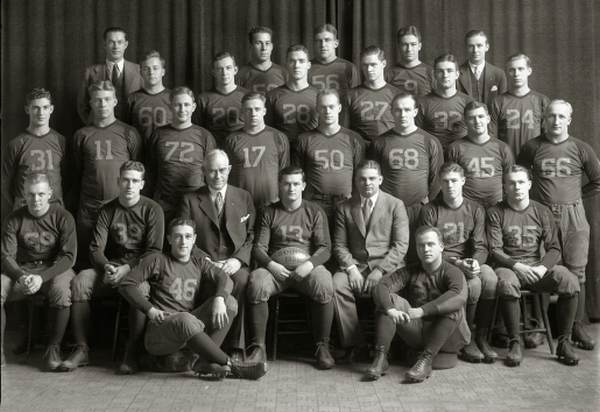 Bill Hewitt, Bay City's most famous football player and all-time all pro is No. 56 in the back row of this U-M 1931 squad. Other Bay Cityans are Howard Auer, No. 50, Louis Westover, No. 9, Frederick Clohset, No. 12. Estel "Zit" Tessmer is No. 24.
---
Bay City's Spartan Trenton Robinson Seen Poised to be Pro Grid D-Back
Less Than a Dozen Local Players Have Taken a Snap in Big Time Ranks
November 6, 2011 Leave a Comment
By: Dave Rogers
Michigan State free safety Trenton Robinson, a Central High graduate, is one of 37 players on the preseason Thorpe Award watch list for this season.
The Bay Cityan is also expected to be a high draft pick by the pros. In fact, NFLDraft.com calls him the No. 1 pick at safety.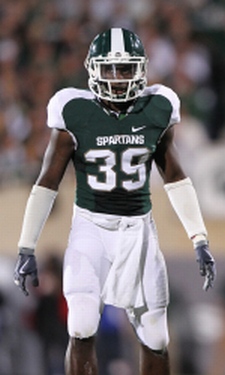 MSU's Trent Robinson
Former BCCentral Standout
is Headed to the NFL
Robinson's two interceptions in last Saturday's tense game against Minnesota, and a pick in the monumental Wisconsin miracle finish game two weeks before, can't have hurt his chances.
Robinson's on-field heroics recall the glory days of Bay City football and nearly a dozen who went on to play professionally.
Eighty years ago the 1931 University of Michigan football team was dominated by four players from Bay City, led by the great Bill Hewitt.
Hewitt was a fullback on the Wolverine squad that went 8-1-1 and claimed a share of the Big Ten Title. He was most valuable player on the Harry Kipke-coached squad that out-scored opponents 181-27. The team lost only to Ohio State 20-7 and tied 0-0 with Michigan State.
Other former Bay City Central players on that team were Howard Auer, tackle, Louis Westover, quarterback/halfback, and tackle Frederick P. Clohset. Ann Arborite Estel Tessmer, who also played that year at quarterback for U-M, ended up as a teacher, coach and immensely popular athletic director of Central for many years.
Nothing can match the record made by Hewitt, who is enshrined in the Pro Football Hall of Fame. He scored 26 touchdowns, including three as a passer, in a pro career of 101 games 1932-43.
Hewitt is remembered as the last pro gridder to play without a helmet and also for his Saturday Evening Post article (ghost written by Red Smith) that pilloried coach George Halas of the Chicago Bears.
That the criticism of Halas was justified was shown by the trick he pulled on Hewitt: after Bill told him he was retiring before the 1939 season, Papa Bear nevertheless secretly sold his contract to Philly for $12,000.
As recounted by the late Lee DeLorge, local sports historian, Hewitt showed he was straight-arrow by fulfilling the contract with the Eagle's owner Bert Bell, his good friend. In fact, Hewitt played five years with the Eagles even though he was finally forced to don a helmet against his wishes.
You have to go back about 40 years, to the 1970s, to find former local high school football players making it to the pros.
Latest Bay City born pro gridder was Troy Evans, who attended high school and college in Cincinnati. In 2009 he ended his 120 game pro career as a linebacker with Houston for five years and three years with New Orleans.
Another Evans, Gary, an All Saints grad from 1974 played at Grand Valley and moved up to the New York Jets and Cleveland Browns.
Dennis Wirgowski, a Bay City Central and Purdue star, played four seasons with New England and Philadelphia as a defensive end/tackle 1970-73.
Jim Kanicki, a 6-4, 270 pound Spartan out of Central High, played 116 games as a pro defensive tackle for Cleveland and the New York Giants, 1963-71.
The only Handy High grad to play in the pro grid ranks was Wayne Meylan, former Nebraska linebacker, who saw action in 30 games over two seasons at Cleveland and one at Minnesota. Another Cornhusker, Jerry List, was drafted as a back by Oakland but no record of his having played has surfaced.
Bay City's connection with non-NFL pro teams is significant mainly because of Andy Karpus, who played for 15 teams 1937-47, with time out for Navy duty in World War II. Karpus quarterbacked the 1937 Los Angeles Dodgers to an American League title and that squad, after defeating the College All Stars, claimed the "world championship."
Frank McGrath, considered the "father" of parochial high school football in these parts, was a member of the 1922 St. James team that won the Class C state title under Coach Art Karpus. Brother of Andy, Art Karpus, called "The Immortal Joe," was a U-M running back during World War I. He notably starred on Big Ten championship football, baseball and basketball teams.
McGrath played the only two games of the first Bay City Junior College grid squad, coached by one Mahoney. The second year BCJC played three games and did not score a point, being defeated 35-0 by Central Michigan Normal (now CMU) and 96-0 by Ferris Institute while tying Grand Rapids JC 0-0. These were the only college teams ever to be fielded and/or play in Bay County.
McGrath went on to Georgetown where he played for the great coach Lou Little. He played a season in the pros with the Philadelphia Yellow Jackets, notable for a broken arm suffered trying to tackle Red Grange, and another with the New York Yankees, both pre-NFL squads. Later McGrath had a successful business career and returned to Bay City in retirement.
Howard Auer of the 1931 U-M team played one game as a pro for the Philadelphia Eagles in 1933.
Elmer Engel's first great All State quarterback Bill Smiley got hurt at Michigan State but eventually played professionally in 1956 for the Toronto Argonauts in the Canadian Football League.
Jerry Leahy, tackle out of St. Joseph High under Coach Art Nixon played a game with Pittsburgh after a stellar career at the University of Colorado.
Frederick Dawley, a Central High and U-M alum, caught on for two games as a back with the Detroit Lions in 1944.
Many local players got a chance to compete with the big boys on the Bay City All Stars and Bay City Blazers semi-pro teams 1948-51. These gridders included Andy Wendland, Ed Gledhill, Lynn Conway, Dan Skrypczak, and many other familiar local high school stars.
The All Stars' founder and sponsor was Frank Koppleberger of the Electric Auto Lite Company and manager was Budd Cunningham. The Stars were coached by Howard "Whitey" Ricker and other players included Barney and Don Glowicki, Bob Anderson, Bobby Heinz, Herman and John Wolf, Jerry Rose, Jim and Jack Butler and Jerry Greenwood.
One memorable contest pitted the Chicago Hornets against the All Stars at Central Stadium, ending in a blowout in favor of the Windy City gridders. Rumor has it the localites also at one time took on the Detroit Lions, who gobbled them up. ###
---
---

Dave Rogers




Dave Rogers is a former editorial writer for the Bay City Times and a widely read,
respected journalist/writer in and around Bay City.
(Contact Dave Via Email at carraroe@aol.com)

More from Dave Rogers
---
Send This Story to a Friend!
Letter to the editor
Link to this Story
Printer-Friendly Story View
---
--- Advertisments ---