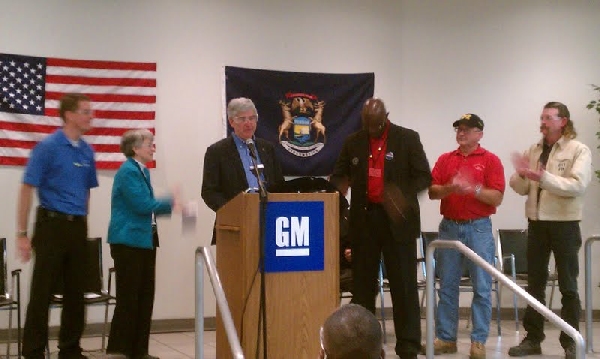 Governor Rick Snyder's Appearance in Saginaw.
(MyBayCity Photo By George Lynch)
---
A New Beginning For GM Saginaw Metal Casting; Nexteer Also Boosted
Governor Rick Snyder Visits Saginaw for 2 Huge Job Producing Announcements
October 30, 2011 Leave a Comment
By: Julie McCallum,
Senior Staff
(MyBayCity's Dave Rogers Contributed to This Article)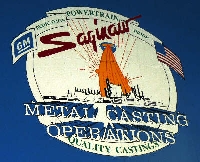 Friday was a big $365 million day for Saginaw!
General Motors announced investment of $215 million in the Saginaw Metal Casting plant.
Nexteer Automotive announced a $150 million investment into the firm's world headquarters in Buena Vista Township.
To top it all, Gov. Rick Snyder was on hand for both news events.
Nexteer President Robert J. Remenar said the auto parts supplier is seeing increasing customer demand and needs to bolster its production facilities.
Nexteer is responding to anticipated demand, and a seven year GM contract for electronic steering components for so-called "next generation" pickup trucks.
Gov. Snyder plans to meet the Chinese owners of Nexteer on a pending overseas trip, hoping to nail down the intentions of Pacific Century Motors regarding the Saginaw County industrial complex.
The Chinese have not committed to staying in Saginaw beyond the current five year labor contract with the United Auto Workers union.
GM acquired Nexteer in 2009 as part of the bankruptcy restructuring of Delphi Corp. and dealt the firm to China's Pacific Century Motors the next year. Considerable controversy and uncertainty have surrounded the deal ever since.
Diana Tremblay, GM vice President of manufacturing and labor relations, said the Saginaw Metal Casting investment will result in retaining and/or creating 275 jobs.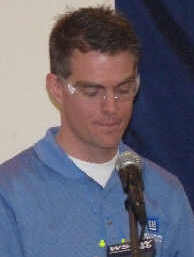 Stephen Jenkins, GM's Plant Manager at Saginaw Metal Casting Operations
(Pictured Left)
Bill Savage said, "Today is a new beginning for Saginaw Metal casting and the former Grey-iron Plant in Saginaw. Savage said to the crowd, "Without your hard work this wouldn't have been possible."
Governor Rick Snyder also acknowledged the 100th birthday of the Chevrolet Motor Company, November 3, 2011. Over 209 million Chevrolets have rolled off the line since the first Chevy put together in 1911 by Louis Chevrolet and pals in a rented garage in downtown Detroit.
Last Choice Country radio, a Great Lakes Bay Media Group vehicle, aired the entire press conference live on
www.lastchoicecountry.com
!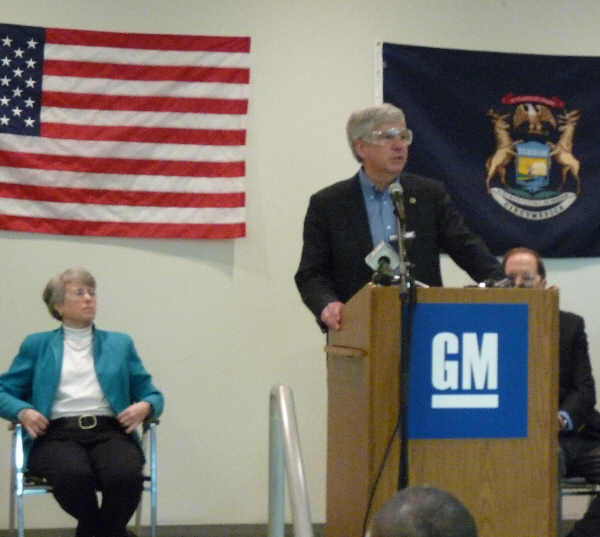 "Michigan is not down and out, We will make this happen" says, Governor Snyder, as Diana Tremblay, GM vice president, looks on.
(MyBayCity Photo by Julie McCallum)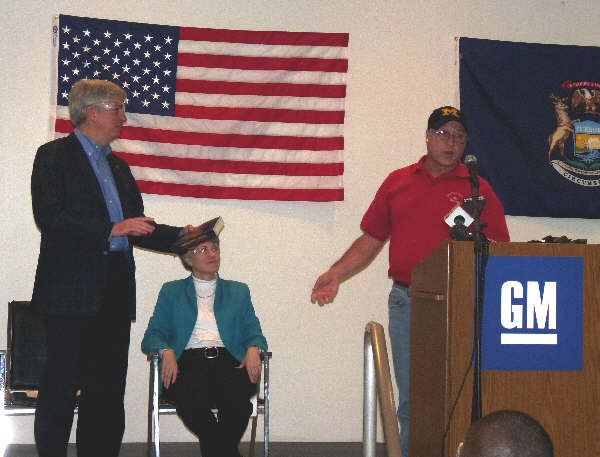 (Above) Bill Savage, chair of UAW Local 668, presents Governor Synder with the book "UAW Walk of Walter Reuther."
(MyBayCity Photo by Julie McCallum)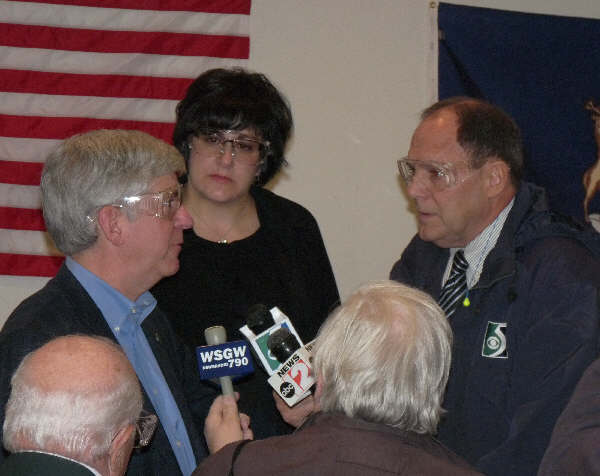 (Above) WNEM TV5's Brian Wood, first in action to interview Governor Snyder for the Noon News as Geralyn Lasher, Director of Communication of Governor's Executive Office looks on.
(MyBayCity Photo by Julie McCallum)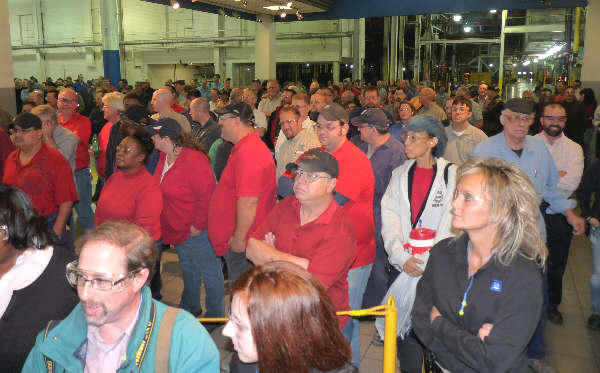 (Above) GM employees gather for press conference.
(MyBayCity Photo by Julie McCallum)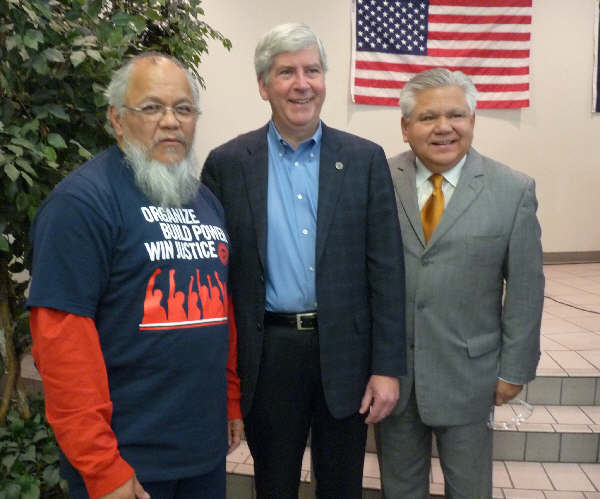 (Above) Pictured L/R, Art Guevara, UAW Health Safety Trainer & Manager, Governor Rick Synder and Gilderto Guevara, Hispanic Commission of Michigan.
(MyBayCity Photo by Julie McCallum)
(Above) A plant tour for media and guests was given after the press conference. Some 250 robots, including self guiding robots which handle 480 pounds of equipment, were viewed. Using these robots also prevents injury to workers handling the equipment.
(MyBayCity Photo by Julie McCallum)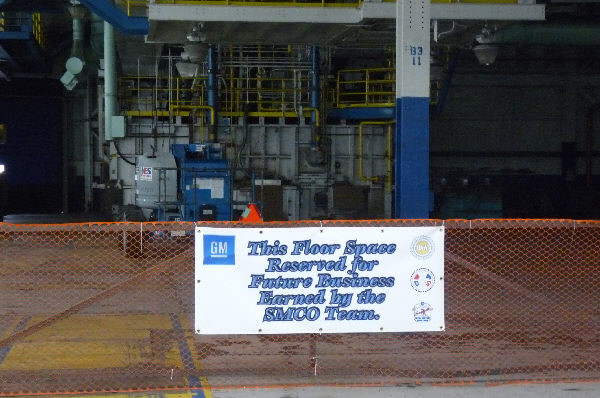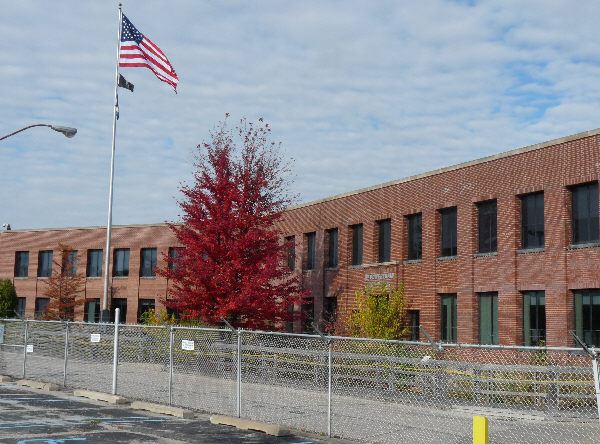 GM'S Saginaw Metal Casting Operations, 1629 N. Washington
(MyBayCity Photo by Julie McCallum).
---
---
---
Send This Story to a Friend!
Letter to the editor
Link to this Story
Printer-Friendly Story View
---
--- Advertisments ---