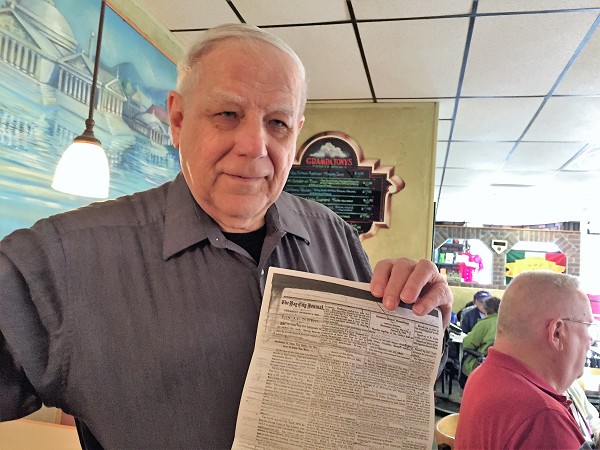 Author Tim Younkman shows the newspaper with the remarkable tale of Peter Van Gestle and the shrew.
---
A SINFUL WOMAN: Bay County's 1st Convicted Murderer Confesses, Sort Of...
A Tantalizing Morality Tale Stripping Innocence From the Lumbering Era
April 16, 2017 3 Comments
By: Dave Rogers
A sinful woman made me do it!
That was the defense of Peter Van Gestle, the first man convicted of murder in Bay County, who finally confessed to the crime after spending six years in Jackson Prison.
Van Gestle, after his conviction in 1859 for shooting and killing Peter Van Wert, conducted a lively correspondence with the prosecuting attorney, James Birney III, that ended up printed in the Bay City Journal.
The inmate pleaded with Mr. Birney over several years, according to the account, maintaining "I was convicted on false testimony and by an unjust jury."
Tim Younkman, former Bay City Times police reporter now a history sleuth and author, produced the report for the monthly meeting of the Old History Buffs, an informal group that meets monthly at Grandpa Tony's on Columbus.
The correspondence between the prosecutor and the convict is noteworthy in that it was not only unusual, it appeared in the public print for all in the community to see.
It also gives some insight into the state of domestic relations in those early days, at least for a small segment of the Bay City population.
We know little of the background or occupation of Van Gestle, except that he claimed he was interested in the past season's lumbering success in the pines of a certain Mr. Van Hamelens, a neighbor of Van Wert, to whose house he was journeying when the fateful incident occurred.
He also apparently was interested in Mr. Van Wert's wife, who he accused of "the devil made me do it" activities after being chastised by Birney's letter sent in care of the superintendent of the Jackson State Prison to the inmate Van Gestle.
"Did not our lord Jesus Christ pardon the guilty? Van Gestle begged, pleading "Governor (Henry H., 1865-1869) Crapo won't pardon nobody."
Birney explained that he had no such power, chastising him for denying guilt all those years but offering, as befit a former Congregationalist minister that he was: "If you will make a full confession, I will be disposed to make an effort for your pardon. A true statement can now do you no harm because you cannot be tried again for the same offense, nor can anything be added to your punishment. It may do you much good."
At last Van Gestle bared his soul to Mr. Birney: "I am very sorry I did not tell the Court all about -- the whole honest truth. But now I say I have done it but never intended to do it, God knows, until that moment.
"When I came close to the house (Van Hamelens'), I turned into the alley, out came the poor fellow and I raised my gun and it went off. I must have been crazy or something like that, or I could not have done such a thing for I never intended to kill or harm that man, though his wife had been at me for more than a year to kill him; but I told her I never could kill a hog, how could I kill a man."
The newspaper editor inserted the following parenthetically: ("Part of the confession which follows we are obliged to omit, as it describes certain temptations thrown in his way.")
"Oh! Sir, my honest desire is to be taken out of here and be shot. I am tired of living anymore in State Prison. I might have been a respectable young man, with a family around me, had it not been for that sinful woman. While I was in jail she sent me letters, telling me to keep cool and not tell that she had put me up to it."
Van Gestle's entreaty continued: "All I can say is that she is the cause of her husband's death and mine: -- but mine is worse than death itself because her husband was buried when he died, but I was buried alive."
The grim morality tale was embellished by a cautionary note: "Oh! Ye young men of Bay City, beware of such women! for their lips are as sweet as honey, but their speech is as bitter as gall, and is to me now."
What happened to poor Mr. Van Gestle?
Did he get out of prison on a pardon?
Did Mr. Birney intercede with Gov. Crapo on his behalf after the apparently heartfelt, though morally coerced, "confession?"
Did he perhaps let lust triumph over good sense and marry the one he condemned as a "sinful woman," now a widow by his hand?
Stay tuned, as we turn the research over to the Old History Buffs and hope we can make a full report at a later date.
###
---
"The BUZZ" - Read Feedback From Readers!
scottystrees Says: On July 27, 2017 at 11:41 AM

Background of Peter van Gestel.

Peter was born on 27 February 1835 in Oirschot, Noord-Brabant, Netherlands, the son of Wilhelmus van Gestel and Elisabeth van Beek. Peter was a 3rd cousin of Ida van Gerwen, wife of Gerwen, Godfriedus van Haaren, who came to Bay City between 1855 abd 1858.

Peter van Gestel, the van Haarens and van Weerts were all from Oirschot.

Peter came to America aboard the "Gaston" which had sailed from Antwerp, Belgium.

Peter van Gestel died in May 1870 in Jackson Prison according to the 1870 Mortality Schedule.
marykoppitch Says: On November 15, 2020 at 07:30 AM

Gijsberdina "Berdina" Nelissen was born on 04 March 1826 in
Empel en Meerwijk,Noord-Brabant,Netherlands.
She married Peter Van Weert on
03 Feb 1853 in
Lith, Noord-Brabant, Nederland.
She was not a shrew or part of a plan to kill her husband.
She was pregnant with her 2nd child when her husband
Peter Van Weert was murdered by Peter van Gestle in 1859.
Mr. van Gestle was not poor. He was a liar, convicted murderer and died in prison.
Berdina was fortunate to marry a kind hearted businessman in 1860. Anthony Walraven raised Peter?s son and daughter. They kept their father?s last name of Van Weert. Anthony and Berdina were blessed with 4 more children. Berdina died at the age of 42.
marykoppitch Says: On November 18, 2020 at 02:21 PM

Correction
Gijsberdina died on 1/19/1879.
She was 52 years old.
---

Dave Rogers




Dave Rogers is a former editorial writer for the Bay City Times and a widely read,
respected journalist/writer in and around Bay City.
(Contact Dave Via Email at carraroe@aol.com)

More from Dave Rogers
---
Send This Story to a Friend!
Letter to the editor
Link to this Story
Printer-Friendly Story View
---
--- Advertisments ---