What Is Prune Belly Syndrome?
Shawn Doyle (age 34) & Tyler Boughter (age 7) Both Living With The Disease
April 12, 2009 3 Comments
By: MyBayCity Staff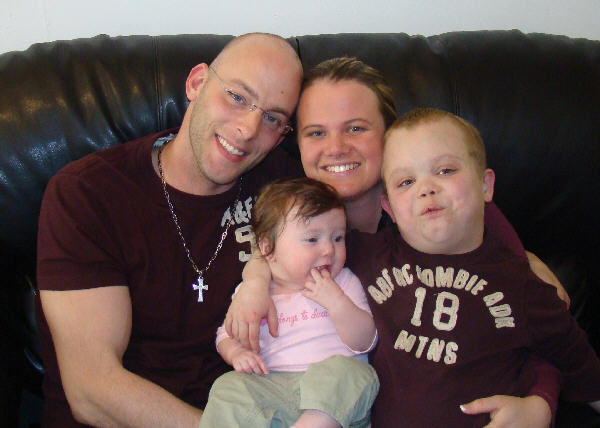 Pictured is Craig Blanchard and Misty Pelo with their daughter Emma and Tyler Boughter. Tyler is the son of Misty and Jerry Boughter and has Prune Belly Syndrome
(MyBayCity Photo)
Prune belly syndrome is a rare birth defect affecting about 1 in 40,000 births. About 96% of those affected are male. Prune belly syndrome is a congenital disorder of the urinary system, characterized by a triad of symptoms.
Prune belly syndrome is a very rare, serious and often life-threatening problem. Many infants with prune belly syndrome are either stillborn or die within the first few weeks of life from severe lung or kidney problems, or a combination of birth problems. Some newborns survive with varying degree of recurring problems and only 50-percent of anyone born with this will survive past their second birthday.
The syndrome is named for the mass of wrinkled skin that is often (but not always) present on the abdomens of those with the disorder. Other names for the syndrome include Abdominal Muscle Deficiency Syndrome, Congenital Absence of the Abdominal Muscles, Eagle-Barrett Syndrome and Triad Syndrome.
Other symptoms include partial or complete lack of abdominal muscles. There may be wrinkly folds of skin covering the abdomen. Undescended testicles in males. Clubfoot and/or abnormal limbs. Urinary tract abnormality such as unusually large ureters, distended bladder, accumulation and backflow of urine from the bladder to the ureters and the kidneys. Frequent urinary tract infections due to the inability to properly expel urine.
Prune belly syndrome is usually diagnosed via ultrasound while a child is still in-utero. An abnormally large abdominal mass is the key indicator, as the abdomen swells with the pressure of accumulated urine. When in the womb, the developing baby's abdomen swells with fluid. That fluid disappears after birth, leading to a wrinkled abdomen that looks like a prune. The appearance is more noticeable because of the lack of enough abdominal muscles.
Recently, I did an article on
Champion Diversified Industries Inc.
featuring Shawn Doyle, a 34 year old who suffers from Prune Belly. He contacted me last week, excited and anxious to help a 7 year old boy from Essexville who also has Prune Belly Syndrome! This folks, (1 in 40,000 births) is extremely rare, living in the same community. Fate was on hand the day Doyle walked into the Essexville Subway and met Regional Manager, Misty Pelo, the mother of Tyler Boughter.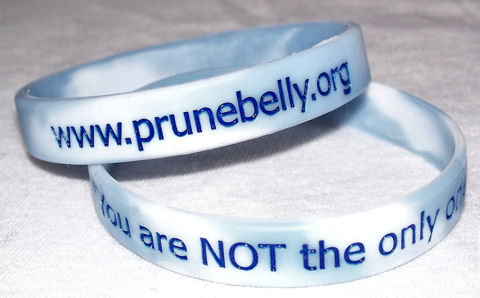 When Misty Pelo went in for her 16 week ultrasound, she was looking forward to finding out if her first born would be a boy or a girl. She found out much more than the sex of the baby.
After a second, high tech ultrasound, Misty was told that the baby she was carrying had Prune Belly Syndrome and possibly clubfoot which is a symptom of the disease. She was told that her baby would not make it to a live birth and if so, would only survive approximately two days. She was given the option to terminate the pregnancy, which, was not an option for Misty.
Misty continued with the pregnancy and was cared for throughout on a daily basis by Dr. Rhada Cherukuri, who specializes in Obstetrics and Gynecology, to drain the baby's bladder in-utero. At twenty five weeks, a pigtail catheter from the baby's bladder to the amniotic sac was put in place.
An ultrasound at thirty four weeks revealed that there was no fluid around the baby and the placenta had stopped growing. Misty was induced and the baby was taken via C-section.
Misty and her newborn baby, Tyler were then referred to and cared for at Mott's Children's Hospital in Ann Arbor by Dr. John Park, from the University of Michigan Urology department.
At 8 days old, little Tyler had a feeding tube placed, the catheter taken out and a vesicotomy. A vesicotomy is an incision into the urinary bladder, usually done to divert the flow of urine when the bladder can no longer function as a reservoir. After incising the bladder the surgeon moves it forward and sutures the opening to the skin to form a stoma. Called also cystotomy.
Due to the baby having had no fluid in-utero, his hips were also dislocated, therefore, Tyler was in a harness for the first two years of life. He later had open reduction surgery and in a body cast for three months.
Ten days shy of Tyler's second birthday, he was in need of a kidney and his mother Misty donated hers to save her son's life. Tyler went in for surgery on March 17th for what would be his 17th surgery. Unfortunately, Tyler's body rejected Misty's kidney and it was taken out. Tyler was then put on dialysis to continue growing.
After failed attempts to find a healthy kidney for Tyler, Misty received another call from Ann Arbor that they had finally found a match.
"We went to Ann Arbor for the transplant and thereafter is when the real nightmare began. Tyler had infections and was in and out of the hospital," said Misty.
Tyler endured many procedures and tests to evaluate kidney function. If kidney function is abnormal, creatinine levels will increase in the blood, due to decreased excretion of creatinine in the urine. Tyler has also had biopsies done due to a medicine known to cause cancer called Thymoglobulin. Thymoglobulin is used to prevent acute kidney rejection and can cause post-transplantation lymphoproliferative disorder, a lymphoma of the stomach.
Tyler also suffers from SVC Syndrome. Superior vena cava syndrome (SVCS) is obstruction of blood flow through the superior vena cava (SVC). It is a medical emergency and most often manifests in patients with a malignant disease process within the thorax. A patient with superior vena cava syndrome (SVCS) requires immediate diagnostic evaluation and therapy.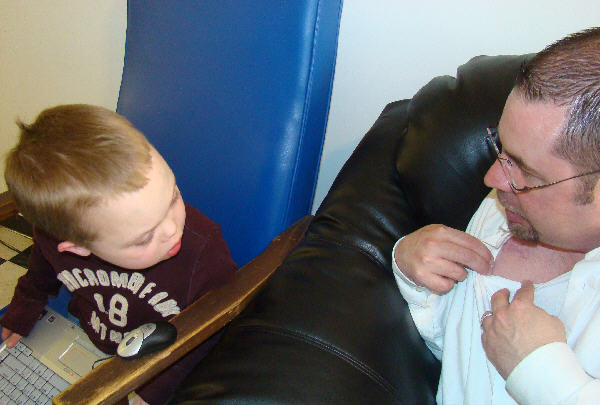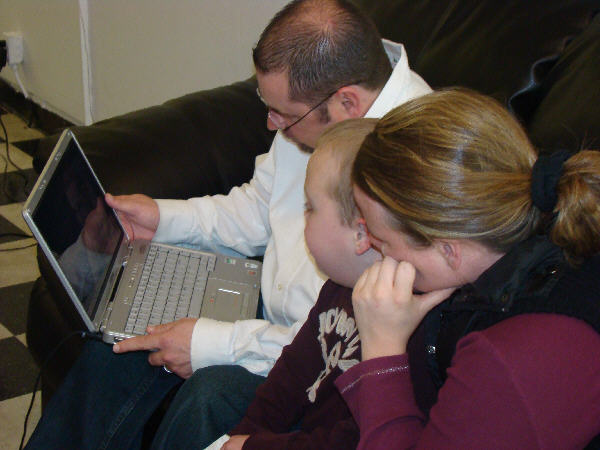 Shawn Doyle shows Tyler his scars from past surgeries and consults with his mother
(MyBayCity Photo)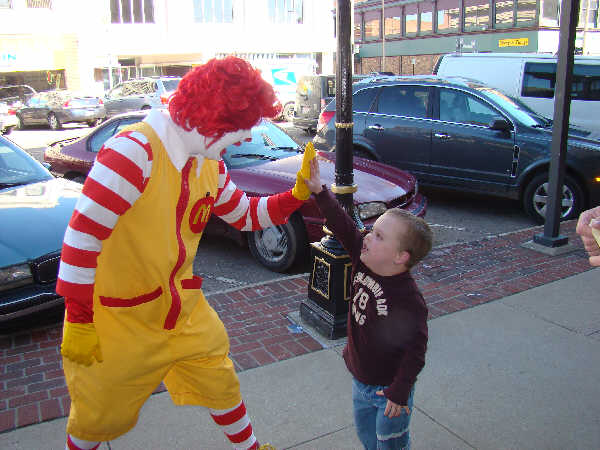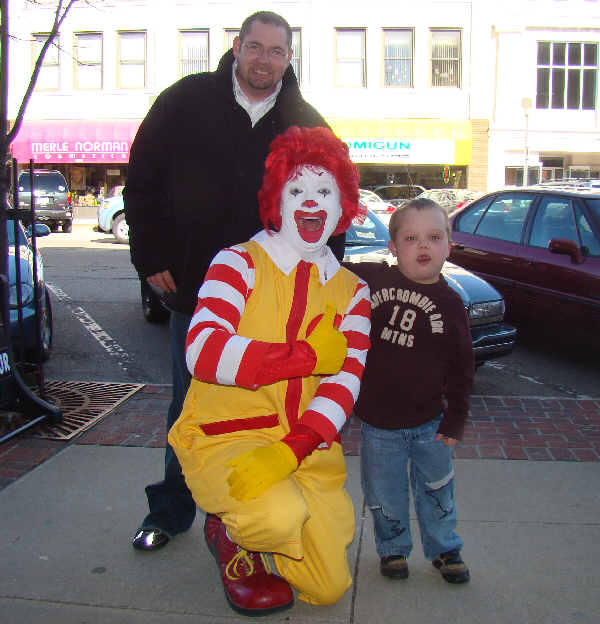 The day we interviewed Tyler, Ronald McDonald was at the State Theatre. Doyle walked Tyler down to meet Ronald and learn a few magic tricks!
(MyBayCity Photo)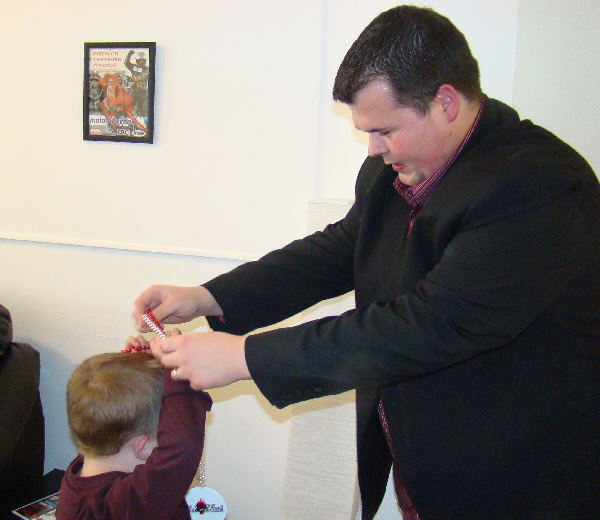 Josh Sharrow from Champion Diversified Industries Inc. gives Tyler beads he had his eyes on! Sharrow and Doyle are both employed at CDI
(MyBayCity Photo)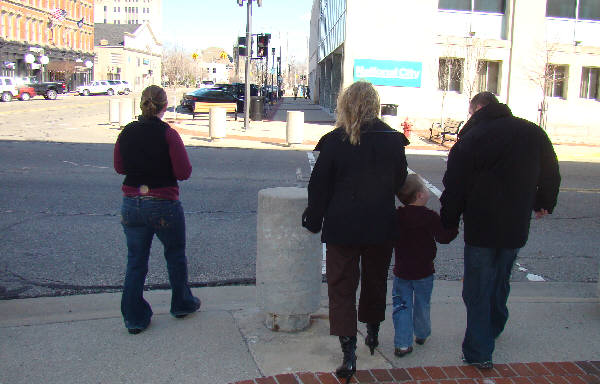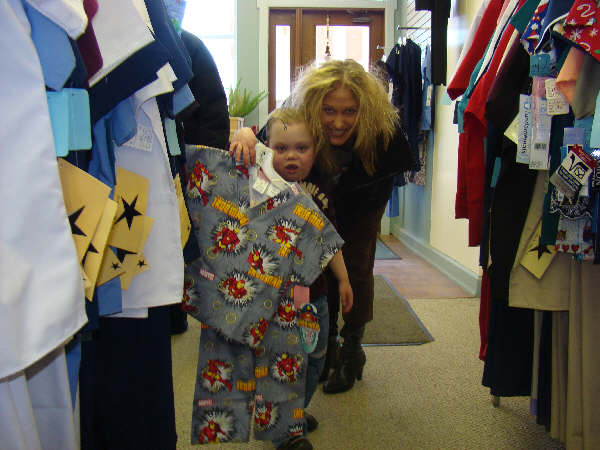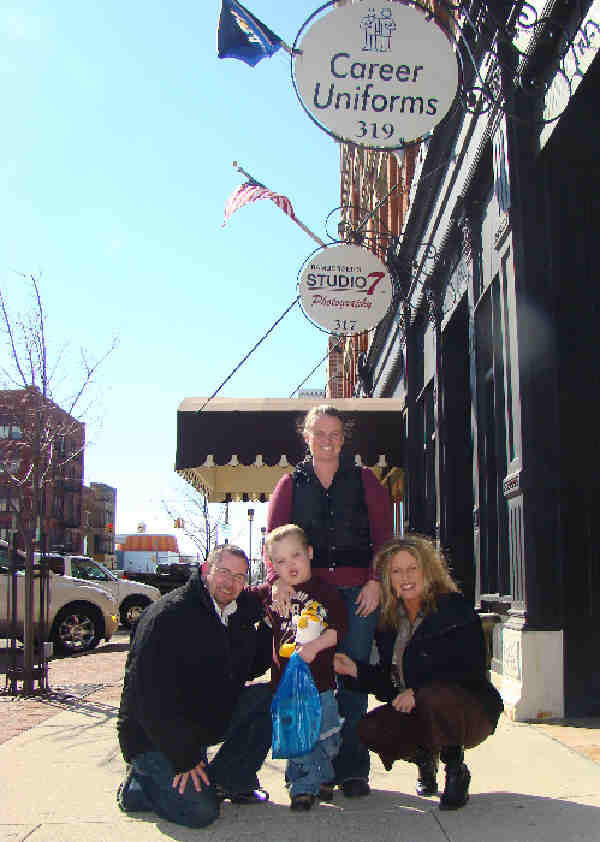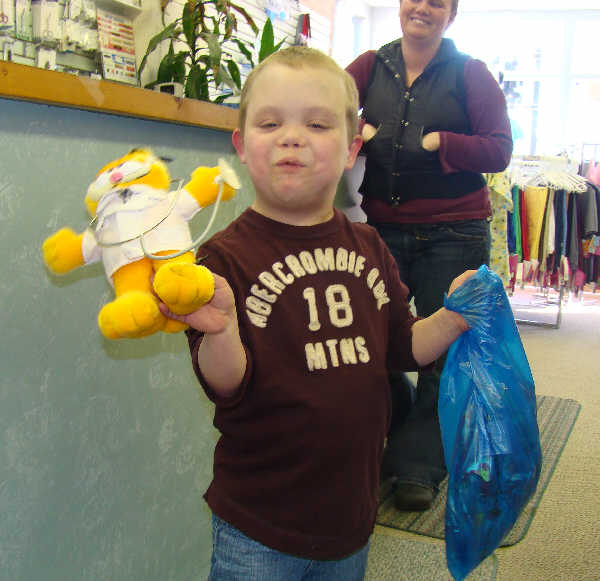 After interviewing Tyler, I took him to my family's store, Career Uniforms and let him pick out anything he wanted for his next hospital visit
(MyBayCity Photo)
"I don't look at it as a "possibility" that Tyler will live to be 60, I view it as a fact that he will. I was told that I will out live my son, but do not live our life as if I will," says Misty.
Misty continued, "Meeting Shawn, someone in the same town who understands what we go through, a 34 year old healthy grown man living his life to the fullest is very reassuring to me."
"There are so many things I want to do for this young man and his family. There is so much I can tell Misty about what to expect and be a mentor to Tyler. I live each and every day like my last, I've done it all and so will Tyler," said Doyle.
Doyle continued, "My mom was told 34 years ago to abort the pregnancy as well due to the unknowns of this disease and the fact that it is so very rare. My mother was told I would never walk, I was riding a motorcycle at 6 years of age and speed skating, I was 5th in the state!"
Tyler is one happy, well adjusted and intelligent little boy! He attends WR Bush Elementary and is in the first grade.
I would like to thank Shawn Doyle for bringing this story to my attention and giving me the opportunity to cover their exclusive meeting. I was touched, to say the least by Tyler and his family. Their strength is amazing! I can only hope and pray that medical research continues to advance with this rare disease and hope to be a part of public awareness.
---
"The BUZZ" - Read Feedback From Readers!
richardlomba Says: On April 13, 2009 at 12:41 AM

Marlo
I dont't think you really know me, but I have to say that reading this story and watching this website for the last few years without knowing we were related. I am very proud of all you are!!
Ann Carmona says: On April 13, 2009 at 07:55 AM

Wow, inspiring story Marlo. You seem to write about the most interesting things. How do you do it? We all look forward to what you will bring to our attention next, this one takes the cake. Touching, very touching.

On another note, you make a cute judge. We came out Thursday night to buy you a green monster martini, but you were too busy giving "kind criticism" to the contestants. Good job. The three of you judges make it very interesting this round. You have great chemistry and actually are the most entertaining of the whole bunch! They needed some estrogen in this competition and your the best girl!
The Queen says: On April 13, 2009 at 07:56 AM

Hi Marlo,
That was a very informative article, what an overwhelming disease. Nice comment you forwarded me
from Richard.
Mom
---
---
Send This Story to a Friend!
Letter to the editor
Link to this Story
Printer-Friendly Story View
---
--- Advertisments ---