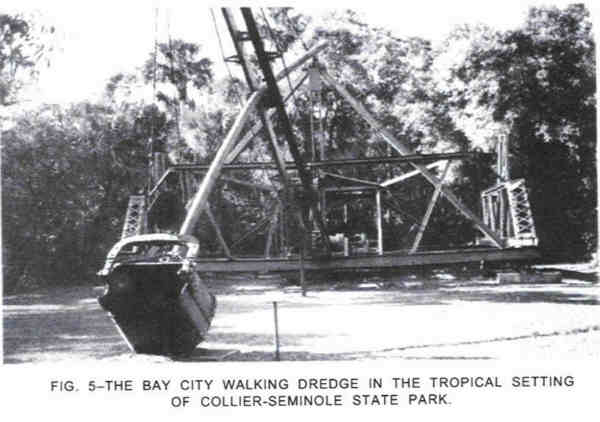 Bay City Walking Dredge, last remaining machine of its type, remains in a tropical setting in Florida where it made history building the Tamiami Trail.
---
Bay City Walking Dredge Still A "Destination Attraction" in Naples, Florida
Dredge Built Here Reclaimed Michigan Swamps, Helped BuildTamiami Trail
December 14, 2003 Leave a Comment
By: Dave Rogers
      "Destination attraction" planners might consider a truly historic artifact for Uptown at RiversEdge: the Bay City Walking Dredge, made on the same site at the Industrial Works here in 1924.
      Perhaps nothing would be more appropriate than this local innovation, specially designed for a wetlands environment, that was used to reclaim from swamps about 3.1 million acres of productive farmland in Michigan, dig irrigation canals which made agriculture possible in California deserts and to build part of the Tamiami Trail connecting Tampa with Miami through the Everglades and the Big Cypress Swamp in Florida.
      Ironically, the Florida State Park System still promotes the Bay City machine, but there is little mention of it here.
      The only surviving dredge in the United States was made in Bay City and is a premier attraction at the Collier-Seminole State Park near Naples.
      The Naples Daily News each year touts the state park like this:
      "
Collier-Seminole State Park,
a 4,760-acre wilderness preserve, offers a 0.9-mile interpretive boardwalk/nature trail, RV and tent camping, a 5 1/2-mile mountain-bike trail, a 6 1/2-mile hiking trail, canoe rentals, a 13 1/2-mile aquatic trail, playground, picnic area, pontoon boat tours and historical displays, including a huge "walking" dredge, a National Historic Engineering Landmark. Location: 17 miles south of Naples on U.S. 41 East. Hours: 8 a.m. to sunset. Admission: $3.25 per car, up to eight people, and $1 per person over eight people. Information: 394-3397."
      The Bay City Walking Dredge was designated a National Historic Mechanical Engineering Landmark by the American Society of Mechanical Engineers in 1994.
      Between 1914 and 1930 the Industrial Works produced 267 walking dredges, so-called because they rode on portable tracks which propelled them along through all types of ground and even straddled ditches and canals. The device used a system of pulleys and sheaves and four wooden "shoes" that rolled the frame forward five to ten feet on a trolley. It could walk across the land being worked at the rate of a mile a day. The dredge could even be backed up by reversing the cycle of operation.
   A walking device created in 1902 by Albert H. Cross of Grand Rapids, Wisconsin, was modified by Carl F. Wilson in Bay City in 1916. Wilson was a civil engineer who later worked for General Motors here. A similar walking mechanism was patented by Vincent G. Anderson,of Thief River Falls, Minnesota, in 1918.
      A complete dredge with one yard Muskegon dipper, a 40 foot boom, 36-39 foot span and 30 horsepower engine sold for about $4,000 in 1924. Operating the dredge required two men, which was one less than other dredges.
      The dredge on display in Florida was built in May, 1924, and was shipped to W.R. Wallace & Co., of Ft. Myers. It was later sold to Alexander, Ramsey and Kerr, a construction company controlled by real estate magnate BarronCollier, for whom Collier County was named. Collier spent $1 million, financed by bonds issued by local road and bridge districts, but was still 31 miles from completion. He ran three shifts, one coming from Tampa, one working on the Trail, and one returning to Tampa. As the Florida land boom was underway, Gov. John Martin was elected in 1925 on the pledge to complete the Tamiami Trail "come hell or high water."
      The State of Florida took over the project in 1926 and continued to use walking dredges. A 20-foot wide canal, blasted out of solid limestone under the grass and muck of the swamp, was straddled by the dredge which scooped up crushed rock for the adjacent roadbed. More than 2.5 million sticks of dynamite were used on the Trail.
      During 1927-28, the Bay City dredge was employed to construct ten miles of the Trail from Black Water River to Belle Meade Crossing (intersection of US-41 and FL-951).
      Traffic first flowed on the Tamiami Trail on March 27, 1927.The historic highway is now US-41, pronounced "An Engineering Wonder" by the American Society of Civil Engineers.
      Upon completion of the Tamiami Trail, the Bay City dredge was stored along US-41 at FL-92, where a filling station, motel andrestaurant were established by Meece Ellis. Later the dredge was moved to a county park and remained a permanent exhibit when the state park was established in 1947. The dredge survived Hurricane Andrew in August, 1992, and continues to attract the wonderment of visitors to Collier-Seminole State Park.
      The main problem Bay City promoters would have is that the dredge in Florida apparently is the only surviving one of its kind; a replica would have to be constructed unless another dredge isfound. Could there still be one in California?            
---
---

Dave Rogers




Dave Rogers is a former editorial writer for the Bay City Times and a widely read,
respected journalist/writer in and around Bay City.
(Contact Dave Via Email at carraroe@aol.com)

More from Dave Rogers
---
Send This Story to a Friend!
Letter to the editor
Link to this Story
Printer-Friendly Story View
---
--- Advertisments ---