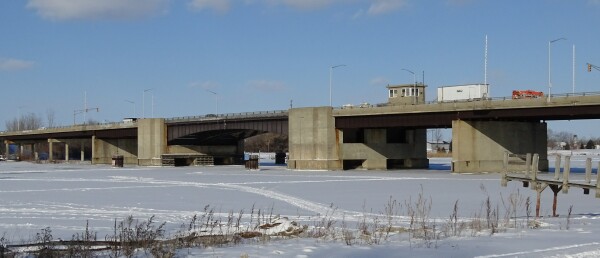 Joint City/County Commission Town Hall Addresses Bridge Question
February 9, 2018 Leave a Comment
By: Stephen Kent
Monday morning, February, 5, found the majority of the Bay City Commission AND the Bay County Commission sitting at a long table in the Doubletree Hotel and Conference Center. Arrayed before them was a room full of stakeholders, citizens, business people, politicians and representatives of organizations such as the Chamber of Commerce, Bay Future, and the Great Lakes Bay Regional Alliance. Everyone was there to hear these diverse players gather, in the same room, to discuss the controversial
Liberty and Independence Bridge
situation.
As most Bay City residents and those in neighboring counties and communities know, the fate of the bridges has become a hot issue. Everyone agrees that something is going to have to be done. The bridges are at the end of their lifespans and have significant structural issues that must be addressed. Everyone also knows that the millions of dollars to complete such work on these City-owned structures is far outside the ability of the city to cover.
The two hottest issues are 1) the prospect of selling the bridges to an outside firm, which would repair Liberty and rebuild Independence, and 2) for that company to charge a toll to cross the bridges. There would be no cost to the City because the firm would collect a toll to cross the bridge and make their money back that way. Many speakers said that any toll was too expensive and they would choose a different bridge.
A side issue is that the proposed replacement for the Independence Bridge would be a very tall, fixed span over the river. By all accounts, this would be similar to the Zilwaukee Bridge in Saginaw. Many speakers were vocally opposed to that plan. No one seemed ready to defend the idea. A consensus seemed to be that such a large bridge would be out of place in the city and that the approaches would be far too long.
Other concerns dealt with the potential for a millage, closing some of the bridges, asking that boaters pay a toll rather than the vehicle traffic, getting the state and/or federal government to contribute, getting surrounding counties and towns to pay a share.
The majority of the commissioners speaking to the millage made it clear that getting a millage passed would be a heavy lift. The city might pass it, but outlying communities probably would not. Some commissioners even said they would not support such a proposal.
Once the commissioners, and many people from other organizations, had spoken, the floor was opened to public comment. Sixteen people rose to speak.
The option to close the bridges came up several times. "Just open them and leave them open. We'd see who really gets concerned." Currently, the Independence Bridge is closed for needed repair. By the time it's open again people will have a pretty good idea what it would be like to not have that bridge.
The Independence Bridge was first opened to traffic in 1973 and sees some 23,780 crossings a day. The Liberty Bridge was opened in 1983 to replace the Third Street Bridge, which had fallen several years before. Liberty sees 16,849 crossings a day.
The toll option and the private owner were soundly rejected by most people. One businessman did say that his trucks would pay the toll, but he didn't seem to like it. He also said that closing a bridge would be a tragedy.
Just opening a bridge and leaving it open was an attractive idea, but not practical. Laws require that if a bridge is left open the owner must present a proposal for maintenance within a short time, or would have to remove the bridge. Removal has been estimated at 10 million dollars.
As to tolls for boats, that doesn't seem an option. Boats cannot be charged a toll to use a navigable waterway, just as such a waterway can't be blocked.
The one point everyone could agree on was that the bridges must be supported by the state and, hopefully, by the federal government. People who had explored that option indicated that it was by no means a given, but that it might be accepted.
As the meeting wrapped up, Commission President Andrew Niedzinski called for volunteers to work on three committees:
Lansing lobby committee - to lobby in Lansing.
Community Infrastructure committee - to focus on problems in townships and surrounding areas with similar problems.
Information Group - to give bridge presentations etc. to the public to keep the community informed.
Although no specific proposals were made, everyone seemed pleased that all of the interested parties had sat down in the same room to discuss the issue. We hope this initiative continues.

City and County Commissioners participate in joint public meeting to discuss bridges.
---
---

Stephen Kent




Steve Kent and his family have lived in Bay City for 40 years. He is VP of Technical Services at MMCC which produces MyBayCity.Com. Kent is active in many Bay City civic organizations.

More from Stephen Kent
---
Send This Story to a Friend!
Letter to the editor
Link to this Story
Printer-Friendly Story View
---
--- Advertisments ---